Sony cyber shot dsc hx90
Sony HX90V Compact Camera with 30x optical zoom
Sensor
Sensor Type1/2.3 inch (7.82 mm) Exmor R® CMOS sensorNumber of Pixels (Effective)18.2MP
Lens
Lens typeZEISS® Vario-Sonnar® T* lensFocal length (f=)f = 4.1-123 mmANGLE OF VIEW (35MM FORMAT EQUIVALENT) (STILL IMAGE)84deg.-3deg.30min.(24-720mm)Focus Range (From the Front of the Lens)iAuto: AF (W: Approx. 0.16 ft. (5 cm) to Infinity, T: Approx. 8.20 ft. (250 cm) to Infinity) / Program Auto: AF (W: Approx. 0.16 ft. (5 cm) to Infinity, T: Approx. 8.20 ft. (250 cm) to Infinity, T:Optical Zoom30xClear Image Zoom (Still Image)18 M Approx. 60x/10 M Approx. 80x/5.0 M Approx. 113x/VGA Approx. 459x/13 M (16:9) Approx. 60x/2.1 M (16:9) Approx. 153xClear Image Zoom (Movie)Approx. 60xDigital Zoom (Still Image)Up to 120x (VGA)
Camera
Image Processing EngineBIONZ X™SteadyshotOptical SteadyShotISO Sensitivity (Still Image)(Recommended Exposure Index)ISO 80-12800Shooting ModeIntelligent Auto; Superior Auto; Program Auto; Aperture Priority; Shutter Speed Priority; Manual Exposure; MR (Memory Recall) 1,2,3; Movie Mode (Program Auto, Aperture Priority, Shutter Speed Priority, Manual Exposure); Panorama; Scene SelectionContinuous Shooting Speed (maximum) (with max. recording pixels)10 fps (for up to 10 shots)Panorama (Shooting)Intelligent Sweep Panorama (supports 360 format)Auto Image RotationYes
Flash
Flash TypeBuilt-in, manual pop-up
Recording
Movie Recording Mode (NTSC)NTSC Mode: AVCHD (up to 1920 x 1080/60p at 28 Mbps) / XAVC S (up to 1920 x 1080/60p at 50 Mbps) / MP4 (up to 1920 x 1080/60 fps at 28 Mbps)Movie Recording Mode (PAL)PAL Mode: AVCHD (up to 1920 x 1080/50p at 28 Mbps) / XAVC S (up to 1920 x 1080/50p at 50 Mbps) / MP4 (up to 1920 x 1080/50 fps at 28 Mbps)
Interface
Input and Output TerminalsHi-Speed USB (USB2.0), Micro HDMI, Multi/Micro USB TerminalNFCOne-touch remote, One-touch sharing
Power
BATTERY LIFE(STILL IMAGES)(CIPA) Up to 390 shots / 195 minutesSupplied BatteryRechargeable Battery Pack NP-BX1
Size & Weight
DIMENSIONS (W X H X D) (APPROX.)4.02 x 2.29 x 1.39 inWEIGHT (CIPA COMPLIANT)7.69 oz (body only), 8.64 oz (with battery and media)
The results of over 150 years of ZEISS® expertise in high-precision optics is perfectly clear: this 24–720 mm lens renders portrait, close-up, and landscape images in natural glory from every perspective, with vivid sharpness and contrast intact. ZEISS® T* multilayer, anti-reflective coating effectively eliminates surface ghosting and flare.
The more light that strikes a sensor, the more brilliant the resulting image. So the Exmor R® CMOS sensor with 18.2 effective megapixels uses back-illuminated design to let four times more light in than more conventional sensors. It's twice as sensitive to light, and even features Sony Column A/D Conversion technology to reduce image noise.
To transform data from the Exmor R® CMOS sensor into high-resolution images, the BIONZ X™ image processor integrates detail reproduction, diffraction-reducing, and area-specific noise reduction technologies. This combination reproduces realistic images with truer colors and textures, and with exceptional precision in real time.
The high-contrast OLED Tru-Finder is far brighter than more conventional electronic viewfinders; now even more compact; displays real-time preview and shooting information, so what you see on-screen is exactly what you get in your shot; retractable for portability, safety, and convenience.
The high-resolution LCD on the camera back tilts up to 180 degrees. So when you're in front of the camera, you can easily check framing on the LCD before taking a selfie, for example. This flexibility also lets you comfortably maintain a stress-free posture while framing scenes you want to shoot from low angles.
One-touch remote lets you use your smartphone or tablet as a viewfinder and remote control for a digital camera, and one-touch sharing lets you transfer your photos and videos from your camera. Either way, by installing Imaging Edge Mobile app to your NFC-enabled Android smartphone or tablet, you can avoid complex set-up sequences and establish wireless connection simply by touching your device to the camera. You are now ready to control your camera from your smartphone to take a photo from a previously out-of-reach spot, or simply be in your own group shot, as well as transfer them instantly to your smartphone for sharing on SNS. No NFC? No problem. You can also pair the devices manually.
Learn more
In addition to high-definition AVCHD format, the camera can capture movies with extra-smooth action details and high-quality sound with great fidelity to the original sources in XAVC S format.
The built-in GPS geotags photos and movies, so you can track your trip's shooting locations precisely.
For wider-scale operability, assign frequently used manual focus, step zoom, quick zoom, and other functions to the control ring around the lens in front, then access and use the functions instantly as needed. Plus, the camera grip is ergonomically designed for optimal handling stability at all times.
Have no fear of handheld movie shooting. Intelligent Active Mode, featuring Sony's advanced frame-analysis technology and 5-axis image stabilization, compensates for camera shake. This mode reduces blurriness in images when shooting handheld or chasing a subject in action.
Put your creativity in motion with Programmed AE (P)/Aperture priority (A)/Shutter-speed priority (S)/Manual (M) exposure modes. These modes give you all the flexibility you need to manually control exposure and adjust background blur to capture exactly the image you want.
Assign frequently used functions (Focus Mode, White Balance, Picture Effect, etc.) to customizable buttons and keys for easier, quicker access while shooting. For example, assign up to 12 functions to the Function button, press it, choose a function, and adjust function parameters using the control ring or rear control wheel.
An improved spatial object detection algorithm realizes a more optimal and accurate lens drive to make AF even faster, for capturing more fleeting moments with ease.
The camera's digital level gauge uses easy-to-read graphics to indicate clearly whether the camera is level and allows fine adjustment of horizontal alignment during shooting. It's useful for avoiding camera roll, making sure your shots look steady and well framed.
Enhance your creative expression with PlayMemories Camera Apps, offering a growing range of enjoyable and easy-to-use applications. These apps give you greater functionality and offer the ultimate tools for personalizing your camera to meet your photographic needs. Note: Services availability depends on region.
This product is compatible with Final Cut Pro X and iMovie.
www.sony.com
Sony Cyber-shot DSC-HX90V Review - Image Quality
All of the sample images in this review were taken using the 18 megapixel JPEG setting, which gives an average image size of around 6Mb.
Given the Sony Cyber-shot DSC-HX90V sported a 20.4-megapixel sensor, some may find it strange that Sony has equipped its replacement with an 18.2MP chip. Both are standard 1/2.3-inch sized CMOS devices, so dropping the megapixel count means each light-gathering photosite on the HX90V's sensor is slightly larger, making them more light sensitive and less prone to generating image noise. It's a theory Panasonic implemented with the 12MP Lumix TZ70, and to good effect, as that camera is able to resolve more detail than many 20MP compacts.
The trick also seems to have worked for Sony, as the HX90V is capable of capturing plenty of detail. There is some slight grain visible event at low sensor sensitivities if you pixel peep, but it's nothing out of the ordinary. What's important is that Sony hasn't attempted to eliminate this with noise reduction, hence there's no associated detail smoothing which can make landscape shots look painterly.
Even without close scrutiny, images from the Sony Cyber-shot DSC-HX90V impress with punchy colours and good dynamic range, helped by using the camera's Superior Auto mode which enables automatic multi-shot HDR if the camera detects a high-contrast scene.
The limitations of a small 1/2.3-inch sensor are inevitable, however, but the HX90V deals with them about as well as could be reasonably expected. Grain and colour speckling is suppressed up to ISO 800, and even at ISO 1600 there's only a marginal increase in grain, whislt colour speckling is almost non-existent. ISO 3200 is the tipping point for noise though, and in some cases you'll need to downsize images to around 50% to hide the extra grain. Select the Multi Frame NR ISO setting and the camera can go as high as ISO 12800, though the results aren't pretty.
Even so, at this sensitivity the Sony Cyber-shot DSC-HX90V performs better than rival 30x zoom cameras like the Canon SX710 HS which is more prone to colour speckling, and also the Nikon S9900 which has a greater tendency to smooth fine detail. The Panasonic TZ70's image quality is a close match for the HX90V in all lighting conditions though, irrespective of its lower megapixel count.
What's more, the TZ70 seems to edge ahead on the grounds that it can record raw images and the HX90V can't. Thing is though, whilst raw capture is advantageous for a large-sensor camera like Sony's RX100 IV or a DSLR, the tiny Exmor R sensor in the HX90V can't produce the same dynamic range or achieve a comparable signal to noise ratio. Therefore much less image data is lost through JPEG compression, and given Sony's noise reduction processing is fairly restrained, shooting raw and doing your own post processing is unlikely to reveal more detail.
With such a huge focal range, lens distortion seems inevitable, but through what likely is image processing, the Sony Cyber-shot DSC-HX90V avoids any trace of barrel or pincushion distortion at extreme focal lengths. The Zeiss Vario-Sonar, T-star coated optic also manages excellent corner sharpness, whilst chromatic aberration is minimal.
Noise
The Sony Cyber-shot DSC-HX90V has seven standard sensitivity settings available at full resolution in single-shot mode, ranging between ISO 80 and 3200. There's also a Multi Frame NR feature which enables ISO 6400 and 12800 sensitivities by compiling multiple consecutive exposures into a single image with supposedly reduced noise levels.
Focal Range
The Sony Cyber-shot DSC-HX90V's 30x zoom lens achieves a focal range of 24-720mm when converted into a 35mm camera format. Here you can see just how big a zoom range that gives you and it covers almost any shooting scenario. The lens is also capable of a maximum aperture of f/3.5 at wide-angle, which is unremarkable but fairly typical for a superzoom optic. It means the lens can't open particularly wide to let light through to the sensor, hence the camera must compensate with longer shutter speeds and higher sensor sensitivities. The HX90V's lens barrel control ring can be set to zoom the lens between stepped focal lengths, or at constant slow or fast speeds. The zoom ring around the shutter release also operates two speed settings.
File Quality
Two JPEG compression quality options are available to accompany all image sizes: Fine and Standard, with file sizes around 6.5MB and 4.5MB respectively.
Sharpening
Here are two 100% crops which have been Saved as Web - Quality 50 in Photoshop. The right-hand image has had some sharpening applied in Photoshop. The out-of-the camera images are just a little soft and ideally benefit from some further sharpening in a program like Adobe Photoshop. Alternatively you can change the in-camera sharpening level.
Chromatic Aberrations
The Sony Cyber-shot DSC-HX90V handled chromatic aberrations well during the review, with some purple fringing present around the edges of objects in high-contrast situations, as shown in the examples below.
Macro
Sony quotes a minimum focus distance of 5cm for the HX90V, which isn't particularly impressive. We however were able to focus down to around 3cm with the lens at maximum wide angle. This is still no match for the increasing number of compact cameras able to focus as close as 1cm, but given how tricky it is to avoid casting unsightly shadows when so close to a subject, a 3cm macro focus distance isn't a deal-breaker.
Flash
Four flash settings are available: Autoflash, Fill-flash, Slow Sync and Rear Sync. The flash itself is reasonably powerful, but there is some vignetting visible at wide angle from a distance of 1.5m.
A separate menu option controls whether or not red-eye reduction is active. When disabled, our testing revealed a hint of red-eye, but red-eye reduction successfully eliminates this.
Night
Night-time landscapes can be captured in three ways: Night Scene mode captured this scene with a long 2-second exposure at ISO 80, making a tripod essential. The default Superior Auto mode tries to be clever and shoots multiple frames to reduce image noise. However, the exposure metering is off and the result is too bright. Finally, you can switch to shutter priority mode to manually select a long exposure. This option was used to shoot the last of our three night-time test images and the result is a 1-second exposure at ISO 125.
Image Stabilization
Sony's Optical SteadyShot image stabilisation system does a good job of ironing out any camera shake when shooting in good light. In darker conditions some slight blur can show up in some shots if you're not being extra careful to hold the camera still. Like many other Sony compact cameras, the Sony Cyber-shot DSC-HX90V doesn't let you disable image stabilisation, but you can adjust it between Intelligent Active, Active, and Standard modes.
Picture Effects
The Sony Cyber-shot DSC-HX90V contains thirteen Picture Effects, some with additional sub options: Toy camera (normal, cool, warm, green, magenta), Pop color, Posterization (colour, mono), Retro photo, Soft high-key, Partial color (red, green, blue, yellow), High-contrast mono, Soft focus (low, mid, high), HDR painting (low, mid, high), Rich-tone mono, Miniature (top, middle horizontal, bottom, left, middle vertical, right), Watercolor, Illustration (low, mid, high).
iSweep Panorama
Sony's iSweep Panorama mode gives horizontal and vertical panning options. Three horizontal widths are available: Standard (roughly 120 degrees), Wide (180 degrees) and a full 360-degree pan. There's no ability to simply stop panning at will though. Whichever width you choose, the result is a seamless panorama with a consistent exposure, albeit considerably downsized to 1080 vertical pixels. To be fair to Sony, most competing compact cameras with sweep panorama modes have similar limitations. If you're after something more spectacular, you'd be better off manually snapping adjacent overlapping images and stitching them on a computer with additional software.
Previous Page « Ease of use
Next Page Sample Images »
www.photographyblog.com
Sony Cyber-shot DSC-HX90V
Sony's latest superzoom, the Cyber-shot DSC-HX90V ($429.99), inherits some of the features from its premium RX camera series, including an excellent pop-up electronic viewfinder and a control ring around its lens. It's a solid superzoom, and is loaded with features that include a 30x zoom ratio, Wi-Fi, an in-camera GPS, and image quality that exceeds competing cameras from Canon. But, even with all of these points in its favor, there are some issues holding it back. The camera doesn't have Raw shooting support, and while its 18-megapixel image sensor offers more than enough resolution at lower ISOs, images suffer when shooting at the sensitivities required for quick shutter speeds or dim light photography. For those reasons, our Editors' Choice remains the Panasonic Lumix DMC-ZS50, another compact with a 30x zoom lens and an integrated EVF, but one that does better in low light and supports Raw capture.
Design and FeaturesThe HX90V follows the design template of other compact cameras. It's a small (2.3 by 4 by 1.4 inches) rectangle that weighs about 8.6 ounces and is available only in black. The lens protrudes slightly from the body, and has a control ring around it. There's a modest handgrip on the right side. A pop-up flash is hidden in the top plate, as is the EVF. It's about the same size and weight as other compacts of this type, including the Canon PowerShot SX710 HS (2.6 by 4.4 by 1.4 inches, 9.5 ounces).
View All 20 Photos in Gallery
The lens boasts a 30x zoom ratio, covering scenes from 24mm at the wide end to 720mm when zoomed all the way in, with an in-camera digital zoom that can extend the reach to 1,440mm. The maximum aperture is modest at f/3.3-6.4, but typical for this class of camera. If you want to capture more light and enjoy this type of range you'll need to opt for a larger superzoom model, like the Panasonic FZ200, which sports a 25-600mm f/2.8 zoom lens.
The HX90V has a pretty strong control system for a compact. There are two control dials—one on the rear and one around the lens. By default they'll both perform the same function in most modes (aperture control in Aperture Priority, for example), but if you shoot in full manual mode the front ring adjusts the f-stop and the rear ring adjusts the shutter speed. If you don't often shoot in manual mode you can reconfigure the front ring's function. I set it to adjust exposure compensation, but it can also be set to act as a zoom control or adjust other settings.
The top plate includes the flash release switch, the power button, a zoom rocker and shutter release, and the mode dial. Rear controls run along the left side, with a Record button for movies sitting right next to the rear thumb rest. Fn, Menu, Play, and ? buttons surround the rear control dial. Fn launches an overlay menu that provides quick access to 10 shooting controls (they can be configured via the menu, but the default set is pretty useful). The ? key is also programmable; by default it launches an in-camera guide full of photography tips, but more advanced photographers can repurpose it—I set it to give me quick access to the metering pattern.
The rear control dial has a center button (used to confirm settings in menus and to enable Lock On AF for subject tracking) and four directional presses (Display, Flash, Exposure Compensation, and Drive Mode). All five of these controls can be reprogrammed via the menu. The HX90V allows you to customize its controls to suit your tastes, which is always a good thing in my book.
The rear LCD is a 3-inch panel mounted on a hinge that can face all the way forward for selfies. It doesn't tilt at a downward angle, though. It's very sharp (920k dots) and I had no issues using it outdoors on bright days. If you're dealing with direct sunlight and glare on the screen, or just prefer to bring the camera to your eye, there's a compact OLED viewfinder hidden in the top plate. The 368k-dot EVF isn't as large as the one on the premium RX100 III, but it is quite crisp, and definitely superior to the Panasonic ZS50's integrated EVF. I appreciate the design, as well; it pops out of the body with the flick of a switch, and simply requires you to pull back on its eyepiece to ready it for use. There's a diopter control at the top to adjust its focus to match your eyesight, and an eye sensor that automatically switches between it and the rear LCD. By default lowering the EVF back into the body turns the camera off, but you can disable that feature if desired.
Wi-Fi, with support for NFC, is built into the HX90V. It's a simple process to connect your phone—even if you use an iPhone you simply have to connect to the network that the HX90V broadcasts, and enter a password for authentication on the initial connection. The free PlayMemories Mobile app for iOS and Android makes it easy enough to copy images and MP4 videos over to your phone.
The HX90V ships with Sony's Smart Remote application installed, but the first thing you should do is connect to Sony's app store (done in-camera via your home Wi-Fi network), create an account, and download the free update. The preloaded Remote app lacks any sort of manual control features aside from EV compensation. The updated version allows you to adjust aperture, shutter speed, EV, and ISO, as long as the mode dial is set to a mode that allows that. It also adds support for tap to focus. There are a couple of issues, even with the updated app. I noticed some lag with the Live View feed, but that could be due to network congestion, and for some reason images captured via remote control are saved at a 3:2 aspect ratio rather than the 4:3 ratio of the sensor.
App selection for the HX90V is limited, but at press time the two additional applications are free. (Sony charges money for some apps for its other cameras.) My Best Portrait and Sync to Smartphone are available to download from the Sony store. The former softens skin and brightens portraits to give them a more appealing look, and the latter automatically copies the photos stored on the memory card to your phone so you won't have to do it manually. It does so whenever you power the HX90V down.
GPS is also built-in. When enabled it adds your location to image metadata, so you can view photos on a world map. If you're interested in the HX90V, but can live without the GPS and the integrated EVF, you can save some money and opt for the Cyber-shot DSC-WX500, which sells for $100 less. It omits those features, but is the same camera in all other respects. 
Performance and ConclusionsLike most compact cameras with long zoom lenses, the HX90V takes a while to turn on. It does so in about 2 seconds, which is slower than the 1.4-second mark managed by the Panasonic ZS50. Focus, however, is very quick; at the widest angle the camera locks and fires almost instantly, 0.02-second in our tests, and it manages about 0.2-second when zoomed all the way in. Focus at the telephoto end of the zoom can slow to about 0.7-second if the camera has to hunt for focus. The ZS50 also focuses quickly at its widest angle, in about 0.1-second, but it's a little bit slower than the HX90V (about 1 second) if it has to hunt for focus when zoomed all the way in.
Burst shooting is also an option. The HX90V has two speed settings, 10fps and 2fps. You're limited to 10 shots per burst with either mode, which is a little limiting. There is some time required to process the images after a burst, which causes the HX90V to become unresponsive for 9.2 seconds. That's a frustratingly long duration. The Canon SX710 HS does a better job in this regard; its top shooting rate is 6.3fps, but it keeps that pace for 45 shots and simply slows its shooting rate after that—it doesn't become unresponsive for a long period of time.
Continous autofocus, which is handy when used in conjunction with burst shooting, is not an option in most shooting modes. The camera does have a Lock On AF mode which can track a moving target, but focus is locked for the burst. If you use the Advanced Sports Shooting scene mode, the HX90V will hunt for focus as long as you half-press the shutter button, but if you're shooting in burst mode the focus is locked at the first exposure point. Both the Panasonic ZS50 and Canon SX710 HS support true continuous autofocus in continuous drive mode.
See How We Test Digital Cameras
I used Imatest to check the HX90V's image quality. At its widest angle it scores 2,239 lines per picture height on our center-weighted sharpness test, which is a fine result; we consider a photo to be crisp at 1,800 lines. At 105mm the score does drop significantly, to 1,933 lines. At about 200mm there's some more loss of crispness, as it scores 1,744 lines there. We aren't able to test beyond that due to space constraints in our testing lab, but it's pretty typical for a compact superzoom to lose some resolution when zoomed. The Panasonic ZS50, which scored a little low at its widest angle (1,693 lines), dips all the way down to 1,380 lines at 200mm.
Imatest also checks photos for noise, which can detract from detail at higher ISOs. The HX90V keeps noise under 1.5 percent through ISO 1600, which is a good result on paper. But close examination of images shows that quality is lacking when you push the camera that far. Details are a bit fuzzy due to the smudging effect caused by in-camera noise reduction. Photos are crisper at ISO 800, and very good at ISO 400 and below. The HX90V still manages to perform better than the Canon SX710 HS and the SX610 HS, both of which produce blurrier results at comparable ISOs. But it's no match for the Panasonic ZS50, which uses a lower-resolution 12-megapixel image sensor that's better in low light. The ZS50 produces crisp results through ISO 1600 when shooting JPGs, and also supports Raw capture if you want to take control of noise reduction yourself. The HX90V doesn't support Raw capture.
The HX90V records video in a few different formats. The highest quality mode uses the XAVC S codec to record 50Mbps 1080p footage at 24fps, 30fps, or 60fps, but it requires an SDXC memory card to work. AVCHD, at up to 28Mbps, is also available, as is MP4 footage, also at up to 28Mbps. Overall the video quality is very good; XAVC S footage is crisp, and the 60fps frame rate eliminates the rolling shutter effect. The in-camera mic picks up clear audio, and the lens can zoom in and out without adding noise to the soundtrack. Optical stabilization steadies handheld footage, and autofocus is quick and accurate—continuous focus is available when recording video.
A micro HDMI port sits on the bottom plate, and there's a flap that covers a standard micro USB port on the right side. You'll need to charge the battery internally using the included USB cable and AC adapter, as Sony doesn't include an external charger. In-camera charging is convenient, and it's good that Sony is using a standard cable, but if you opt to buy a second battery you should also invest in an accessory charger so that you can recharge a depleted battery without losing use of the camera during that duration. Standard SD, SDHC, and SDXC memory cards are supported, as is Sony Memory Stick media, but you'll need to use an SDXC card if you want to take advantage of the XAVC S video recording capability.
The Sony Cyber-shot DSC-HX90V is a solid entry in the world of compact superzooms. Its lens is sharp, its EVF is the best you'll find in a camera of this type, and in-camera Wi-Fi and GPS are beneficial for social networkers and globetrotters. But it's not without issue; even though its high ISO images are better than the latest 18-megapixel models from Canon, it lags behind the clarity offered by the Panasonic ZS50 at higher ISOs. If you're primarily shooting outdoors that might not be a concern, but when photographing indoors or working with a very short shutter speed to freeze action, image quality can suffer. But that's true of most compact cameras, and the ZS50 really only provides a 1-stop advantage over the HX90V. Action photographers who often shoot in burst mode should be aware of the camera's unresponsiveness as it writes images to memory as well. Still, the HX90V is an overall strong performer, but one that doesn't quite live up to its $430 price tag. The Panasonic ZS50, which ekes some extra detail out of its high ISO images and also supports Raw capture, remains our Editors' Choice, and sells for $30 less.
www.pcmag.com
Sony Cyber-shot DSC-HX90V Review - Conclusion
We liked last year's HX60V, but with slightly underwhelming image quality and no EVF or lens barrel control ring like the competition from Panasonic, it couldn't quite compete. Sony has clearly listened though and the Cyber-shot DSC-HX90V addresses most of our concerns.
The move to an 18.2MP Exmor R sensor has given the HX90V a much-needed image quality boost, and although the results are no better than the class-leading Panasonic TZ70, they're certainly on a par, whether shooting in daylight or indoors. Detail capture, noise levels, colour reproduction and exposure metering are all top notch.
Camera manufacturers seem to have currently hit a wall in optical zoom range for compact cameras, as 30x zoom has been the limit for a couple of years. Sony's move to a Zeiss T-star coated optic does make the most of the zoom range though, with good sharpness and minimal flare or fringing. Just be sure to hold very still when zoomed in to the max, as Sony's Optical SteadyShot image stabilisation isn't the most fool-proof system.
It's the Sony Cyber-shot DSC-HX90V extensive features that set it apart from most of its rivals. EVFs are still rare in this sector, so the fact that Sony has fitted the HX90V with the high quality unit used in its premium large-sensor compact cameras is a big plus. The tiltable screen, Wi-Fi, GPS and enthusiast-focussed shooting options make the HX90V an exceptionally versatile camera, as does its incredibly pocketable proportions.
There are only a few drawbacks: being so new, the price has yet to fall and the Sony Cyber-shot DSC-HX90V is currently around £40/$30 more expensive than the Panasonic TZ70, though if compactness and a titling screen are important to you, that could still be a price worth paying. But if that's too much of a stretch, then Sony's WX500 offers the same sensor/processor/lens combo and therefore identical performance and image quality for around £70/$100 less. You will however have to do without an EVF, GPS, the lens barrel control ring and a front finger grip.
It's a shame that the Sony Cyber-shot DSC-HX90V's sheer compactness does make some buttons small, and restricts the size of the rear thumb rest, but that's an inevitable consequence of the space-saving. We'd also like to see the camera feature a touchscreen like the Olympus SH-2 offers, and Ultra HD video recording would be another great selling point. The HX90V's lack of raw capture doesn't seem great on paper, but as explained in the image quality section, raw recording in this sector isn't necessarily all it's cracked up to be.
Assuming the HX90V's price falls below the £300/$400 mark in the coming months, then it'll make an excellent all-rounder and a tempting alternative to the Panasonic TZ70. Whether you're a novice or enthusiast photographer, the Sony Cyber-shot DSC-HX90V makes for a highly versatile and high-performing compact camera that includes almost every feature you could want.
Ratings (out of 5)
Design
4.5
Features
4.5
Ease-of-use
4
Image quality
4.5
Value for money
4
Previous Page « Product Specs
Next Page Main Rivals »
www.photographyblog.com
Sony Cyber-shot HX90V review -
The Sony Cyber-shot HX90V is the World's smallest compact camera with a 30x optical zoom. Announced in April 2015, it's the successor to the HX60 and HX50 models, sharing a similar optical zoom range, but packed into a smaller body.
The HX90V delivers an equivalent range of 24-720mm, taking you all the way from respectable wide angle to super-telephoto, although the earlier G-series optics have been upgraded to a new design by Zeiss. Along with claiming superior quality, the new optics occupy 30% less volume, allowing the smaller body to be achieved.
Like its big rival, Panasonic's Lumix TZ70 / ZS50, the new HX90V features a built-in electronic viewfinder which is popped-out the top of the body for use like the RX100 III and IV. Unlike the TZ70 / ZS50 though, the HX90V also sports an articulated screen which can tilt up to face forward for selfies, along with built-in GPS hardware, a useful capability Panasonic removed from the latest model. Like previous generations, Sony offers two versions of its pocket super-zoom, the HX90V with GPS and the HX90 without. For my review I've tested the HX90V alongside the Panasonic TZ70 / ZS50 and the latest compact super-zoom from Nikon, the COOLPIX S9900. Find out which compact super-zoom will be best for you!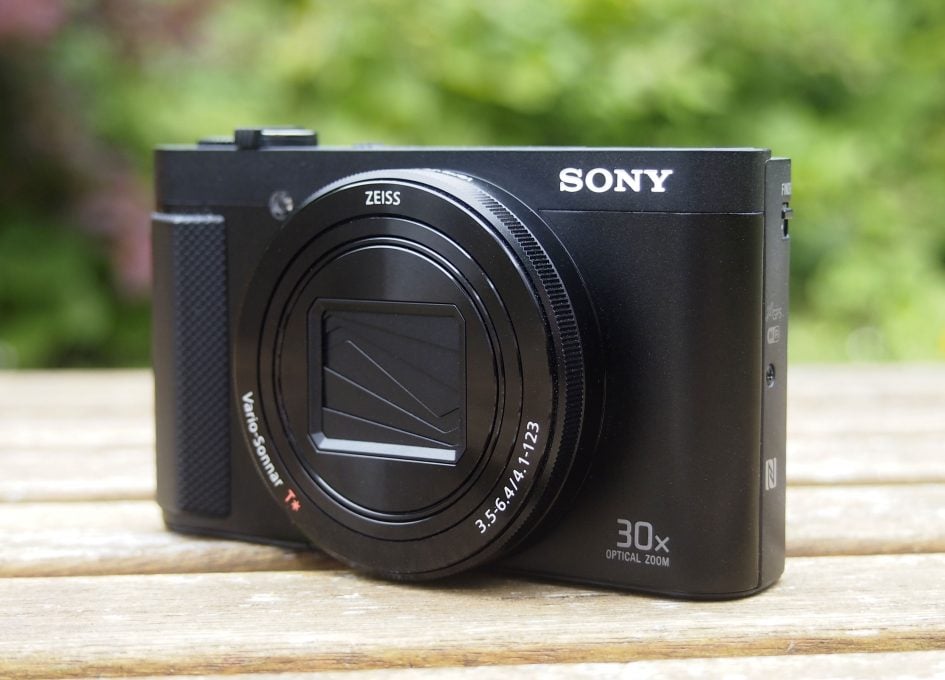 Sony HX90V design and controls
The Cyber-shot HX90V's styling represents a departure from its predecessors, instead taking design cues from the higher-end RX100 III and IV. I've pictured it below (left), alongside the older HX60 (right) and it's clear how the newer HX90V is indeed comfortably smaller.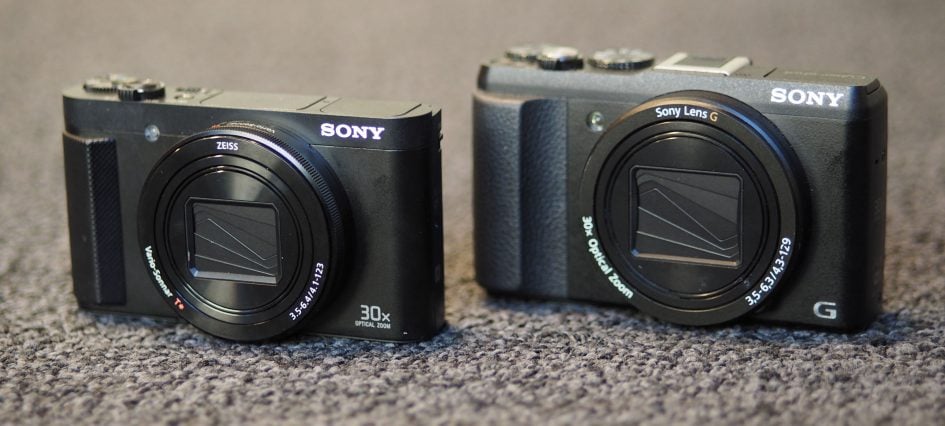 Measuring 102x58x35mm and weighing 245g with battery, the HX90V is noticeably shorter and narrower than its arch rival, the Lumix TZ70 / ZS50 which measures 111x65x34mm and weighs 243g. Is this a difference you should take account of? Well, it depends how important portability is to you. There's enough of a difference in size (though not weight) to make the HX90V feel smaller and more pocketable and indeed I was happy with it in my jeans pocket. The TZ70 / ZS50 is just a bit to big to be able to do that comfortably.
Despite its small size the HX90V fits comfortably in your hand and there's a grip on the front panel that while not as substantial as the one on the Lumix TZ70 / ZS50, does the job just as well. Oddly, though it's almost the exact same weight as the Lumix TZ70 / ZS50, the smaller HX90V feels a little heavier; denser would be a better word, but however you put it it certainly has the feel of quality engineering.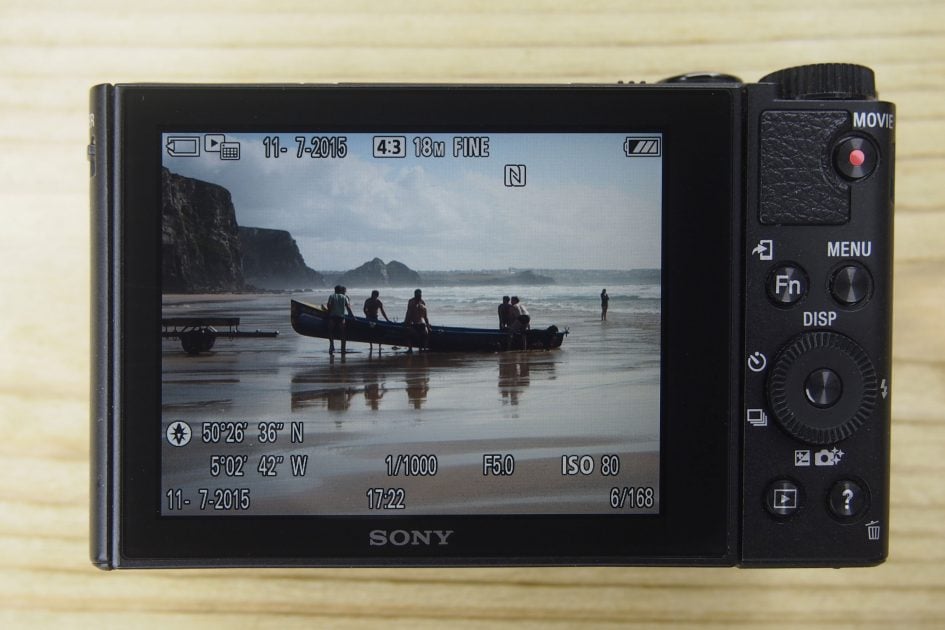 If I were to make one criticism of the design it would be the tiny flat thumb rest on the rear. A tiny bit of contour on it – as there is on the Lumix TZ70 / ZS50 and the COOLPIX S9900 – would have made for a much more secure grip.
That aside, the HX90V looks and feels beautiful. The top panel is a flat surface with two flush panels visible by their outline. The one in the middle is the pop-up flash, which extends on a spring arm by a small switch next to it. On the right corner of the body is another small switch labelled finder which pops-up the built in electronic viewfinder. The viewfinder is new to the HX90V and undoubtedly a response to Panasonic's decision to introduce one on last year's TZ60 / ZS40.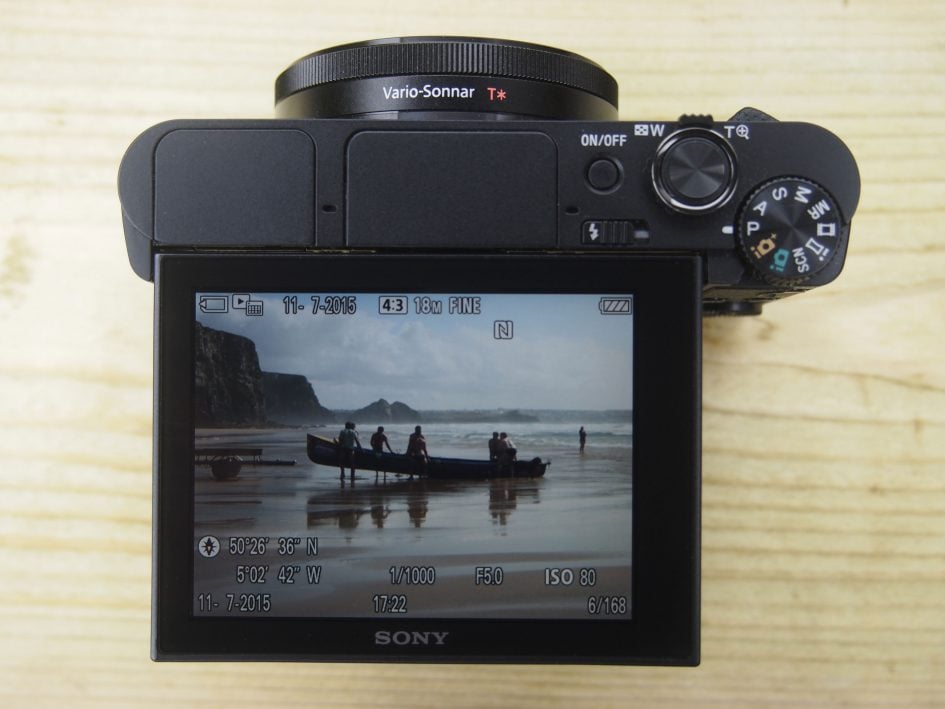 The built-in viewfinder of the latest Lumix TZ70 / ZS50 makes it the closest rival to the HX90V, but Panasonic and Sony have taken different approaches to implementing them. On the Panasonic TZ70 / ZS50, the viewfinder is perched in the upper left corner, above the screen, while on the Sony HX90V it's housed within the body, popping-out of the top surface when required. There's pros and cons to both approaches. The Lumix viewfinder is always ready for action as soon as you raise it to your eye, whereas the Sony viewfinder needs to be popped-up and pulled out towards you for operation, like the RX100 III and IV, a process which takes a couple of seconds. The flipside is the Lumix viewfinder forces the body to be taller than the Sony and the screen to be wider than the native shape of its images, while the HX90V can implement a 4:3 shaped screen to match its image shape and squeeze it all into a shorter body. Like the Lumix TZ70 / ZS50, the HX90V employs an eye sensor to toggle between the viewfinder and screen. In a nice update over the RX100 III you can also configure the HX90V so that it doesn't power-down automatically when the viewfinder is pushed back into the body.
The HX90V viewfinder itself is a 0.2in OLED panel with a 638k dot resolution. If you're used to a recent DSLR or a mirrorless EVF the HX90V's viewfinder is going to seem tiny by comparison, but small though it is, it's incredibly useful and not just as a fall-back when the sun is shining and it's difficult to see the LCD screen. The EVF makes it much easier to hold the camera steady and compose shots at the longer end of the zoom range.
There's a tiny bit of coarseness which is visible and the image isn't as smooth and clearly defined as on the Lumix TZ70 / ZS50's EVF which employs a higher resolution 1166k dot LCD viewfinder. The panel is the same 0.2in size, but the Lumix viewfinder's 35mm equivalent magnification is 0.48x, compared with 0.5x for the HX90V. It's a small difference written-down, but in practice I found the HX90V's viewfinder image was just that little bit larger.
Viewfinder information is displayed along the top and bottom edges; the important stuff – exposure mode, battery life, image and video quality, and exposure settings is included, but all the other information that's displayed down the sides on the LCD monitor is omitted as there just isn't room for it.
Even with limited amount of info in the viewfinder there's not a lot of room for text overlays, but I think Sony has gone too far with the tiny text used for the EVF display, you really have to concentrate to make it out. Panasonic strikes a much better balance between intrusiveness and legibility with the bigger viewfinder graphics in the (slightly smaller) TZ70 / ZS50 viewfinder. With two pop-up panels on the HX90V's top plate, there's no longer room for Sony accessory hotshoe featured on earlier models, a shame, but in my view a trade well worth making.
Of course you're not limited to the viewfinder and the HX90V has a 3 inch LCD screen with a 921k dot resolution. This is the same size as on the earlier HX50V and HX60V but now the screen is hinged at the top and can be folded into a forward-facing position for selfies. When you do this a 3-second self timer is automatically set and a nice big countdown graphic is displayed.
The screen on the earlier models suffered from poor visibility outdoors and it's disappointing to see that the HX90V isn't improved much, if at all. Both the Lumix TZ70 / ZS50 and the COOLPIX S9900 had brighter screens which were much easier to see when shooting outdoors. Now that it has an EVF this is less of an issue, but it's nonetheless something Sony seriously needs to address. I found it necessary to ramp the brightness up two notches from the default setting where it stayed for the entirety of the review period.
The HX90V uses the same NP-BX1 battery as its predecessor which provides enough power for a generous 390 shots. It does better than the competition, with both the Lumix TZ70 / ZS50 and the COOLPIX S9900 managing 300 shots. All three models charge the battery in the camera using a USB connection powered either by an AC adaptor or another suitable source such as a laptop or car adapter. In addition to the USB / charging port, there's a micro HDMI port on the base of the camera, other than their location you'll find the exact same ports on the Lumix TZ70 / ZS50 and the Nikon COOLPIX S9900.
Sony HX90V lens and stabilisation
At first glance, the HX90V's 24-720mm zoom looks to be the same lens used in the previous two generations of this models – the HX60V and before it the HX50V. On closer inspection, though, both the focal range and maximum aperture are slightly different. The earlier models had a 4.3-129mm f3.5-6.3 lens, where the HX90V is fitted with a 4.1-123mm f3.5-6.4 lens. And a glance at the front of the lens reveals this is not in fact the G series lens of the earlier models, but an upgraded Zeiss Vario Sonnar T* design.
Though 30x lenses aren't new, you won't find a longer range in a model this size. The TZ70 / ZS30 has the same zoom range and though its aperture is slightly wider at the wide angle focal length – f3.3 compared to f3.5 on the HX90V, there's little practical difference.
Sony HX90V coverage, wide and tele

Above: At 4.1mm (24mm equivalent) and 123mm (720mm equivalent)
The images above show the field of view you can expect to capture with the HX90V at the extremes of its zoom range. The Nikon COOLPIX S9900 also has a 30x zoom, but with a slightly longer 750mm telephoto provided at the expense of a slightly narrower 25mm wide angle. And Canon's SX710 HS also sports a 30x zoom with a 25-750mm equivalent range. On a compact super-zoom, the zoom range is obviously a key feature but, to be honest, these minor differences are not really worth wringing your hands over.
Like the Lumix TZ70 / ZS50, the HX90V's lens is equipped with 5-axis stabilisation. As on earlier models the stabilisation can't be turned of and for my test was left on the default Intelligent Active setting which automatically irons out wobbles caused by walking when you're shooting movies.
There are few situations where stabilisation is more necessary than when shooting at long focal lengths with a small camera. The HX90V's stabilisation is not only useful for eliminating camera shake, but is a great help when it comes to composing shots, keeping things nice and steady and enabling you to easily frame up your shot.
To test the HX90V's stabilisation I zoomed it all the way in to 720mm and took a series of shots in Shutter priority mode at progressively slower shutter speeds with the stabilisation set to the default Intelligent Active mode. As you can see from the image below, you can shoot handheld confidently with the HX90V at speed as slow as 1/25 of a second, I was also able get sharp images on occasions down to 1/15. I was able to get sharp result consistently at 1/25, though, no doubt aided by using the viewfinder – with the HX90V pressed to your cheek you provide a more stable platform. Regardless of that, five stops of image stabilisation is very impressive by any standards.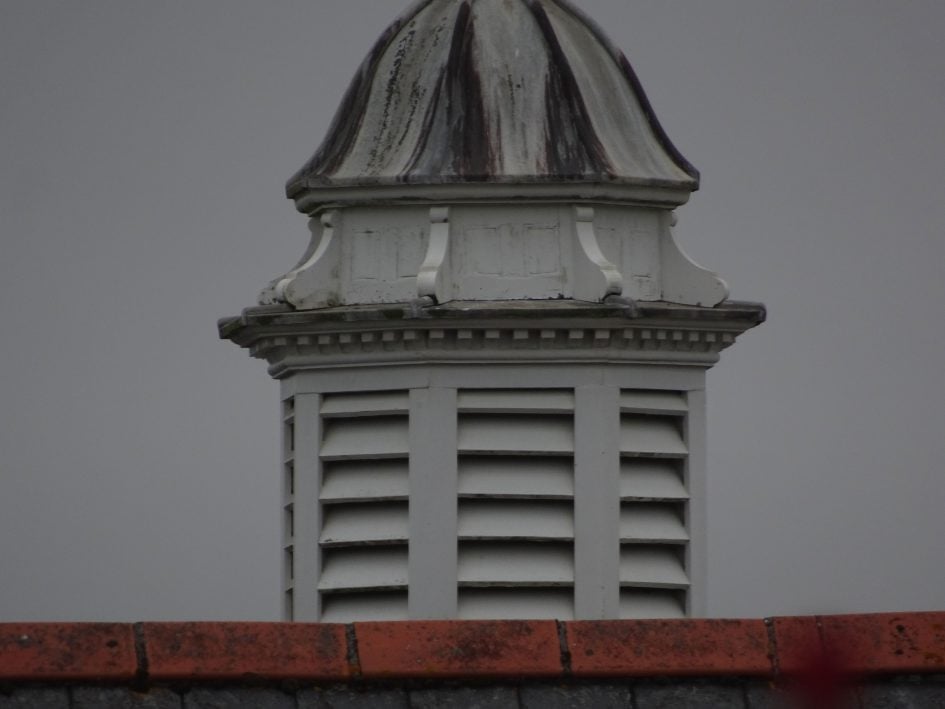 Above: Sony HX90V, 1/25, 100 ISO, SteadyShot Intelligent Active
Sony HX90V movie modes
The HX90V can shoot HD video at 1080/60p or 1080/50p, this isn't region-dependent, instead you can choose between PAL or NTSC frame rates from the settings menu.
New to the HX90V is the chance to record in the XAVC S format at a higher bit rate of 50Mbit/s, though to take advantage of XAVC-S modes you'll need an SDXC card. The new model also enjoys the additional benefits of filming with the built-in electronic viewfinder, or the screen which can flip around to face the subject, making it ideal for composing pieces to camera.
Drilling-down into the specifications, in NTSC modes the HX90V offers Full HD 1080 video at 60p (28Mbit/s), 60i (24 or 17Mbit/s) or 24p (24 or 17Mbit/s), all encoded using AVCHD at the stated bit rates. If you switch the encoding to MP4 you can film at 1080 / 60p at 28Mbit/s, 1080/30p at 16Mbit/s or 720/30p at 6Mbit/s.
Choose the new XAVC S encoding and you can film in 1080 at 60p, 30p or 24p, all at the high rate of 50Mbit/s. In PAL mode, the 60p and 60i frame rates for any of the movie modes are swapped for 50p and 50i, while the 24p is swapped for 25p.
Download the original file (Registered members of Vimeo only) This clip, like the others below was shot in the HX90V's 1080 / 50p 28 Mbit/s mode. The quality is very good at this frame rate and compression setting, but the most impressive thing is the stabilisation which irons out wobbles during the pan and does a great job of keeping things reasonably steady when zoomed all the way in.
Download the original file (Registered members of Vimeo only) For this second clip the camera was mounted on a tripod. You can't turn the HX90V's stabilisation off and neither do you have a choice over the focusing – Unless you switch to manual focus it's automatically set to continuous. So it's a good job the HX90V's AF-C autofocus does a such a good job, keeping everything in focus even during the long zoom. Speaking of which, you can't hear the zoom motor on this clip because of the wind noise, but you could on the previous one.
Download the original file (Registered members of Vimeo only) The HX90V does a good job with this low light clip which doesn't look too noisy. The exposure is well handled, but the AF does go for a little wander a couple of times during the pan, though it quickly corrects.
Download the original file (Registered members of Vimeo only) For this final clip I tested the HX90V's continuous AF performance by zooming the lens in slightly and panning from the coffee cup on the table up to the bar and back again. The continuous AF does very well here and you hardly notice it switching the focus from the foreground coffee cup to the bar and back
Sony HX90V shooting experience
The HX90V employs contrast-based autofocusing with three modes for stills: AF-S (Single), DMF (Direct Manual Focus) and MF (Manual Focus). AF-C mode is now only available for movie shooting and the option is greyed out when the mode dial is in any other than the movie position.
DMF lets you autofocus with a half-press of the shutter release, after which you can fine tune manually by turning the lens barrel ring, meanwhile MF is fully manual focus.
The Focus Area menu offers four options: Wide automatically chooses from nine main areas, Center fixes the AF area to the middle of the frame, and Flexible Spot lets you choose one of three AF frame sizes and move them to almost anywhere on the screen apart from a border around the edges.
New is Expand Flexible spot which uses the focus points around the flexible spot as a second priority area, so you don't need to worry if your subject is moving around a little. In practice I'm not sure this offers any real advantages over simply setting a larger area in Flexible Spot mode though. Manual focus is greatly improved by the addition of focus peaking, though, which in addition to the MF assist magnification feature makes manual focus on the HX90V a breeze.
In AF-S mode the HX90V is reasonably quick to respond and its low light performance seems greatly improved over earlier Sony compacts which all too often in low light would display the single large rectangle indicating that focus couldn't be achieved using the individual AF points. Indoors in low light and when zoomed in it rarely failed and usually responded with a heartening beep within a short fraction of a second. In these kinds of conditions it consistently outperformed the Lumix TZ70 / ZS50 which also lagged behind the COOLPIX S9900.
In Continuous Shooting Hi mode the HX90V can shoot a one-second burst of images at 10fps with the focus and exposure locked on the first frame. I timed a 10-frame burst at 0.89s, so it's actually a tiny bit quicker.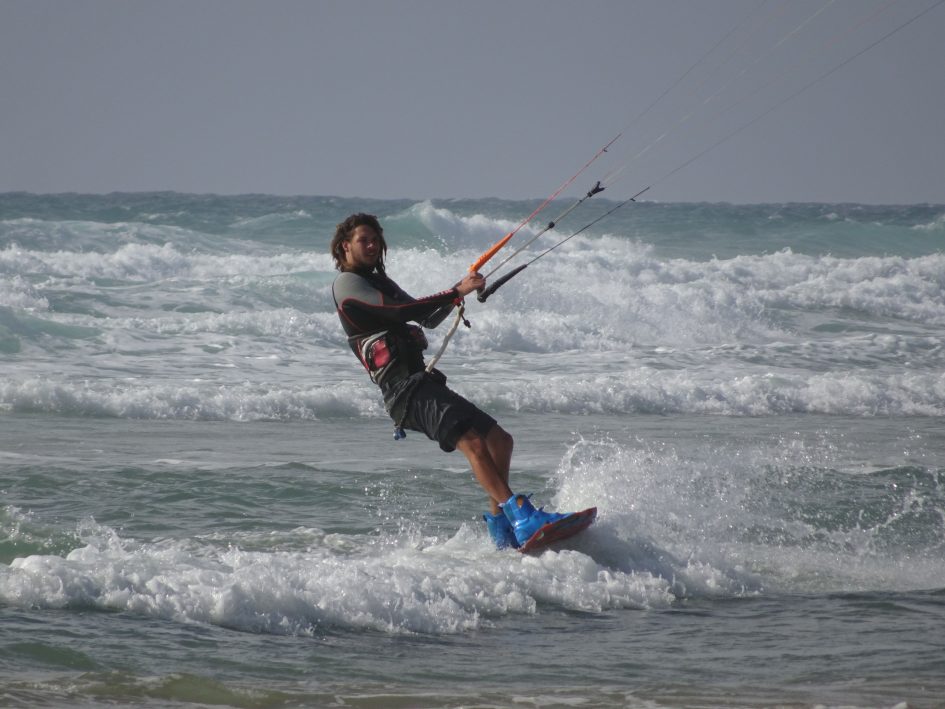 Above: 1/500, f6.4, 80 ISO, 123mm (720mm equivalent) Continuous Hi drive mode
This is the same continuous shooting performance that you'll find on the earlier HX60V and the HX50V, so it's a little disappointing to see it unimproved. While 10fps is better than respectable on a compact the short burst time really hampers it – if you get the timing wrong, the action can easily happen after the first second, while the HX90V is busy writing frames to the card. And if your subject is moving towards or away from you, the final frames of the sequence may not be in focus.
That said, continuous shooting is a good way to improve your chances of getting one or two good frames from a fast moving subject over using the single shooting drive mode. The shot above is from a sequence of ten frames shot in Continuous Hi mode, some of which were poorly framed and others out of focus, so while it's not much good as a sequence, there are a few shots that stand up on their own and are probalby better than what I would have got shooting single frames.
While its 10fps speed offers an even shorter burst, the Lumix TZ70 / ZS50 is packed with slower full resolution continuous shooting modes as well as some very fast reduced resolution modes. So that would be a better choice if you want to shoot action, or the Nikon COOLPIX S9900 which is similarly equipped, though it's worth noting that none of these models provide fast continuous shooting coupled with continuous AF which effectively rules them out for most sports photography.
The HX90V features a built-in Wifi receiver with NFC to aid negotiation with compatible devices. Via the Wifi connection you can transfer photos and video to your computer, connect to hotspots, and share photos to social networking sites. There's also the option, introduced on the HX60V, to download and install apps to extend the camera's functionality. You can also control the camera remotely using either an iOS or Android smartphone.
For my tests I used my iPhone 6, onto which I'd previously installed Sony's free PlayMemories app. Like other recent Sony cameras with Wifi, a dedicated wireless section in the menus starts with an option to Send to Smartphone. Choosing this then gives you the choice of either selecting the desired image on the camera, or browsing the camera's memory using your handset.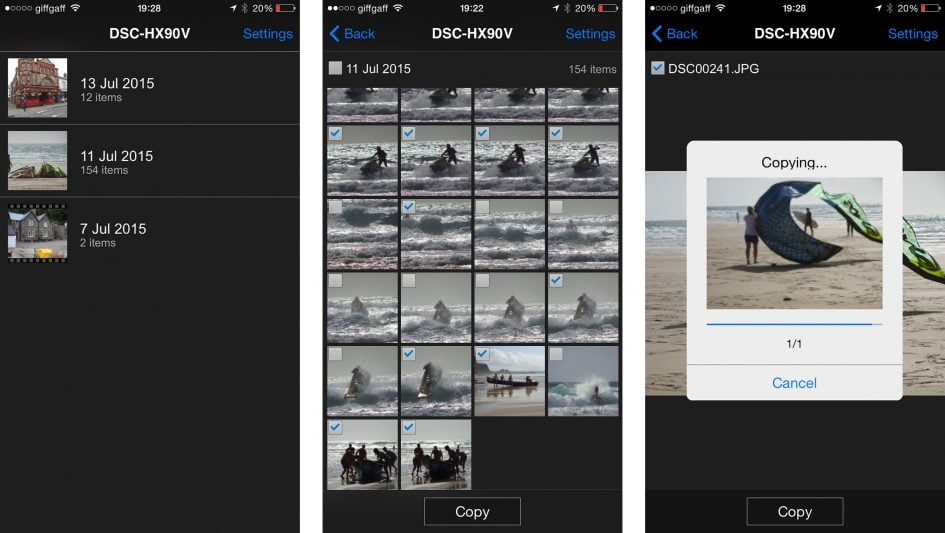 Selecting either configures the HX90V III as a Wifi access point which your phone or tablet needs to connect to. If you have a handset with NFC, the next step is very simple as you only need to tap and hold the camera against it for a moment for it to automatically fire-up the PlayMemories app and sort out the network name and password all by itself. If you don't have NFC you'll need to connect to the HX90V's Wifi network manually and enter the password that's displayed on the camera's screen.
A menu in the PlayMemories app lets you choose whether the image is sent in its original 18 Megapixel format or resized down to either 2 Megapixels or 640×480 pixel VGA size. Full sized 18 Megapixel JPEGs typically took around five seconds to copy over.
The second option in the Wifi menu lets you send images to a computer. To do this you'll need to download the free Wireless Auto Import utility onto your Mac or PC, then briefly connect the camera so that it can be configured with your computer's details. After this you can disconnect the cable and wirelessly send selected images from the camera to the computer, although both will need to be connected to the same wireless access point. Sadly there's no direct peer-to-peer option, and while both devices could be connected to the same Wifi hotspot on a phone, you can't use it as a bridge or router. This limits the wireless transfer to situations where you're connected to a home or office network, although to be fair this is no different from most other manufacturer's camera to computer Wifi services.
For the HX90V Sony has adopted an app-based remote control solution, allowing it to upgrade the capabilities. Sony embeds the Smart Remote Control app into the HX90V to get you started in the World of apps, no doubt in an attempt to get you comfortable with the idea and possibly purchase some more in the future. Indeed as further encouragement there may even be an update available straightaway for the Smart Remote Control app; my HX90V was running an old version which didn't support manual control over exposures beyond compensation, so I connected the camera to the internet and updated the app to the latest version.
Updating an embedded app is the same as installing a new one from scratch. You'll first need to create an account on the PlayMemories site at playmemoriescameraapps.com. Once you have an account set up there are two ways to browse and download apps. You either can do it using a free download tool running on your computer with the camera connected over USB, or you can do it direct from the camera itself.
I decided to opt for the first method, a process that was, at least for me, less than straightforward. First the app downloader wouldn't work with Chrome so I had to switch to Safari. Then the browser wouldn't recognise the HX90V connected to my MacBook Pro via USB until I switched the USB connection to MTP from the settings menu.
If you're going for the direct approach from the camera, you'll first need to connect it to the Internet via an access point. Manually entering SSIDs and passwords using a non-touchscreen can be laborious to say the least, but once entered the camera can remember them and connect with a click at a later date.
Once the camera is connected to the Internet you can use the dedicated Apps menu to login to your PlayMemories account and browse and download available apps or update existing ones; again any which aren't free require you to have previously credited your account using your computer or phone. Once an app is downloaded and installed, it's added to the list in the Apps menu on the camera. Some apps require access to the Internet, say to upload images, and again the camera will connect via any previously configured access points. Others extend the functionality of the camera and have their own menus.
If you select the Smart Remote Control from the App menu on the HX90V, it'll again set the camera up as an access point for the PlayMemories app on your phone to connect to. Alternatively if you have a phone with NFC, you can just start PlayMemories and hold it against the camera for Smart Remote to automatically startup.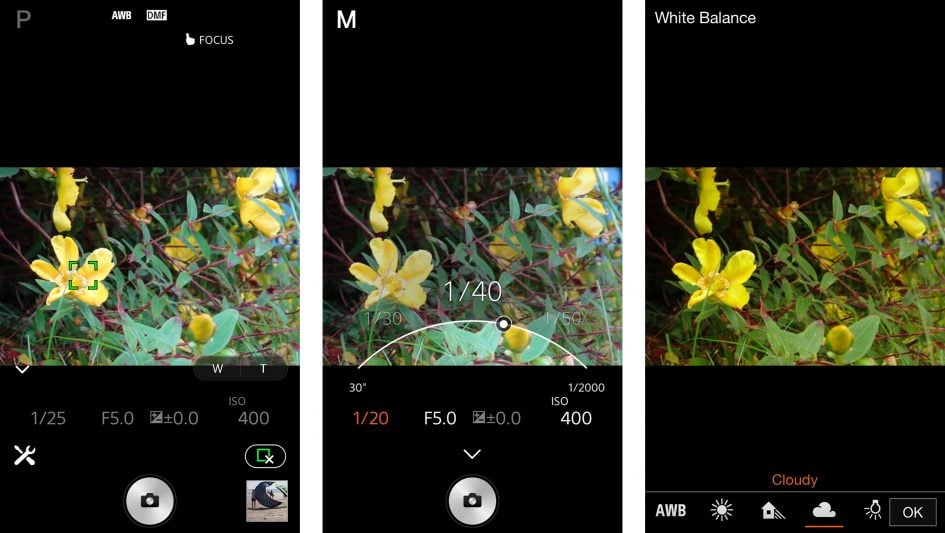 If you're running the older versions of the phone and camera apps, you'll be limited to very basic controls which offer little more than exposure compensation. If both the camera and phone apps are updated to the latest versions though, you'll be offered full control over exposure and more. So long as the camera's set to the appropriate mode, you can adjust the aperture, shutter speed, ISO sensitivity and white balance, along with being able to tap the live image on your handset to move the single AF area; note the exposure controls become greyed-out when you're using the touch-focus, but pressing the touch-cancel button makes them live again. You can also use buttons on your phone to adjust the optical zoom.
The latest version of Smart Remote Control also lets you start and stop recording a movie from your handset, although you'll first need to turn the camera's mode dial to the movie position, and the video file also remains on the camera's memory card. You can at least change the movie exposure mode (PASM) from your handset, and again set the aperture, shutter and ISO, or zoom the lens remotely if desired. Sadly the touch AF becomes disabled in the movie mode though, so there's no chance to tap your handset's screen to adjust it whether before or during a recording. This rules out the possibility of remotely pulling-focus – a shame, but then it's churlish to complain when the earlier HX50V and HX60V had rudimentary smartphone remote control.
Speaking of which, at the time of writing, Sony offered only three apps for the HX90V, but I'd expect that number to increase pretty swiftly to more than a dozen as existing apps are updated to make them compatible.
Like its predecessors the HX90V is also equipped with a built-in GPS receiver. As well as tagging images with Lat and Long co-ordinates it also records altitude information and the direction of view. All of this can be used by software to map your photos to the location where they were shot.
The COOLPIX S9900's GPS is similarly basic, though it does offer a mapping feature in the camera. Even that's more than you can expect from Panasonic; earlier TZ series models included sophisticated mapping functions, but that, along with the built-in GPS, has been dropped from the TZ70 / ZS50 in favour of an option to sync a track log recorded on your smartphone.
The HX90V offers a number of composite modes that shoot a fast sequence of shots and composite them to provide a better result than would be possible with a single frame. Multi Frame Noise Reduction is available at sensitivity settings from 80 to 12800 ISO and there's also Auto HDR which takes three images at increments of one to six EV, or the camera will determine the best option for you, and combines them in camera into a single JPEG file.
And it wouldn't be a Sony compact without iSweep Panorama mode. Like previous Sony cameras you can choose between Standard and Wide for the size, and Right, Left, Up or Down for the direction. After that it's just a case of holding the shutter release button down as you pan the camera in the selected direction.
The HX90V also includes Sony's Picture Effect filters. There's a good spread and I've included some examples below, but it's disappointing to discover that you still can't apply the miniature effect to movies.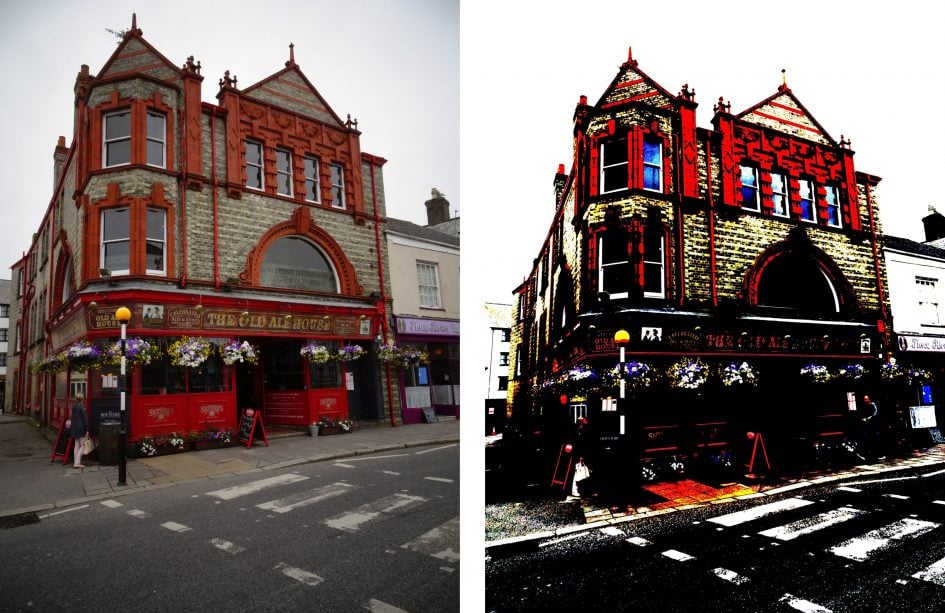 Above left: Toy Warm. Above right: Posterization Color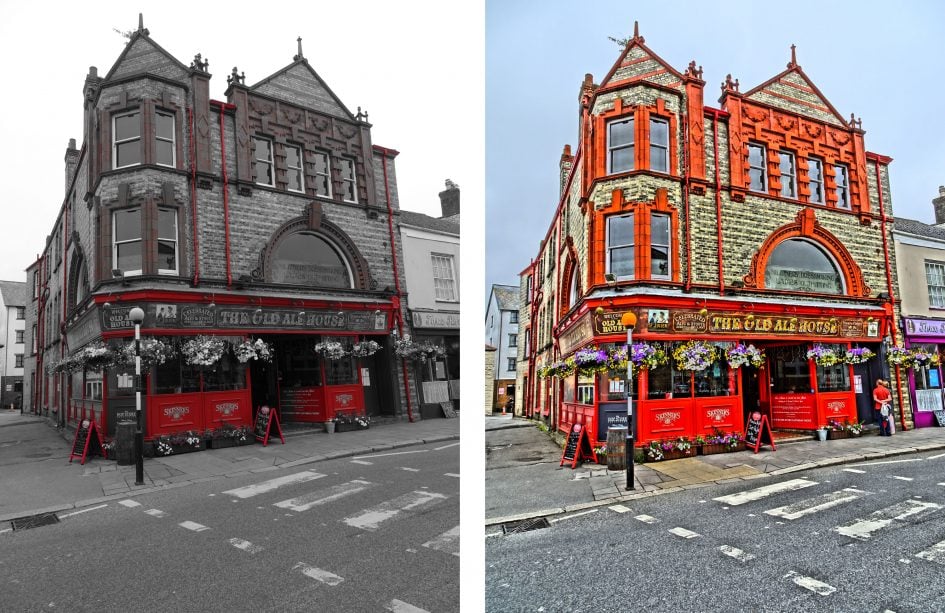 Above left: Partial color Red. Above right: HDR Painting Mid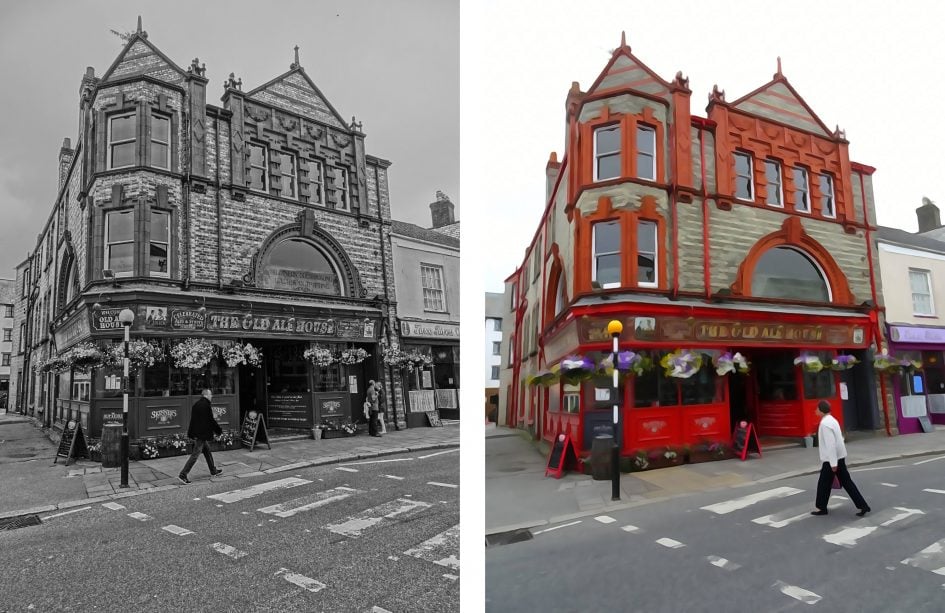 Above left: Rich-tone Mono. Above right: Watercolor
www.cameralabs.com