Sony alpha 5100
Обзор Sony Alpha A5100 – Маркетинг или достойное обновление?
Sony – одна из моих самых любимых компаний, поэтому я всегда с особым трепетом отношусь к ее новинкам. Но при первом знакомстве с Alpha 5100 у меня появилось некое ощущение déjà vu. Все дело в том, что я уже достаточно давно пользуюсь Sony Alpha 5000 в качестве камеры для путешествий, а новинка, как брат-близнец, на нее похожа. Но это же Sony, у них такого не бывает. При более близком знакомстве новинка и вправду заслуживает звания «достойное обновление». Давайте посмотрим, что ожидает пользователей в новой камере и получилось ли у Sony улучшить и без того хорошее устройство. Познакомиться с Alpha 5000 вы можете здесь.
Дизайн
Как и говорилось ранее, новинка, как брат-близнец, похожа на своего предшественника. Расположение органов управления и разъемов совершенно не изменилось. Разве что заглушка флеш-карты и интерфейсных разъемов получила разборную конструкцию, что позволяет теперь заряжать или подключать камеру к ПК несколько удобнее.
Также отдельного упоминания стоит новая отделка корпуса. Это все тот же пластик, но на этот раз стилизован по кожу. Выглядит достаточно симпатично, и тактильные ощущения от использования камеры значительно приятнее, но это полностью индивидуально.
На этом, пожалуй, внешние отличия и заканчиваются. Все та же встроенная вспышка, отсутствие горячего башмака, спорное расположение кнопки записи видео как бы намекает, что это именно обновление, а не кардинально новая камера, и главные изменения нас ждут в внутри.
Начинка
Вот здесь и начинается самое интересное. В камере установлена начинка от более продвинутого собрата Alpha 6000, это CMOS APS-C (23,5 х 15,6 мм) сенсор с разрешением 24,3 МП и процесор BIONZ X. Это очень положительно сказалось на возможностях съемки при плохом освещении. Камера  получила возможность поднять максимальное значение ISO до 25600, и даже при таких высоких значениях сохраняет неплохую детализацию и цветопередачу. Назвать такие значения ISO рабочими сложно, но, тем не менее, результат выглядит достаточно впечатляюще.
iso 25600
А вот ISO вплоть до 6400 можно вполне назвать "рабочими" для большинства сюжетов. А с учетом того, что камера рассчитана на начинающих пользователей, которым больше важна возможность получать "не смазанные" снимки в помещении (при плохом освещении), новинка выглядит очень выгодно. Она дает эту возможность, сохраняя достойный уровень детализации и шумов, обеспечивая при этом возможность установить более короткие выдержки.
iso 1600
iso 3200
iso 6400
Но на этом улучшения не заканчиваются, вместе с сенсором новинке досталась и одна из самых быстрых на данный момент систем автофокуса среди беззеркальных камер.  Это гибридная система, которая состоит из 179 фазовых датчиков, занимающих 92% всей матрицы и 25 контрастных, что значительно увеличивает шансы поймать нужный момент при съемке быстро движущихся объектов, особенно если активировать систему следящей автофокусировки. А возвращаясь к потенциальным клиентам камеры, которые, скорее всего, будут снимать детей, домашних животных и различные семейные мероприятия, это очень важная характеристика.
Странным остается скорость серийной съемки, всего 6 к/с, особенно с учетом того, что у такой же по начинке Sony Alpha 6000 этот показатель достигает 11 к/с (с тем же сенсором и процессором). Вероятно, этот маркетинговый ход нужен для того, чтобы сделать больше расстояние между старшей и младшей моделью, помимо наличия/отсутствия видоискателя. Хорошо хоть длина серии осталась на том же уровне (60 последовательных кадров).
Отдельных похвал заслуживает появление сенсорного экрана, хотя реализация выглядит несколько недоделано. Так, использовать его сенсорные возможности можно только в 2 случаях: выбор точек фокусировки или съемка по касанию. Во всех остальных задачах сенсорный экран совершенно не применятся. И это, по меньшей мере, странно, так как просмотр отснятого материала или навигацию по меню выполнять с использованием сенсорного интерфейса было бы гораздо удобнее, что уже говорить о вводе паролей к Wi-Fi-сетям. Но даже в такой реализации это та функция, которой очень не хватает современным беззеркальным камерам, особенно начального уровня, у которых очень ограничено количество органов управления. Чем, если не касанием, может быть удобнее выбирать объект съемки?
Видеосъемка
Видеосъемка на фотоаппарат уже стала стандартом, а Sony, как никто другой, знает толк в видеосъемке. Alpha 5100 идеально подходит обычным пользователям для съемки видеоматериала превосходного качества. Сервоприводный объектив (с быстрым ультразвуковым мотором, стабилизацией и приводом зуммирования) позволит забыть о съемке видео с ручной наводкой на резкость. А это является настоящим наказанием при съемке видео на зеркалке, о зумировании так и вообще речи быть не могло. Добавьте к этому возможность записи видео в форматах 1080/60p, или 1080/24p в XAVC S, AVCHD, MP4, а также наличие встроенных модулей Wi-Fi и NFC для удобного обмена отснятым материалом – и мы получим идеальное решение для дома и отдыха.
Продвинутый видеограф тоже найдет в данной камере немало полезного. Это и матрица с превосходной цветопередачей, обеспечивающая отличное качество в разных условиях съемки, и быстрая система автофокуса в сочетании с сенсорным экраном(для выбора объектов съемки). А наличие таких функций, как фокус-пикинг, который не даст промахнуться по фокусу, подсвечивая края, и зебра, которая  очень удобно укажет на любой пересвет в реальном времени, делают ее просто идеальным решением. Правда, звук придется писать исключительно на встроенный стерео-микрофон.
Остальные мелочи
Как уже упоминалось ранее, у камеры есть встроенные модули Wi-Fi и NFC. Они позволяют быстро и удобно соединить вашу камеру со смартфоном для передачи отснятого материала или удаленного управления камерой. Все эти прелести работают только с Android, iOS, ПК и телевизорами с поддержкой DLNA, ни о каких WindowsPhone и прочих пока и речи не идет. А вот работа с ТВ – это очень полезная штука, особенно, если вы любите просматривать фото большой компанией. У Alpha 5100  все работает быстро и удобно даже со старыми моделями ТВ, которые подключены к сети по проводу. Вам нужно подключить фотоаппарат к той же сети – и камера сама найдет телевизор и выведет изображение.
От старших зеркальных камер беззеркальным Alpha досталось и меню, и это, пожалуй, самое большое разочарование. Ввиду малого количества органов управления к нему обращаться приходится достаточно часто, и порой бывает сложно отыскать нужную настройку. У линейки NEX оно было гораздо продуманнее и интуитивно понятнее, хотя это очень индивидуально.
Галерея изображений
Alpha 5100 VS Alpha 5000
Матрица на 24 МП vs 20 МП
Новая скоростная система автофокуса
Сенсорный экран
Улучшенные возможности видео
Понравилось
Продуманная эргономика
Малошумная матрица
Точность цветопередачи
Фокусировка по сенсорному экрану
Скорость и точность фокусировки
Автофокус в видео
Следящий автофокус
Поворотный экран
Вспышка, которую можно направить в потолок
Wi-Fi и NFC
Не понравилось
Неудобное меню
Ограниченная совместимость Wi-Fi и NFC
Ограниченная функциональность сенсорного экрана
Отсутствие горячего башмака
Альтернатива
Canon EOS M
Виденье беззеркальных камер, от одного из лидеров рынка зеркальных фотоаппаратов. Эта камера, по большому счету, является умешенной версией таких легендарных камер как 60d и 650d.  Она больше подойдет владельцам зеркалок от Canon, которые ищут компактную камеру для путешествий, так как переход будет максимально комфортным. У этой камеры кстати, одна из лучших реализаций сенсорного интерфейса, а также есть горячий башмак, и полная совместимость с аксессуарами EOS.
Samsung NX3000
К камерам Samsung, многие относятся с опаской и некоторым недоверием, но все эти сомнения проходят, после того как вы взяли ее в руки и сделали несколько снимков. Ее стоит выбрать тем, кто хочет купить камеру начального уровня с возможностью работать в студии и внешними вспышками.
Nikon 1 J3
А это малышка от компании Nikon, несколько  другой тип камеры, она обладает сменной оптикой, но ориентирована на тех пользователей которые не хотят заморачиваться с параметрами съемки. Она маленькая компактная и максимально ориентированна на автоматическую съемку.
Также советую заглянуть в наш гид покупателя по беззеркальным камерам 2014, для более детального сравнения, и выбора именно того, что вам нужно.
Какое стекло выбрать
Sony E PZ 16-50mm F3.5-5.6 OSS — обычно используется как китовый объектив у большинства новинок Sony, и практически делает их более привлекательными на фоне конкурентов. Он позволяет определится каким должен быть следующий объектив. И в тоже время станет незаменимым помощником, даже продвинутого видеографа, благодаря стабилизации, быстрому мотору автофокуса и приводом зуммирования.
Sony 50mm F1.8 — светосильный «полтинник» и этим можно было закончить его описание, если бы это был объектив какой то другой фирмы. Но это Sony, а это значит что это нафаршированный полтинник, здесь и быстрый ультразвуковой мотор фокусировки, и оптическая стабилизация, и качественный металлический корпус.
Sony 18-200mm, f/3.5-6.3 Power Zoom
А это уникальное стекло, для самых требовательных пользователей. Фокусные расстояния 18-200мм, компактный на столько, насколько это вообще возможно для такого диапазона фокусных расстояний, с сервоприводом зуммирования, быстрым ультразвуковым мотором, и мощной системой оптической стабилизацией. Идеальный для фото и видео съемки где и когда угодно.
Резюме
У Sony получилось по-настоящему достойное обновление доступной камеры. Это, пожалуй, лучшая беззеркалка для начинающего фотографа. Из минусов стоит обращать внимание только на отсутствие горячего башмака, так как это делает невозможным использование камеры со студийным оборудованием и внешними вспышками. Но насколько часто это нужно обычному пользователю? В остальном же это идеальная камера, особенно в качестве первого серьезного фотоаппарата. Однозначно советую любителям, а также всем молодым родителям, так как эта камера точно сможет запечатлить ребенка на любой скорости. Всем хороших снимков, и не забудьте написать в комментариях, что вы думаете об этой малышке.
kaddr.com
Sony Alpha A5100 review -
The Sony Alpha A5100 is an entry-level mirrorless camera that's compatible with Sony's range of E-mount lenses. Announced in August 2014, it comes just eight months after its predecessor, the A5000, but unlike many swift camera updates, the A5100 sports a number of important and very worthwhile improvements.
First the APS-C sensor, inherited from the higher-end A6000. This means the A5100 now enjoys 24 Megapixels to its predecessor's 20, but more importantly means it also boasts the A6000's 179 embedded phase-detect AF points which allow that model to continuously focus with a high degree of success. This is a huge upgrade over the A5000, and indeed almost any system camera, mirrorless or DSLR. Where most cameras costing even twice the price of the A5100 can struggle with continuous AF, especially mirrorless models, Sony's embedded phase-detect array can track sports and action with ease.
Like its predecessor, composition on the A5100 is with its screen only, which as before can flip back by 180 degrees to face the subject for easy self-portraits or filming pieces to camera. New to the A5100 though is a higher resolution screen, 920k dots vs 460k, and hallelujah, touch-sensitive capabilities. Yes, for the first time in ages for a Sony camera, you can tap to reposition the AF area. Also inherited from the RX100 III and A7s is the option to encode 1080 / 50p / 60p movies in XAVC S, supporting the higher bit rate of 50Mbit/s. Like its predecessor there's also Wifi with NFC and the chance to download apps to expand the functionality. It's undoubtedly an impressive spec for the money, but is it the best bet for someone wanting a step-up from a point-and-shoot or phone? To find out I compared the A5100 against several high-end compacts as well as the next model up in the range to help you make the right choice!
Like the A5000 before it, the A5100 offers a modest but usable grip – less than the A6000, but more than most compacts like the RX100 III. Along the top surface you'll find a small popup flash, shutter release with zoom collar and power switch, and perched on a sloping surface, a dedicated record button for the movie mode. So like its predecessor it lacks a dedicated mode dial and hotshoe for mounting flashes and other accessories; note the A6000 and RX100 III both have a mode dial and the A6000 also has an accessory shoe.
Round the back of the camera there's a control wheel which can tilt in four directions with the default options being up for the display views, right for the ISO sensitivity, down for exposure compensation or picture controls, or left for the drive modes. I'm pleased to report Sony's got the resistance just right for the wheel which means it's easy to spin it without accidentally pushing down and entering a menu you didn't want to. Finally, there's four buttons on the rear: Menu, Play, Help / Recycle and a central unlabelled button in the middle of the wheel.
By default the button in the middle of the wheel fires-up the shooting mode menu, saving you from selecting it from the main menu system, although to be fair it is the first item on the first page so it's easy to find. With the mode menu on-screen you then turn the rear wheel to select the desired option. If preferred, the Custom Key settings menu let you change the function of the centre button, along with the left, right, down, and Help buttons from a list of 35 options. I reconfigured the Help button to enter the AF mode as it's one I regularly access.
The screen remains 3in in size and 16:9 in shape, and like its predecessor can be angled-up by 180 degrees to face the subject for self-portraits, although the mechanism doesn't allow it to be angled down so if you want to comfortably compose over the heads of crowds you'll need to hold the camera upside-down. In contrast, the A6000's screen can angle down a little, but can only angle up by 90 degrees, missing out on the selfie-trick. Meanwhile the RX100 III offers the best of both worlds with a screen that can angle down and all the way up to face the subject.
A quick note on screen shapes: the A5100, along with the A5000 and A6000, all employ 16:9 shaped screens, which means HD movies fill the panel, but shooting photos in the narrower native 3:2 aspect ratio will mean less of the screen is used. Interestingly Sony's gone the other way with the RX100 III which uses a 4:3 shaped panel, which means 3:2 shaped stills are displayed with a black bar below, while 16:9 movies are letterboxed top and bottom.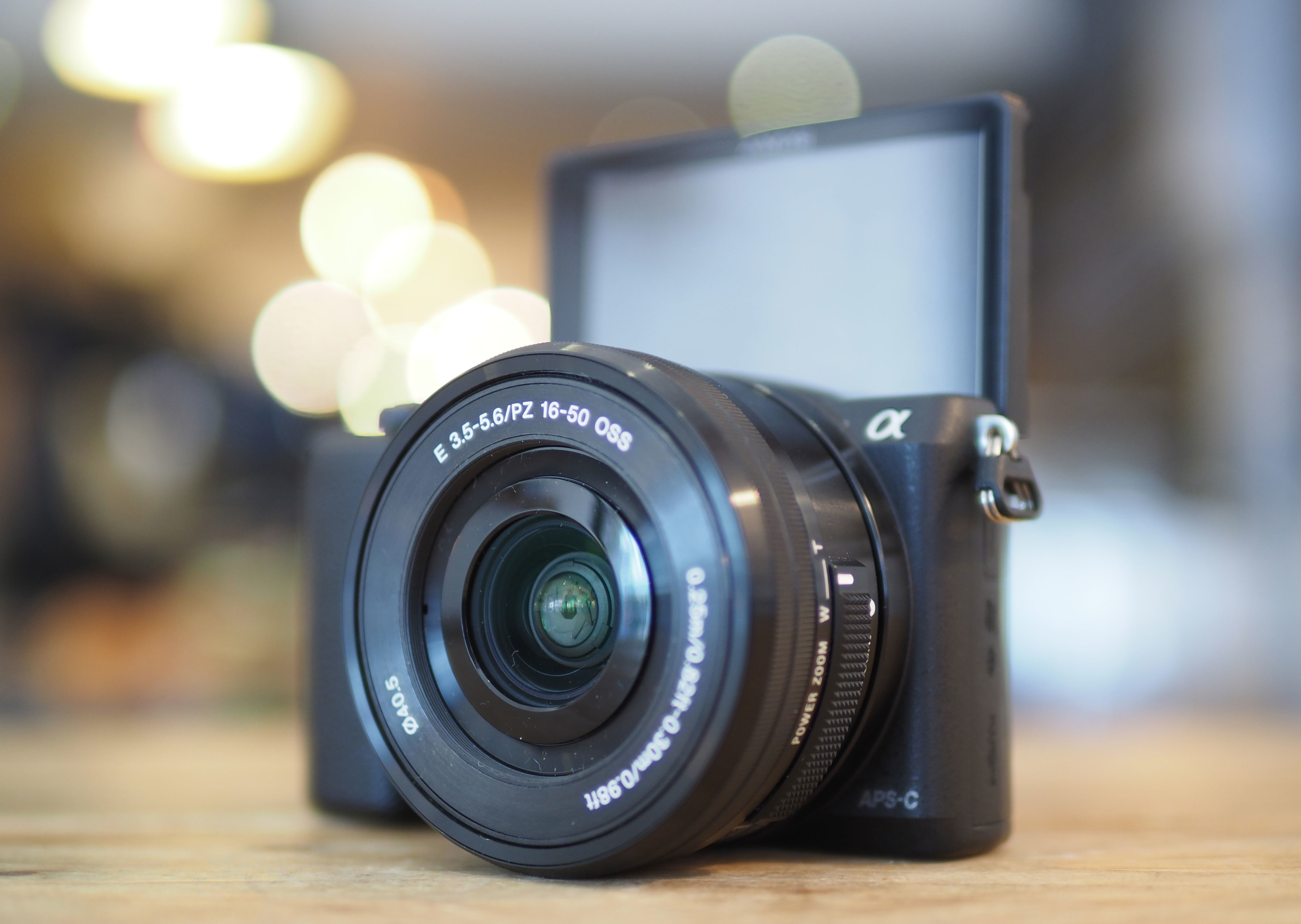 There's pros and cons to each screen shape, depending on what you're shooting, but one thing all the Sony's have in common is a backlight that's set a little dim as standard. Take any of them out in daylight – overcast or direct sunlight – and the image can become hard to see. Sony offers a monitor brightness control on all of them, and setting for Sunny Weather boosts the brightness to become much more visible, albeit at the cost of decreased battery life.
The A6000 and RX100 III enjoy the benefit of having built-in electronic viewfinders which are much easier to view in bright conditions, while also providing extra stability with the camera held against your face. As an entry-level camera though, there's no viewfinder built-into the A5100, nor any means to mount an accessory either, so you're stuck with the screen alone. This is arguably the most important limitation on the A5100, so you should think carefully whether you'd like to use a viewfinder or not. Leaving it out allows the A5100 to be smaller, lighter and cheaper, but equally it means you'll be composing with the screen alone.
The A5100's screen may share the same size, shape and articulation as the A5000, but the panel now sports double the resolution (920k dots vs 460k dots), bringing it in line with other modern cameras. Best of all the A5100 becomes the first Sony camera in ages to offer a touch-sensitive screen, although strangely it's not used a great deal. You can move the AF area by touch and also fire the shutter too with a tap if desired. You can additionally pull focus between subjects when filming movies by touch, something that's not offered on most models in the range. But strangely you can't swipe through images in playback or pinch to zoom. Neither can you tap your way through the menus or even use the touch-interface to enter text which would have been very useful in the Wifi section. There's also no touch-interface for accessing popular shooting settings. So while I'm pleased you can touch to reposition the focus area or pull focus during movies, I'm perplexed why Sony decided to curb all other touch operations.
Speaking of the user interface I was also sad to see the A5100 doesn't offer anything like the A6000 or RX100 III's Function menu which presents a customizable selection of popular shooting settings for quick and easy access. Even without a touch screen, Quick menus like these are invaluable for operating a modern camera and without one, I found myself having to enter the menus of the A5100 a lot more than I wanted. Of course the A5100's target audience may not want or need to change settings very often and indeed quick access to things that could potentially mess up their photos may be seen as a bad thing. In this case the A5100's limited user interface probably makes sense, but if you have any desire to change settings frequently, you'll find models like the A6000 much better suited to you.
In terms of wired connectivity the A5100 is the same as the A5000 before it: a flap on the left side of the body (now split into two), houses Sony's Multi / USB port and a Type D Micro HDMI port with an SD memory card slot sandwiched between them. Like its predecessor, you'll first need to angle the screen up to open the flap to access the SD slot or HDMI port, although a new split in the flap now allows you to access the USB port without adjusting the screen. The A5100 also features built-in Wifi with NFC, more of which in my dedicated wireless section later. As you'd expect, there's no means to connect an external microphone to the A5100, unless Sony figures out some way to do it over Wifi in the future.
The Multi / USB port serves multiple duties: beyond getting images and movies out of the camera, it doubles-up as a port for the optional RM-VPR1 cabled remote control and a battery charging socket. Like its predecessor, the A5100 recharges its battery internally over a USB connection and Sony supplies an AC-USB adapter in the box, although you'll almost certainly have others that will do the job.
Some people don't like to charge batteries inside their cameras as it effectively ties them up, but the flipside is that you don't need to carry around a proprietary charger nor find an AC outlet to power it either. With charging inside the camera, you always have the charger with you, and by powering the process with USB you'll have many options available which don't involve being tied to a wall. For example you could recharge the camera using a cigarette lighter adapter in your car, or exploit the USB ports fitted into many vehicles including coaches or planes. If you have a laptop, you could recharge the camera using one of your USB ports, or you could simply use an external USB battery to topup or completely recharge absolutely anywhere. And of course when you are near mains power, you'll almost certainly have an AC-USB adapter from another device like a phone or tablet that you could use with the camera. Note unlike a smartphone though you can't shoot with the camera while it's being charged; switching it on pauses the charging process.
I use an Anker Astro Mini battery rated at 3000mAh to topup my phone when I'm out for long periods, and I love that I can also use it to topup my USB-powered cameras too. If I'm running low on either device, I'll often connect the Anker while I walk between locations or catch public transport, and by the time I reach my destination they're both significantly replenished without ever having to find a mains socket.
As for the actual battery, the A5100 is powered by the same NP-FW50 Lithium Ion pack as the A5000 and A6000. Sony reckons it's good for up to 400 shots, although if, like me, you regularly boost the screen brightness and exploit the Wifi, you'll be looking at a great deal less. So I'd recommend taking a USB battery out with you.
Sony Alpha A5100 lenses
The Sony A5100 is equipped with an E-mount, which with the camera's APS-C sized sensor, applies a 1.5x field reduction to all lenses. At the time of writing Sony offered 15 native E-mount lenses (nine zooms and six primes) with focal lengths between 10 and 210mm (15 and 315mm equivalent); note three of the 15 lenses are variations of the popular 18-200mm though. In addition you can mount any of the seven native FE lenses designed for the full-frame Alphas without an adapter, although again with the 1.5x crop factor.
As a mirrorless camera, the A5100 has a short flange to sensor distance which allows you to squeeze in adapters to mount lenses from pretty much any other system, albeit with restrictions on AF and metering. The most capable adapting unsurprisingly comes when mounting Sony's A-mount lenses via the optional LA-EA4, which offers autofocus via its own SLT phase-detect AF system. If you're happy with manual focusing and manual exposures though, you can adapt a wealth of other formats including Canon FD, Nikon F, Pentax K, Olympus, Leica M and many more. Once again any lens you mount has its field reduced by 1.5 times.
The Alpha A5100 is typically sold in a kit with the SELP1650 16-50mm f3.5-5.6 Power Zoom lens, the same model introduced with the NEX-6 and supplied with its predecessor. This is a retractable design which when powered-down collapses to just over 30mm thick. Combined with a light weight of just 116g, this allows the A5100 to enjoy a compact form factor that's much more portable than when fitted with the earlier 18-55mm kit zoom. The 16-50mm also offers a more useful equivalent range of 24-75mm: the difference between the telephoto (75mm vs 83mm) end is negligible, but at the wide-end, 24mm captures a noticeably bigger field than 27mm. You can see an example of the coverage below.
| | |
| --- | --- |
| Sony Alpha A5100 with 16-50mm coverage wide | Sony Alpha A5100 with 16-50mm coverage tele |
| | |
| 16-50mm at 16mm (24mm equivalent) | 16-50mm at 50mm (75mm equivalent) |
As a power zoom, the 16-50mm enjoys motorised control over its focal length using a slider on the side of the barrel or using the collar control around the shutter release like a compact. If the camera is set to AF, the single ring on the barrel can alternatively be used to adjust the zoom. If the camera is set to manual focus this ring switches its function to focusing.
A motorized zoom allows smooth adjustments of focal length while filming movies, but I found the slider control could often be nudged by mistake as I held the camera, resulting in unexpected jumps in focal length. The ring control was also very sensitive when configured for zooming, causing the lens to lurch back and forth without much finesse, and I also found there was a little too much play when manually focusing.
Shrinking the lens down has also resulted in some optical compromises. At the wide end there's significant distortion that's corrected in-camera and by compatible RAW converters (including recent versions of Photoshop and Lightroom), but the image quality looked a little soft and lacking bite throughout the range. I also found I needed to stop the lens down to f8 to avoid any softness towards the edges at any focal length, which in turn often meant shooting with slower shutter speeds or higher ISOs than I wanted.
Indeed it's very important to take the kit zoom's aperture into consideration when weighing-up the A5100 against, say, a compact camera with a smaller sensor. When zoomed to wide, the 16-50mm offers a maximum aperture of f3.5, and when zoomed to telephoto, it slows to f5.6. In comparison, a compact like Sony's own RX100 III offers a maximum aperture of f1.8 when wide and f2.8 at telephoto, an exposure difference of two stops across the range. This allows the RX100 III to use an ISO sensitivity two stops slower than the A5100 under the same conditions, for example 200 ISO when the A5100 has to use 800 ISO. This effectively counteracts any benefit of the A5100's larger sensor, unless you fit a lens with a brighter aperture. It's important to mention this as I think many of the A5100's target audience may rarely swap lenses, in which case they could achieve similar quality under the same conditions with the smaller RX100 III.
It's also worth mentioning closest focusing distances, which for the 16-50mm is between 25 and 30cm. Compare that to the RX100 III again which offers a closest focusing distance of 5 and 30cm. So when both are zoomed to telephoto, they offer similar reproductions, but when zoomed wide, the RX100 III, like most compacts, can focus much much closer for more dramatic macro shots. To illustrate the difference, I took photos at the closest focusing distances for the A5100 with 16-50mm and the RX100 III when both were set to 24mm and 75 / 70mm equivalent. First the cameras at their closest focusing distances when set to 24mm equivalent.
| | |
| --- | --- |
| Sony Alpha A5100 with 16-50mm kit zoom Macro at 24mm at 25cm | Sony RX100 III Macro at 24mm at 5cm |
| | |
| 16-50mm at 16mm (24mm equiv) – full image | 8.8-25.7mm at 8.8mm (24mm equiv) – full image |
| | |
| crop made from upper left corner | crop made from upper left corner |
As you can clearly see above, the ability to focus much closer has given the RX100 III a key advantage in not just reproducing the subject larger, but also in blurring the background elements. Next let's see how they compare when zoomed-in.
| | |
| --- | --- |
| Sony Alpha A5100 with 16-50mm kit zoom Macro at 75mm at 30cm | Sony RX100 III Macro at 70mm at 30cm |
| | |
| 16-50mm at 50mm (75mm equiv) – full image | 8.8-25.7mm at 25.7mm (70mm equiv) – full image |
| | |
| crop made from upper left corner | crop made from upper left corner |
This time it's a much closer contest with both cameras sharing a similar closest focusing distance when zoomed-in. Here you can clearly see how the depth of field is defined not just by the distance to subject, but also the aperture and actual focal length. The RX100 III's smaller sensor means to deliver a 70mm equivalent field of view only requires a 25.7mm actual focal length. Meanwhile the bigger sensor on the A5100 requires a 50mm actual focal length to deliver an equivalent of 75mm. Had they shared the same aperture, then the A5100 would have delivered more blurring, but the fact their maximum apertures are two stops apart means they're essentially delivering the same result. I'd say the quality of the blurred elements look nicer from the A5100's kit zoom than the RX100 III's, but the bottom line is when both are at the same subject distance, using the maximum zooms and maximum apertures, they'll deliver effectively the same amount of blurring. This equally applies to portriats as it does to macro shots here. So don't choose one over the other thinking it will deliver more blurring at the telephoto end. The A5100 has greater potentiual to do it, but you'll meed to couple its bigger sensor with a lens sporting a brighter focal ratio – something like the 50mm f1.8.
In short, while the 16-50mm kit zoom offers a portable configuration for the A5100, it's not the World's best lens by a long margin. If you want to avoid its distortion, softness and enjoy the potential of the A5100's 24 Megapixel sensor, you'll need to fit a higher quality option sooner rather than later, and in most cases that means carrying a bigger, heavier lens. You can see how the 16-50mm performs in my results and sample images pages, and in the former, it's clear how it's holding the camera back. Ultimately if you don't think you'll ever swap lenses, I'd recommend going for something like the RX100 III instead.
Sony Alpha A5100 menus and display views
Pressing the DISP button cycles through a selection of up to four different information views, each super-imposed onto the live image: you can have three different views of the shooting information from detailed to none at all, along with an extra page showing a live histogram although sadly there's still no leveling gauge. The DISP option in the menus lets you choose which of the four views you'd like enabled.
The A5100 also offers a selection of super-imposed guidelines, along with zebra patterns in a range of 70 to 100+ to help identify regions of specific exposure.
In terms of the menus, the A5100 inherits the tabbed system of the A6000, although with a handful of minor differences to reflect the new features mentioned throughout the review. Press the menu button and you'll first be presented with six tiles to drill down to the desired section, after which you can tab through the different pages; if you like you can disable the initial tiled view. Each page has no more than six options on it and there's no scrolling vertically.
That said there's still room for improvement: while browsing pages you'll notice various options are greyed-out because you have another option enabled somewhere else, for example Picture Effects are greyed-out when shooting in RAW or RAW+JPEG quality, and panorama options are greyed-out unless the mode is actually set to Panorama. But surely this is daft. I often change settings in advance of using them, such as various quality options, and I dislike not being able to do this unless I am in the correct mode first.
In playback there's three views: a clean full image, one superimposed with basic shooting information, and a third which shrinks the image to a thumbnail to accommodate additional RGB and Brightness histograms. Annoyingly portrait images don't rotate to fill the screen during playback when the camera's turned on its side though.
On earlier Sony cameras you had to choose whether to view stills or movies during playback, which could get pretty annoying if you wanted to jump from one to another; instead you'd have to select, say, stills, or video from a tab in playback. While this option is still available on the A5100, Sony thankfully now lets you view photos and videos together by default, like everyone else. Phew.
Sony Alpha A5100 shooting modes
The Alpha A5100 offers a wide variety of shooting modes, but no mode dial with which to select them. In the absence of a mode dial you'll need to either press the menu button and choose the first option, or in the default configuration, press the button in the middle of the wheel on the back. Both will fire-up an on-screen virtual mode dial which you spin using the wheel to choose from the usual PASM modes, along with two Auto options, SCN, Sweep Panorama and Movie; indeed exactly the same choices as the A6000, but without Memory Recall. You can start filming video in any relevant mode by simply pressing the red record button, but by first putting the camera into the Movie mode, it'll preview the appropriate composition frame and offer access to the dedicated movie options.
The A5100 offers shutter speeds between 1/4000 and 30 seconds with a Bulb option and a fastest flash sync of 1/160. At the long exposure end, 30 seconds is also normal, although I should note Panasonic and Olympus offer 60 second options on most of their models, while Olympus additionally offers a Live Time capability which keeps the shutter open for up to 30 minutes with a single press and even lets you peek at the exposure as it builds and stop it if necessary.
If you want exposures longer than 30 seconds on the A5100 and don't want to keep the shutter pressed-down by hand, you'll need to buy the optional RM-VPR1 wired remote. Here's an example taken at the maximum 30 seconds; note this was taken with long exposure noise reduction enabled (the default setting), which takes a dark frame afterwards lasting the same time as the exposure.
Auto Exposure Bracketing is available on the A5100 for three frames at 0.3, 0.5, 0.7, 1, 2 or 3EV increments, or for five frames in 0.3, 0.5 or 0.7 EV increments. You can set the drive mode to Single or Continuous for any of these bursts, although for the latter you will need to keep the shutter release held; it's a shame the entire sequence can't be captured with a single press or self-timer. White Balance and DRO bracketing is also available.
The A5100's picture effects are greyed-out if you're shooting RAW or RAW+JPEG, which is daft as it'd be nice to only have the effect applied to a JPEG and keep a RAW as backup. Olympus does this much more sensibly with its ART filters, which are only applied to JPEG files, leaving the RAW file (if enabled) as a backup, and even lets you grab all (or a selected bunch) of the ART filters in one go with ART filter bracketing.
Anyway, back to the A5100. With RAW disabled, you can choose from Toy Camera (with five different filters), Pop Colour, Posterisation (in Colour or Black and White), Retro, Soft High Key, Partial Colour (with the choice of red, green, blue and yellow), High Contrast Mono, Soft focus (with the choice of Low, Mid or High), HDR Painting (with the choice of Low, Mid or High, or as I like to call them, awful, horrendous or appalling), Rich Tone Mono, Miniature (with the stripe of focus variable between Auto, Top, Middle Horizontal, Bottom, Right, Middle Vertical or Left), Watercolour, or Illustration (with the choice of Low, Mid or High). Here's how a bunch of them look given the same real-life subject.
| | |
| --- | --- |
| Sony Alpha A5100 Toy Camera | |
| | |
| Sony Alpha A5100 High Contrast Mono | Sony Alpha A5100 Partial Colour (Blue) |
| | |
| Sony Alpha A5100 HDR Painting (High) | Sony Alpha A5100 Illustration (High) |
| | |
The D-R menu is where you'll find the Dynamic Range Optimiser (DRO) and in-camera HDR options, the former available in Auto or set Levels of one to five, and the latter available as Auto or in increments of one to six EV. The HDR mode actually takes three images at the desired interval and combines them in-camera into a single JPEG file, and you can trigger it with a single shutter press or a self-timer. If you have RAW or RAW+JPEG selected, the HDR options are greyed-out.
| | | |
| --- | --- | --- |
| Sony Alpha A5100 DRO and HDR mode off | Sony Alpha A5100 DRO Level 5 | |
| | | |
| | | |
| DRO / HDR off, f4, 1/30, 800 ISO | DRO Level 5, f4, 1/30, 800 ISO | HDR 6EV, f4, 1/30, 800 ISO |
The SCN mode on the dial lets you choose from nine presets, including the usual suspects like Portrait, Landscape and Sunset, but also including the composite Handheld Twilight and Anti Motion Blur modes which take a burst and combine them to reduce shake and noise.
The Sweep Panorama mode enjoys its own dedicated position on the mode dial, and selecting it unlocks two options on the first menu page (although why Sony doesn't let you set things in advance while you're in other modes remains beyond me). Like previous Sony cameras you can choose between Standard and Wide for the size, and Right, Left, Up or Down for the direction.
After that it's just a case of holding the shutter release button down as you pan the camera in the selected direction, sometimes being told to do it again in case you were too slow or fast. Note unlike Sony's fixed lens cameras, you can adjust the optical zoom on your lens before shooting a panorama, but be warned the camera becomes fussier about your technique as you zoom-into longer focal lengths. Here's two examples with the 16-50mm kit zoom at 16mm, first a horizontal pan and secondly a vertical pan.
6.14MB, Program AE, 1/320, f/13.0, 100 ISO, 16-50mm at 16 mm (24mm equivalent)
Click image to access original at Flickr
3.9MB, Program AE, 1/250, f/11.0, 100 ISO, 16-50mm at 16 mm (24mm equivalent)
Click image to access original at Flickr
Like other Sony cameras, the Sweep Panorama works fairly well and gives the A5100 a fun advantage over many rival system cameras. You often need to refine your technique and I'd recommend taking a couple at each attempt to make sure but it remains a fun and effective way of grabbing panoramic views.
Finally there's the two Auto modes, Intelligent Auto which employs scene detection, and Superior Auto which additionally exploits the composite presets to reduce blur or noise where necessary or desirable. I understand Sony's decision to only offer the composite modes on one of the Auto options as the camera suddenly firing multiple exposures may alarm those who aren't expecting it!
The A5100 also offers Sony's Auto Object Framing feature, which makes a duplicate image that's cropped and effectively recomposed. This only works under certain conditions and modes though, and you also have to enable the feature. In practice I found it generally kicked-in when shooting people in the Auto modes. In this situation the camera would recognize people's faces and switch into a portrait scene mode. Knowing where the face or faces were in the scene, it would then create a duplicate image, cropped to offer an alternative composition, then scaled back up to 24 Megapixels. If one person were in a wide view, the A5100 normally cropped-in for a head-and-shoulders view in the portrait orientation. If there were two or more faces, again in a wider view, it would normally maintain the landscape shape, but again crop-in for a closer look. Whatever the crop, the final image would be scaled / interpolated up to 24 Megapixels.
When playing back images I was often surprised to find these tighter views when I'd shot wide portraits in the Auto modes, but invariably I found the recompositions were actually quite pleasing. That said, they had of course cropped-out any of the background, eliminating the context of many travel photos, and by making a crop they were also lower resolution than the original, despite the scaling-up at the end.
But remember they're not replacement images, they're recorded in addition to the originals. Experienced photographers may still feel uncomfortable with the idea regardless, but I think it works well for those who perhaps don't get close enough to their subjects in portraits and small group shots. The feature gives you a smartish scaled-up crop along with the original for good measure.
Just before wrapping-up this section, a quick note on the selfie-mode on the camera. If you flip the screen out to face the subject it automatically switches itself into a self-timer mode with face detection enabled. You'll see any human faces in the picture framed by the usual squares, after which you simply need to tap the main person (on the screen!) for the camera to trigger a self-timer release; alternatively if there's just one of you or the camera has successfully identified the main subject, you can just press the shutter release. While I think it's correct to assume most people will be taking selfies with the screen in this configuration, it's possible to disable the automatic self-timer if desired. The screen also works fine flipped foward to face the subject when recording video, which makes it great for video bloggers filming pieces to camera; if you're in the movie mode, the auto self-timer is over-ridden.
Sony Alpha A5100 focusing
The Sony A5100 is equipped with the same hybrid AF system as the A6000 which employs both contrast-based and phase-detect autofocus systems, the latter embedded into the imaging sensor. I'll discuss the AF for photos here and for video in the movie section lower on the page.
Like the A6000, the A5100's contrast-based system splits most of the frame into 25 areas using a five-by-five array, while the embedded phase-detect system spreads 179 AF points across around 92% of the frame. This means the A5100, like the A6000 can exploit phase-detection almost up to the very edges of the frame. This should mean effective tracking of a subject almost wherever it is on the frame.
The A5100 offers AF-S (Single), AF-C (Continuous), AF-A (automatically choosing depending on the situation), DMF (Direct Manual Focus) and MF (Manual Focus) modes. In terms of AF area selection you can choose between Wide (where the camera chooses any of the 25 AF areas on-screen), Zone (where the camera chooses from a reduced group of nine AF areas, but you get to choose where they are on the frame), Center, Flexible Spot (where you can manually position a single AF area almost anywhere on the frame in much finer steps than the 25 area grid, and where you can also adjust the area size between Large, Medium and Small), and new to the A5100 over the A6000, 'Lock on AF' that works with any of the earlier options.
Lock On AF is a great new addition to the A5100's focusing arsenal, tracking any subject that starts within the selected focusing area. Once locked-onto the subject, the A5100 will follow it around the frame, which when combined with the Continuous AF system, allows you to track pretty much any object. Think of it like the face detection tracking on the earlier A6000 but for non-human subjects. I found it worked particularly well with the Wide and Zone Area options, and it was fun to see a bunch of tiny phase detect AF squares surround and follow the subject like a swarm of bees.
Manually repositioning the AF area on the earlier A6000 involved far too many button presses for my liking, but thankfully the touch-screen interface on the A5100 has greatly simplified the process. You can simply tap anywhere on the screen to 'drop' a single AF area that over-rides the current AF Area mode; this is particularly useful as it effectively switches the camera from, say Wide Area to Flexible Spot with a single tap without entering any menus. Once you've tapped the screen, a touch-button appears which lets you switch back to the previous AF Area mode. One potential area for confusion though is when Lock On AF is enabled, as the A5100 will deploy object tracking with variable (and moving) frames. While technically interesting, you may simply want to place an AF area with a tap and have it stay there. To do that just disable Lock On AF from the menus and tap away.
So how does it all come together in practice? First of all, the speed in AF-S mode. I tested the A5100 with the 16-50mm kit zoom and FE 70-200mm f4G OSS and found it could certainly focus very quickly for single AF acquisitions. It's hard to know what combination of technology it's using when set to AF-S, but there's minimal to no hunting, and in good conditions the lock is almost instant. The Pre-AF option, enabled by default in the menus, also means the camera has generally already focused on the subject if you dwell on it for more than a second or so.
Tested side-by-side in AF-S mode against rivals, it's certainly quicker than the more expensive Fujifilm XT1, suggesting Sony may be right about its claim of the fastest AF for a mirrorless camera with an APS-C sensor. But it's certainly not the fastest mirrorless camera of any format. I tested the A5100 alongside the most recent Micro Four Thirds models from Panasonic and Olympus, and both were quicker than the Sony. I should also add as the light levels became lower the A5100 (like the XT1 and A6000) slowed down and in dim conditions often struggled to lock-on, whereas the latest Olympus and Panasonic models continued to autofocus successfully even in very low light. For comparison, Sony quotes the A5100 AF works down to 0 EV whereas the latest Panasonics will still operate at -4 EV (both at 100 ISO with f2.8 lenses). I certainly found a number of situations in very low light at night when I had to manually focus with the A5100 and A6000, when the Panasonics would autofocus without complaint.
To be fair I'd still rank the single AF performance in good light with the A5100 as very good – indeed arguably better than other APS-C mirrorless cameras I've tested – it's just not quite as fast as the best Olympus and Panasonic models, nor as successful as they are in low light.
Switch the A5100 to AF-C continuous autofocus though and Sony's hybrid system really shines. Like the A6000 before it, the A5100 will confidently track moving subjects across almost the entire frame, even when equipped with lenses like the FE 70-200mm f4G OSS. To put the A5100's AF system to the test I photographed a number of moving subjects from kids on scooters to adults on bikes and dogs running around. Below is a sequence of 16 frames taken with the FE 70-200mm at 200mm f4, and the A5100 set to Continuous AF and Continuous High / 6fps drive mode. Here's one frame, followed by the sequence.
1/2500, f/4, 400 ISO, 70-200mm at 200mm (300mm equivalent)
Click image to access original at Flickr
Of the 16 frames, I'd say seven are perfectly in focus, with five more being very close, leaving the remaining four being slightly out when viewed at 100%. This performance was typical for the camera in my tests. So I was achieving about a 50% success rate for perfection and about 75% if I didn't mind it being a little-out. At 6fps this corresponds to 3 great shots per second, one that's okay and two which are a bit below average. I'd say that's still a good result, especially as most people won't be using the images at their full 24 Megapixel potential. The images are so large that you may rarely use more than 50% of the resolution, which in turn increases your effective hit rate.
Sony Alpha A5100 Continuous AF with Continuous High Drive mode using FE 70-200mm at 200mm f4
Full image above, 50% crop below
Full image above, 50% crop below
Full image above, 50% crop below
Full image above, 50% crop below
Full image above, 50% crop below
Full image above, 50% crop below
Full image above, 50% crop below
Full image above, 50% crop below
Full image above, 50% crop below
Full image above, 50% crop below
Full image above, 50% crop below
Full image above, 50% crop below
Full image above, 50% crop below
Full image above, 50% crop below
Full image above, 50% crop below
Full image above, 50% crop below
The only camera which out-guns the A5100 without spending considerably more on a semi-pro DSLR is Sony's own A6000. The AF system is the same, but the A6000 can fire-off almost twice as many frames per second: 11 versus six. With a similar hit to miss ratio, this means the A6000 will typically deliver twice as many sharp images per second, giving you a stronger chance of capturing the decisive moment. Certainly if you're really into action or have sporty friends and family, then I'd go for the A6000 over the A5100. But don't let that detract from the A5100 which is a fantastic performer and will allow you to capture moments that literally elude other cameras in the same price bracket, especially rival mirrorless cameras and compacts.
It's also worth noting that while a good DSLR will match the tracking capabilities, it'll onyl do so if the subject is within a golden diamond shape which houses the AF sensor, roughly in the middle of the frame. if the action falls outside this area, the camera won't track it, whereas the A5100 and A6000 will track subjects right up to the edges of the frame, and also recognise faces and track them too if preferred. Plus, since it's natively live view, you can also exploit an articulated screen to compose at unusual angles – during a stage of the Tour de France I composed with the A6000 held out, but I also used it during the time trial to compose over the heads of crowds, all while still shooting with uncompromised AF and burst performance. I've detailed my experiences during the Tour in a seperate article: shooting sports with mirrorless.
Moving onto Manual Focus, the A5100 offers a selection of aids which help you nail the shot. First of all, there's an optional magnified view at 5.9x (not quite 1:1) which appears (when enabled) as soon as you turn the focusing ring on the lens (when shooting stills, not video). Secondly there's focus peaking which surrounds subjects of high contrast with a coloured fringe, available at three sensitivity levels and in three colours. Strangely unlike the A6000 though, I couldn't get them to work together for a belt-and-braces approach. There's also an on-screen distance scale although it's pretty basic compared with the one on the Fujifilm XT1 and unlike that model the scale doesn't adapt to reflect the depth of field at different apertures. But with magnified assistance and focus peaking you'll still find manual focusing with the A5100, whether with a native or legacy lens, very easy.
Sony Alpha A5100 movies
The Alpha A5100 can record 1080p movies with full exposure control and supports continuous autofocus using the hybrid AF system. Audio is recorded using the built-in stereo microphones, although there's no means to connect an external microphone. At first the movie capabilities seem similar to the A6000 before it, but the A5100 adds a handful of new and valuable features. First is the ability to encode in XAVC S with higher bit rates. Second is being able to use the touch-screen to pull-focus by tapping, or angle it back to face the subject for filming pieces to camera. And third is the option to display new movie-releated guides, such as rectangles representing different aspect ratios like the cinematic 2.35:1. These will all make the A5100 more tempting to movie makers than the A6000, apart from the absence of an electronic viewfinder.
Starting with the encoding, the A5100 gives you the choice of three formats: you have the MP4 and AVCHD of the A6000, but now on the A5100, there's the option of XAVC S too with a higher bit rate. Note if you want to film in XAVC S mode you'll need to use an SDXC card with 64GB or more.
With the A5100 set to XAVC S encoding you have the choice of 1080p in 25 / 30p or 50 / 60p depending on region, all at a high rate of 50Mbit/s. With the A5100 set to AVCHD encoding, you can choose 1080 at 50p or 60p (depending on region) at 28 Mbit/s, 1080 50i or 60i (depending on region) at 24 or 17 Mbit/s, or 1080 25p / 24p (depending on region), again at 24 or 17 Mbit/s. Switch the A5100 to MP4 encoding and you can choose between 1440×1080 at 12 Mbit/s or VGA at 3 Mbit/s both at 30fps regardless of region.
You have full control over the aperture, shutter and ISO before and during filming, although since none of the dials are completely silent, you will hear clicking in your footage as you make adjustments. You can also adjust the optical zoom while filming, although you may want to set the Zoom Setting to Optical Zoom only as it's easy for the camera to drift into its digital zoom as you adjust it.
You can also apply some but not all of the Picture Effects. Toy Camera, Pop Colour, Posterisation, Retro, High Key, Partial Colour and High Contrast Mono are all available for movies, but the more processor-intensive Soft Focus, HDR Painting, Rich Tone Mono, Watercolour, Illustration and Miniature are not allowed. I'm not bothered about any of these apart from one: Miniature. Yep, for all their gadgetry and frills, Sony does not let you film a movie with the miniature tilt-shift effect on the A5100. There's also no slow motion options, but then that's par for the course for a camera at this price bracket – although fans of slow motion will note the RX100 III offers a 720p option at up to 120fps.
Moving on, the good news is the A5100 will exploit its hybrid AF system to deliver very effective continuous AF while filming, just like the A6000 before it. The broad and dense array of on-chip phase detect AF sensors already makes the A5100 and A6000 unique against rivals, but Sony takes the continuous AF sophistication further with the option to adjust the Movie AF Drive Speed and AF Tracking Duration on both models.
The AF Drive Speed, as its name suggests, sets the speed with which the camera refocuses while filming, and you have the choice of Slow, Normal or Fast. The AF Tracking Duration sets the response before the camera re-evaluates the scene for a potential refocus, and you have the choice of Normal or Fast.
With three AF Drive Speeds and two AF Tracking Durations, there are potentially six combinations to choose from, so to illustrate their differences I filmed six clips showing how the camera reacts when pointed back and forth between two objects at different distances. I then filmed six more clips showing how the camera reacts when continuously moved towards and away from an object. Since the A5100 is identical to the A6000 in these respects, I've used the same clips for that section, although filmed all-new ones for my main samples below.
You can see all the clips below, but just briefly here the Slow, Normal and Fast AF Drive Speeds resulted in refocusing (between near and far objects) that typically took just over a second, just under a second and almost instantly, respectively. Meanwhile the AF Tracking Duration typically required a slight pause to refocus when set to Normal, or no pause at all when set to Fast. As such when tracking a subject in constant motion you'll want the AF Drive Speed and Tracking Duration both set to Fast, but when panning and refocusing between two subjects, I preferred the more relaxed look of the Normal or Slow Drive Speeds and definitely the Normal Tracking Duration. If you use Fast Tracking Duration when panning, the camera will instantly refocus on everything it passes, which might be what you're after, but can be distracting if you just want a slow refocus between two subjects.
It's great to have the option to adjust these settings (not to mention unique in the system camera market), but the problem with the A5100's movie AF is that it's continuous or nothing, and by continuous I really mean working all the time – it literally never rests. I often yearned for a slower Tracking Duration option that gave a little more time before a refocus was initiated. Instead I'd often have to pan between subjects a bit faster than I'd have liked to avoid the camera refocusing too soon. I also found once the camera had settled on a target it couldn't rest for long and often hunted a tiny amount back and forth. To be fair this hunting was very minor and essentially invisible when viewed on the camera's screen, but if you watch the clips on a larger TV or even computer screen, very slight focus breathing is often visible when the camera dwelled on a static subject.
I am however delighted to report the A5100 offers a workaround that wasn't available on the earlier A6000. Its touch-screen not only lets you tap to pull-focus, but also effectively halts the continuous AF until you tap again. I found I could tap to refocus, then move the camera or subject as desired before tapping again to activate the focus once more – and if you want to revert to the full-time continuous AF, there's another button on-screen you can tap to end the touch-focusing.
This manual override makes the A5100 more useful for movies than the A6000, but Sony could have gone even further with the touch-screen by offering silent controls over exposure adjustment. This is something you'll find on Panasonic's system cameras, so it's disppointing not to find them here. But again I'll try and not sound churlish about it. As I mentioned earlier, I'm just pleased to see a touch-screen on a Sony Alpha.
Another way to take control over the A5100's movie focusing, is to switch to Manual Focus, the only other focusing option available. There's no magnified focusing assistance during or even before filming, but there is the option to enable focus peaking which remains active while filming. You can choose Low, Mid or High Peaking levels, and from red, yellow or white for the fringe colour. Peaking obviously helps a great deal when manually focusing for movies, but I'd have preferred to also have a magnified view to be really sure.
Now it's time to see how the camera performs in practice. All of the movies were filmed at the 1080 / 50p / XAVC S mode unless otherwise stated.
Sony Alpha A5100 with 16-50mm sample video 1: tripod, outdoors 100 ISO / 1080 / 50p / XAVC S
Download the original file (Registered members of Vimeo only)
In my first clip I filmed a tripod-based clip using the A5100 and the 16-50mm kit zoom, initially at 16mm, before then zooming-into 50mm and zooming-out again. The motorized zoom ensures the zooming process is nice and smooth, but you'll want to have your finger over the control ready before filming. If you want to avoid the pause at 50mm followed by the digital zoom, I'd also recommend changing the Zoom setting in the menus to Optical Zoom only. The default setting has the digital zoom enabled and it's almost impossible to stop at exactly the right point at the end of the optical range.
Sony Alpha A5100 with 16-50mm sample 2: handheld pan in low light at 800 ISO / 1080 / 50p / XAVC S
Download the original file (Registered members of Vimeo only)
In my second clip I tested the low light performance of the A5100 with a handheld pan around the dim interior of Brighton's GAK shop. Here the sensitivity was 800 ISO. First off the lens has done a good job of stabilizing the footage as I walk around the shop, while the camera's AF system ensures everything is kept sharp – I was particularly impressed by the way the AF system smoothly adjusted between the guitars during the clip. Meanwhile there's little to no noise to speak of, just nice clean footage with lots of detail. I would however mention that very slight focus breathing when you pause for more than a couple of seconds on a subject. Note in this clip the AF Drive Speed and AF Track Duration were both set to the default Normal.
Sony Alpha A5100 with 16-50mm sample video 3: continuous AF at 1600 ISO / 1080 / 50p / XAVC S
Download the original file (Registered members of Vimeo only)
In my third clip I tested the continuous AF capabilities of the A5100 by panning between a close subject and the distant background. I had the lens set to 50mm and its maximum aperture of f5.6 in Aperture Priority mode, and the sensitivity set to 1600 ISO; the AF area was manually set to a single area in the middle. For this clip I had AF Track Duration set to High, allowing the camera to react very quickly to changes in subject distance. Also note how there's little if any hunting as the camera refocuses on its target, all thanks to the effective phase detect AF system embedded in the sensor.
Sony Alpha A5100 with 16-50mm sample 4: continuous AF 'dolly' move / 800 ISO / 1080 / 50p / XAVC S
Download the original file (Registered members of Vimeo only)
In my fourth clip I tested the continuous AF capabilities once again, but this time for a subject in constant motion. I did this by gradually getting closer to the subject then pulling away again, before then repeating the movement. I kept the lens at 50mm f5.6, but decreased the sensitivity to 800 ISO. As I move towards the subject, again with the AF area locked to the middle, the camera refocuses frequently – they're visibly discrete steps, but it does a pretty good job at keeping the subject reasonably sharp. Play it again and look at the blurred lights in the background and you'll notice they only grow as I move the camera closer to the subject, confirming the absence of any hunting back and forth. If you compare this to cameras which use contrast-based AF for movies, you'll see background areas shift back and forth as the focus hunts and confirms. Note in this clip the AF Track Duration was set to Fast.
Sony Alpha A5100 with 16-50mm sample 5: touch-screen focus-pulling 1600 ISO / 1080 / 50p / XAVC S
Download the original file (Registered members of Vimeo only)
The A5100 features a touch-screen and in an important upgrade over the A6000, lets you use it to pull-focus between subjects with a simple tap. You can see me do this here by tapping between the Canon logo on the camera and the lights in the background. There's minimal delay with AF Tracking Duration set to High. Being able to tap to pull-focus is useful by itself, but also over-rides the annoying full-time continuous AF which literally tries to refocus constantly. Once you tap on the A5100's screen though, the camera refocuses and pauses, awaiting further instruction. This makes the AF system more usable than the A6000 above it in the range.
Sony Alpha A5100 with 16-50mm sample video: low light at 3200 ISO / 1080 / 50p / XAVC S
Download the original file (Registered members of Vimeo only)
To test the low light capabilities of the A5100, I filmed a series of tripod-mounted clips between 3200 ISO and the maximum movie sensitivity of 12800 ISO. I set the A5100 to its movie mode, chose 1080 / 50p for the quality and selected manual exposure. Here the aperture was set to f8, the sensitivity to 3200 ISO, and the shutter speed adjusted for a 0EV exposure as metered by the camera. I also set the focusing to manual. Also see my A5100 at 6400 ISO and A5100 at 12800 ISO samples.
The A5100 inherits the advanced movie AF options of the A6000, allowing you to tune the response time and refocusing speed. There's six possible combinations and to illustrate their impact I filmed each with two different movements: a pan between distant and close subjects and a continuous dolly move. I filmed the 12 clips with the A6000 which shares exactly the same capabilities as the A5100 in this regard.
Sony Alpha A6000 Continuous AF AF Track Duration Normal
Sony Alpha A6000 Continuous AF AF Track Duration Fast
AF Drive Speed Slow (Download the original file)
AF Drive Speed Slow (Download the original file)
AF Drive Speed Normal (Download the original file)
AF Drive Speed Normal (Download the original file)
AF Drive Speed Fast (Download the original file)
AF Drive Speed Fast (Download the original file)

The A5100 and A6000, uniquely for cameras in their class, let you fine-tune the video AF, both the speed of the focusing and the initial response time. There's three AF speed settings and two AF response settings, making for a total of six possible combinations. For the clip above where I panned from a close to a distant subject, I felt the best results were with the focus speed set to slow and the response time to normal, to avoid it making any adjustments too soon.
Sony Alpha A6000 Continuous AF Dolly AF Track Duration Normal
Sony Alpha A6000 Continuous AF Dolly AF Track Duration Fast
AF Drive Speed Slow (Download the original file)
AF Drive Speed Slow (Download the original file)
AF Drive Speed Normal (Download the original file)
AF Drive Speed Normal (Download the original file)
AF Drive Speed Fast (Download the original file)
AF Drive Speed Fast (Download the original file)

The A5100 and A6000 uniquely for camera's in their class, let you fine-tune the video AF, both the speed of the focusing and the initial response time. There's three AF speed settings and two AF response settings, making for a total of six possible combinations. For the clip above where I steadily moved the camera towards then away from the subject, I felt the best results were with the focus speed and the response time both set to fast, to minimise hunting or delay.
Sony Alpha A5100 Wifi
The Sony Alpha A5100 has built-in Wifi with NFC to aid negotiation with compatible devices. Wifi on the A5100 allows you to wirelessly browse and transfer JPEG images onto an iOS or Android smartphone using a free app, and also remote control the camera with your phone or tablet. The A5100 can additionally download apps directly to extend its capabilities, a feature first introduced on the NEX-6, and a feature that remains unique to Sony (if we're not counting Android-powered cameras from the likes of Samsung or Panasonic).
I'll start with transferring images from the A5100 to a smartphone and for my tests I used my Samsung Galaxy S4, onto which I'd previously installed Sony's free PlayMemories app. If you have an NFC-equipped device, such as my GS4, the entire process is incredibly simple: just choose the image you want to send in playback on the camera, then hold it against your phone. The NFC then instructs the camera and phone to connect (automatically taking care of network names and passwords), before then transferring the image and finally disconnecting. It all happens without a single button press and is the best implementation I've seen for copying images from camera to phone.
If you don't have NFC, or for some reason it doesn't work, you'll need to connect to the A5100's Wifi network manually. First go to the Wireless section and choose the option to Send to Smartphone. This then gives you the choice of either selecting the desired image on the camera, or browsing the camera's memory using your handset. Selecting either configures the A5100 as a Wifi access point which your phone needs to connect to. Next you'll need to fire-up the PlayMemories app on your phone and connect to the camera.
If you opt to select the image on the camera, it'll then be sent straight to the phone. If you select the option to choose with your smartphone, you'll see the camera's memory presented in a thumbnail view – just select the desired image and again it'll be copied over. A menu in the PlayMemories app lets you choose whether the image is sent in its original 24 Megapixel format or resized down to VGA or 2 Megapixels. Full sized 24 Megapixel JPEGs take about five to ten seconds to copy over; like most Wifi camera apps, you can't transfer RAW files.
The second option in the Wifi menu lets you send images to a computer. To do this you'll need to download the free Wireless Auto Import utility onto your Mac or PC, then briefly connect the camera so that it can be configured with your computer's details. After this you can disconnect the cable and wirelessly send selected images from the camera to the computer, although both will need to be connected to the same wireless access point. Sadly there's no direct peer-to-peer option, and while both devices could be connected to the same Wifi hotspot on a phone, you can't use it as a bridge or router. This limits the wireless transfer to situations where you're connected to a home or office network, although to be fair this is no different from most other manufacturer's camera to computer Wifi services. It would seem unless you go down the Eye-Fi route, the only peer-to-peer connection is between camera and phone or tablet.
Next I'll cover remote control which requires the Smart Remote app to be installed on the camera – as luck would have it, Sony embeds this into the A5100 to get you started in the World of apps, no doubt in an attempt to get you comfortable with the idea and possibly purchase some more in the future.
Once again, Sony makes things really easy for owners of NFC phones. With the camera powered-up and ready to shoot, simply hold your phone against the NFC logo on the side of the body and the A5100 will automatically fire-up the Smart Remote app, connect itself to your phone (again taking care of Wifi network names and passwords), then start the PlayMemories app. So without a single button press, you'll find your self ready to remote-control the camera with your phone. Brilliant! If you don't have a phone with NFC, you'll need to first select the Smart Remote from the App menu on the A5100. This sets the camera up as an access point for the PlayMemories app on your phone to connect to.
Once you're remote-controlling the camera with your phone, you'll be able to operate the optical zoom, adjust the exposure compensation, and take a photo or start recording a movie. What you won't be able to do though is adjust the exposure, or tap the phone's screen to reposition the AF area. At first I assumed this was because the Smart Remote app shipped with the A5100 was an older version which didn't support remote exposure control. This was how the earlier A6000 was shipped, and an updated version of the app added ful exposure control.
Checking Sony's support pages revealed there was a firmware update available for the A5100, but I couldn't get it to install on my sample. I also noticed an update to the Smart Remote app was available, although it only mentioned supporting some super-zooms as the new features. This is frustrating because until I manage to update the camera's firmware successfully, I can't say whether the Smart Remote features are truly restricted to the basic operation described above, or whether there's actually now support for full exposure control. I'll keep trying and update this article if I have any new information. That said, the A5100's target audience will probably be happy with the basic functionality as it stands which lets them view the composition remotely and capture the moment using their phone's screen.
I'd like to talk a bit more about the ability to download apps to update or extend the camera's capabilities, as it remains unique in the camera world. Roughly two years on from the NEX-6 where the concept was launched, Sony now offers 20 apps (plus four additional keyboard options) which are compatible with the A5100, some free of charge, some costing up to $9.99 / 7.99 GBP. There's also a selection of apps in Beta which are free to download. I believe the API for creating your own apps is now open, but I don't know of any third party apps, such as support for Twitter or Instagram.
The first step to downloading a new app starts by creating an account on the PlayMemories site at playmemoriescameraapps.com. You have to do this using a computer or smartphone, and it also gives you the chance to buy credit to purchase apps later, although you don't need to if you're only downloading free apps.
Once you have an account set up there are two ways to browse and download apps. You either can do it using a free download tool running on your computer with the camera connected over USB, or you can do it direct from the camera itself. If you're going for the direct approach from the camera, you'll first need to connect it to the internet via an access point. Manually entering SSIDs and passwords using earlier non-touchscreen models could be laborious to say the least, so I looked forward to tapping them out on the A5100's screen – but bizarrely this was not possible. So like previous models, you'll need to navigate an on-screen keyboard like an old arcade game as you gradually enter the desired characters. Once entered though, the camera can remember them and connect with a click at a later date; I store my phone's Wifi hotspot and home networks for instance. Impressively Sony also remains the only camera company to let you connect to public hotspots which require a web-based logon or a tick in a box to agree to terms – it does this using a mini browser on the camera's screen which works surprisingly well and allowed me to connect to several public services.
Once the camera is connected to the internet you can use the dedicated Apps menu to login to your PlayMemories account and browse and download available apps; again any which aren't free require you to have previously credited your account using your computer or phone. Once an app is downloaded and installed, it's added to the list in the Apps menu on the camera. Some apps require access to the internet, say to upload images, and again the camera will connect via any previously configured access points. Others extend the functionality of the camera and have their own menus.
You already know about the pre-installed Smart Remote app. The next app most people will install is the free Direct Upload app, which lets you upload images direct from the camera to various online services. At the time of writing it only supported three services: Sony's own PlayMemories site (of course), along with Facebook and Flickr, the latter added by installing an additional free app. When uploading to any of the services it's possible to add a caption, although again it's a laborious process using the cross keys to enter text on the on-screen keyboard – this could have been so much easier with the A5100's touch screen, but again Sony doesn't enable it for text entry for some reason. It all works in the end though and also appears to go direct to the service as oppose to most other manufacturers who share images via their own services. I just wish there were more services available, such as Twitter and Instagram, not to mention a quicker way to enter captions. As it stands, it's easier and much more flexible to just wirelessly copy an image to your phone, tap out a caption and share it to any service you like.
Of the apps you have to pay for, there's a few which you'd hope the camera would include as standard. For example Timelapse ($9.99) and Multiple Exposure ($4.99) are features built-into many cameras, but which will cost you just under $15 to add to the A6000. Interestingly Multi-frame Noise reduction, removed from earlier Sony cameras to become an app, but reinstated in the A6000, has now become an app again for the A5100. If you want it, you'll need to download it.
So while I like the idea of expanding the capabilities of a camera using downloadable apps, I feel the concept is far from fulfilled on the A5100 and other Sony cameras. Smart Remote should really offer manual control for all Sony cameras, Bracket Pro ought to offer deeper AEB, Direct Upload should really include at least Twitter and Instagram, and things like Timelapse and Multiple Exposure should arguably already be included. There should also be an official means to tag images with a GPS log made by your phone, a feature still absent here but present on almost every other camera with Wifi these days.
Just before wrapping-up I should mention it's also possible to remote-control the camera with a free utility for a Mac or PC which offers much more options than the smartphone version. Although sadly this is only supported with a direct USB connection between camera and computer, not over Wifi.
Actually, I have one more final word. I may have had some frustrations with Sony's Wifi implementation, but if you have a phone with NFC, it's still the best for transferring images or initiating remote control. A simple tap and nothing more will get the job done, and again Sony's unique support for downloading apps into the camera means it's possible to upgrade its capbilities.
Sony Alpha A5100 continuous shooting
The Sony Alpha A5100 offers two Continuous shooting modes, Mid and Hi, the latter boasting a top speed of 6fps, a decent boost over the 3.5fps of its predecessor. Sony doesn't quote buffer sizes, so to put the A5100 to the test I fitted it with a Sony UHS-1 32GB SD card rated at 94MB/s, set the Shutter to 1/500 in Shutter Priority and the sensitivity to 400 ISO, before timing a series of bursts.
With the A5100 set to Fine JPEG, I fired-off 60 frames in 9.79 seconds, corresponding to a speed of 6.13fps – a fraction above the quoted 6fps speed and for a decent burst size too. After 60 frames the camera kept shooting, but at a slower rate of around 2fps. With the A5100 set to RAW, I fired-off 22 frames in 3.54 seconds, corresponding to a speed of 6.21fps. Once again after the buffer was filled, the camera kept shooting, but slowed down to about 2fps.
Both my tests above were with the camera set to single AF, so I decided to retest with continuous AF and a moving subject. This time I grabbed 60 Large Fine JPEGs in 9.95 seconds, corresponding to a speed of 6.03fps, a fraction below my earlier test but still maintaining the quoted speed.
To put this into perspective, the A5100 will out-gun anything in its price bracket. Its predecessor managed a top speed of 3.5fps, while Canon and Nikon's entry-level DSLRs offer 3fps and 5fps respectively. But it's not just about having fast burst shooting as the A5100 makes it useful by offering it in conjunction with effective continuous autofocus, allowing you to track and capture action. As noted above, I've tried this with both the 16-50mm kit zoom and the new FE 70-200mm f4G OSS telephoto zoom, both with a very high degree of success.
The only camera which can out-perform it without spending a fortune on (and lugging around) a semi-pro DSLR is Sony's own Alpha A6000 which manages to shoot at 11fps in practice. If you're really into action photography and can afford to pay the extra for the A6000, I'd recommend it as not only do you get almost twice the burst speed, but also the chance to compose with the built-in viewfinder which is easier for following action. But that should not take anything away from the A5100 which delivers superb performance and becomes a very practical camera for shooting active friends and families; indeed it's the best option at this price.
Sony Alpha A5100 sensor
The Sony Alpha A5100 is equipped with the same 24 Megapixel APS-C sized sensor as the A6000, giving it four more than its predecessor and matching or exceeding anything in its class. Like other 24 Megapixel APS-C models, the A5100 delivers 3:2 shaped images measuring 6000×4000 pixels, which at 300dpi can be printed at 20×13.3in. Compare that with 16 Megapixel image cameras which can make prints measuring 16.4×10.9in at 300dpi. It is however important to note if you want to enjoy the benefit of 24 Megapixels over lower resolution models, you'll really need to fit the A5100 with a better lens – in my tests the kit zoom reduces the effective detail to models nearer 16 Megapixels.
IFor me though, the really important part about the A5100's sensor isn't the resolution, but the embedded AF system which spreads 179 AF points across 92% of the frame, almost to the edges. As I described earlier, these equip the A5100 with excellent continuous AF tracking capabilities for stills and videos, wherever the subject is on the frame, and Sony's further enhanced the system by letting you fine-tine the AF speed and response time for movies. So even if you're not getting the full benefit of the 24 Megapixel resolution with the kit lens, you will at least enjoy the great continuous autofocusing performance.
In terms of image files, the A5100 can record JPEGs with Standard or Fine compression, or RAW files with or without an accompanying JPEG. Fine JPEGs typically measure between 5 and 7MB, while RAW files weigh-in at just over 25MB each.Â
The A5100 sensitivity runs from 100 to 25600 ISO, or up to 51200 ISO if you've installed the optional Multi-Frame Noise Reduction app; note this is built-into the A6000 as standard. Sharpness, contrast and saturation are applied using a selection of Creative Styles, all of which can be adjusted as desired. I used the default Standard Creative Style for all my sample images which delivered the usual punchy style of a Sony consumer camera, although again you can tone it down or bump it up if preferred.
So how does the A5100's 24 Megapixel sensor perform in practice, especially compared to high-end compacts like the RX100 III? Find out in my Sony A5100 quality and Sony A5100 noise results, or check out my Sony A5100 sample images, or skip to the chase and head to my verdict.
Page 2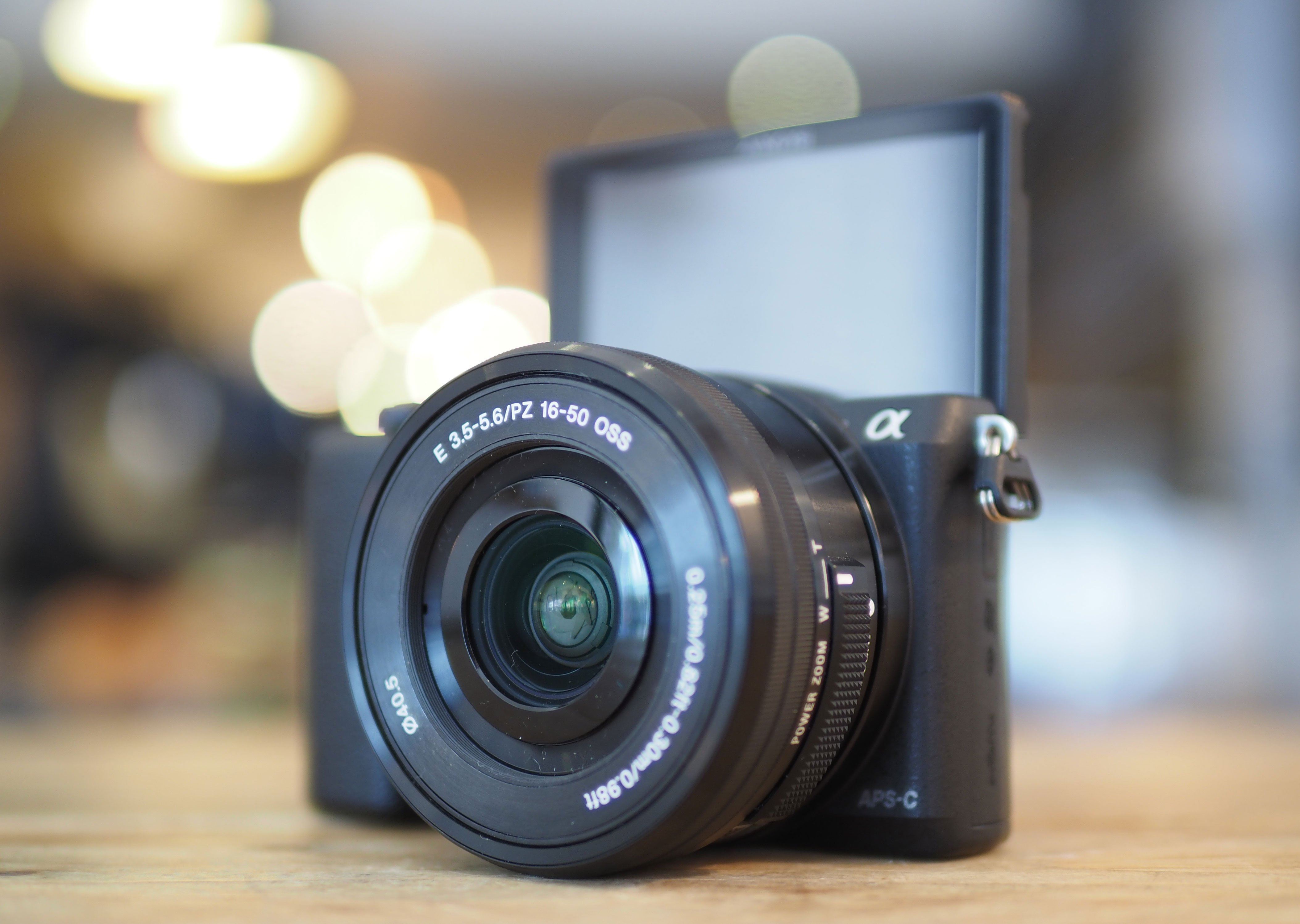 To compare real-life performance at wide angle, I shot this scene with the Fujifilm X30, Panasonic Lumix LX100 and Sony Alpha A5100, the latter fitted with its 16-50mm kit zoom, all within a few moments of each other using their base sensitivities and best quality JPEG settings. I tried every aperture setting and selected the sharpest result for the crops below. I composed diagonally to evaluate details in the corners of the frame. I additionally tested at 50mm and 75mm, and you can find the results lower on this page. I also shot everything in RAW and will publish a RAW comparison soon.I tested all three cameras at each of their apertures and found the X30, LX100 and A5100 (with its kit zoom) performed at their best at f2.8, f4 and f5.6 respectively, which is what I'd expect for their respective sensor sizes – so that's what I set them to in Aperture Priority. I then shot this scene at their lowest respective sensitivities and used each camera's default image processing to see how their JPEGs compare under best-case scenarios. The crops as always are taken from the areas marked by the red rectangles in the thumbnail above right and presented here at 100%. The LX100 and A5100 kit zoom both shared the same 24mm coverage, while the X30 captured a slightly tighter field of view at 28mm; I've still included the X30 here though to illustrate the relative sharpness at similar parts of the frame when zoomed-out. Lower on this page you'll see how they compare at matching focal lengths.The crops below demonstrate the importance of optics in image quality. The Fujifilm X30 and Lumix LX100 share the same 12 Megapixel effective resolution, and as you'd expect their degree of detail is similar. Pixel-peepers may reckon the details are a fraction crisper on the Fuji, but it's a very close run thing. This is an interesting result, as while both cameras share the same resolution, the X30's sensor is roughly four times smaller than the LX100's. The Lumix may enjoy an advantage at higher ISOs, but at their base sensitivities, the X30 could in fact match or even slightly out-perform it.Moving onto the Sony A5100, it sports the biggest sensor of the three by far, an APSC model packed with 24 Megapixels, so double the total resolution too. In terms of numbers it should thrash the X30 and LX100, but as my crops illustrate, it's only a marginal win for the Sony. The kit zoom is designed for price and size over quality and lets down the potential of the 24 Megapixel APSC sensor behind it, so while the image is bigger, there's only a little more real-life detail resolved here. If the A5100 were fitted with a sharper lens, it would sail away with a decisive win here, but this in turn would make the overall package bigger, heavier and more expensive.So in this first test it's a minor win for the Sony A5100 when fitted with its kit zoom, with the X30 and LX100 coming not far behind in a roughly joint-second place. Scroll down to see how they all compare at 50mm and 75mm, or head over to my Sony A5100 noise results, have a look at my Sony A5100 sample images or skip to my verdict!
| | | | | |
| --- | --- | --- | --- | --- |
| | | Panasonic Lumix LX100 JPEG | | Sony Alpha A5100 / 16-50mm JPEG |
| | | | | |
| | | | | |
| | | | | |
| | | | | |
| | | | | |
| | | | | |
| | | | | |
| | | | | |
| | | | | |
| | | | | |
| | | | | |
| | | | | |
| | | | | |
| | | | | |
In this second section I've compared the three cameras with their lenses zoomed to deliver an equivalent field of view of 50mm. Note I initially presented results from the LX100 here at f4 as that was the aperture with the crispest details. But the corners suffered from softness, so I've updated my results with the f8 versions which may be slightly softer overall, but have crisper corners.
I'd say the Fujifilm X30 and Lumix LX100 are fairly well-matched here in terms of detail. Meanwhile the Sony A5100's kit zoom obviously feels more comfortable mid-way through its range, delivering slightly finer detail than either the X30 or LX100, although as seen at 24mm, it's not a huge difference.
Scroll down to see how they all compare at 75mm, or head over to my Sony A5100 noise results, have a look at my Sony A5100 sample images or skip to my verdict!
| | | | | |
| --- | --- | --- | --- | --- |
| | | Panasonic Lumix LX100 JPEG | | Sony Alpha A5100 / 16-50mm JPEG |
| | | | | |
| | | | | |
| | | | | |
| | | | | |
| | | | | |
| | | | | |
| | | | | |
| | | | | |
| | | | | |
| | | | | |
| | | | | |
| | | | | |
| | | | | |
| | | | | |
Fujifilm X30 vs Panasonic Lumix LX100 vs Sony Alpha A5100 / 16-50mm quality at 75mm
Next I zoomed all three cameras to 75mm – representing the maximum for the LX100 and A5100 kit zoom – and again set their apertures to their optimal values to balance sharpness across the frame. I initially presented my LX100 results at f4 where the sharpness was greatest in the middle, but the corners were quite soft. Closing to f8 improved the corners, but at the cost of ultimate crispness in the middle. It's a balance you'll need to decide for yourself, but I've decided to update this section with my results for the LX100 at f8.
The Fujifilm X30 performs really well here, delivering crips and consistent detail across the entire frame. It certainly beats the other two in the corners where the Lumix LX100 and A5100 kit zoom become quite soft. In the middle, the A5100's kit zoom performs quite well and allows the sensor to out-resolve the other two cameras, as it should, but again it's not a consistent performance across the frame. Meanwhile the LX100 does quite well in my second crop, but otherwise is beaten slightly by the X30, especially in the corners.
So an interesting result for anyone who assumed the bigger sensors of the LX100 and especially the A5100 would automatically win a contest on real-life detail. The smaller sensor of the Fujifilm X30 keeps-up very nicely across the frame and across multiple focal lengths, delivering in my opinion the best result of the three in daylight at their lowest sensitivities.
Of course the benefit of a bigger sensor comes at higher ISOs, so head over to my Sony A5100 noise results to see how the Alpha compares against the LX100 and this time the Sony RX100 III. Alternatively, have a look at my Sony A5100 sample images or skip to my verdict!
| | | | | |
| --- | --- | --- | --- | --- |
| | | Panasonic Lumix LX100 JPEG | | Sony Alpha A5100 / 16-50mm JPEG |
| | | | | |
| | | | | |
| | | | | |
| | | | | |
| | | | | |
| | | | | |
| | | | | |
| | | | | |
| | | | | |
| | | | | |
| | | | | |
| | | | | |
| | | | | |
| | | | | |
Lumix LX100 vs Sony RX100 III vs Sony A5100 Noise
To compare noise levels under real-life conditions, I shot this scene with the Lumix LX100, Sony RX100 Mark III, and the Sony Alpha A5100 (fitted with the 16-50mm kit zoom), within a few moments of each other using their best quality JPEG settings, and at each of their ISO sensitivity settings. I matched the field of view on each camera and set them at an aperture previously determined to deliver the sharpest results.I tested all three cameras at each of their apertures and found f4 to be the sweet-spot for the RX100 III and LX100, while f5.6 was best for the A5100's kit zoom. All three were set to their optimal apertures and compensation applied where necessary to match their exposures – what you're looking at below are entirely comparable results.On this page I'm comparing their noise levels on JPEGs processed with the in-camera defaults, with the exception of disabling any contrast enhancement as this can increase artefacts at high ISOs. The crops as always are taken from the area marked by the red rectangle in the thumbnail above left and presented here at 100%. The Lumix LX100, Sony RX100 III and Sony A5100 show progressively tighter crops because of their steadily increasing resolution. Note I hadn't expanded the sensitivity on the LX100 when I made this comparison, so my LX100 results start at the base sensitivity of 200 ISO.At their lowest ISOs you'll notice the RX100 III delivers the crispest details, thanks to its combination of high resolution, sharp lens and crisp image processing. The Lumix LX100 is also sharp, but its resolution means at the lower sensitivities it's simply out-resolved by the RX100 III. Meanwhile the softer kit zoom of the A5100 coupled with slightly less punchy processing means it looks a little soft in comparison. The interesting thing is whether the LX100 will match the real-life detail of the RX100 III at higher sensitivities thanks to its lower resolution sensor, and what advantage will the A5100 enjoy lower down with the biggest sensor of all.I'd say the Sony RX100 III enjoys the edge in real-life detail up to 3200 ISO, at which point noise brings it down to roughly the same resolving power as the LX100. At this point you'll notice the A5100 enjoys a cleaner result with slightly higher detail.
At 6400 and 12800 ISO, the RX100 III looks the noisiest, but it still records roughly the same degree of detail as the LX100. Meanwhile the A5100, while suffering, remains the cleanest of the three. The RX100 III bows out at this point, leaving the LX100 and A5100 to struggle with a 25600 ISO maximum which doesn't look pretty on either camera.
I think many people were hoping the LX100 would deliver decisively lower noise levels than the RX100 III thanks to its larger sensor and lower resolution, but in my crops below there's not as much difference as you'd think. Yes at 3200 ISO and above, the LX100 looks less noisy than the RX100 III, but up to this point the Sony is resolving a little more real-life detail in my tests.
Of course what we're also looking at here is the effect of each camera's in-camera processing, so in my next test I'll process the RAW files from each with exactly the same settings to see what degree of information they're all starting with. In the meantime I'd say the A5100 is definitely the leader at the highest sensitivities as you'd expect given its much larger sensor, but the difference between the LX100 and RX100 III is smaller than you'd expect, and for much of the lower ISO range the Sony delivers more detail.
What this table doesn't take into account though is the relative sensitivity each camera would use under the same conditions. The Sony A5100 may have the biggest sensor and unsurprisingly the lowest noise for identical ISO values, but if you're using its kit lens, you'll be forced to use smaller apertures than the LX100 and RX100 III, and higher ISOs to compensate. For example at their 24mm equivalent focal lengths, the RX100 III and LX100 offer a maximum aperture of f1.8 and f1.7 respectively compared to f3.5 for the Sony 16-50mm kit zoom. This is a two stop exposure difference, meaning when the RX100 III and LX100 are using, say, 400 ISO, the A5100 with its kit zoom would need 1600 ISO. At the long-end of their ranges, the RX100 III and LX100 offer apertures of f2.8 compared to f5.6 on the Sony 16-50mm zoom, again representing a two stop difference, and again requiring a sensitivity two times higher for the A5100. So if you're using the A5100 with the kit zoom, you'll need to take this into account when comparing sensitivities, and to my eyes the slower lens effectively eliminates any advantage of the bigger sensor behind it. If you want to exploit the potentially lower noise of the A5100's bigger sensor over the compacts, you'll need to put a brighter lens in front of it.
I'll add my RAW comparisons soon. In the meantime head over to my Sony A5100 sample images or final verdict.
| | | | | |
| --- | --- | --- | --- | --- |
| | | Panasonic Lumix LX100 JPEG | | Sony Alpha A5100 / 16-50mm JPEG |
| | | | | |
| | | | | |
| | | | | |
| | | | | |
| | | | | |
| | | | | |
| | | | | |
| | | | | |
| | | | | |
| | | | | |
| | | | | |
| | | | | |
| | | | | |
| | | | | |
| | | | | |
| | | | | |
| | | | | |
| | | | | |
| | | | | |
| | | | | |
| | | | | |
| | | | | |
| | | | | |
| | | | | |
| | | | | |
| | | | | |
www.cameralabs.com
Sony a5100 First Impressions Review
With the introduction of the a5100, Sony has officially left the NEX brand behind. The a5100 is the follow-up to the NEX-5 series, and sits above the a5000 (formerly the NEX-3) and below a6000 (which replaced the NEX-6/7). Confused yet?
The a5100 combines the compact designs of the NEX-3N and NEX-5T and throws in the guts of the a6000, which means that it has a 24MP CMOS sensor, Bionz X processor, on-chip phase detection covering 92% of the frame and Wi-Fi with NFC. Both cameras have tilting LCDs, with the one on the a5100 flipping upward 180 degrees (for - you guessed it - selfies) and the a6000's tilting both up and down by 90 and 45 degrees, respectively.
Both cameras can record 1080/60p video, with the a5100 supporting the XAVC S codec, allowing for bit rates of 50Mbps. It also has the ability to simultaneously record 720p video while recording at higher resolutions.
While there are many similarities in terms of spec, the a5100 and a6000 are targeted toward two distinctly different audiences. With its EVF, hot shoe, and additional physical controls, the a6000 is more of an enthusiast ILC. The a5100 has none of those things, and the fact that it has a help button on the rear of the camera hints that this is a camera for entry-level photography.
Sony a5100 key features
24.3 megapixel APS-C CMOS sensor
Bionz X image processor
Hybrid AF system with 25 contrast-detect and 179 phase-detect points
6 fps continuous shooting with subject-tracking
3-inch flip-up LCD with 921,600 dots and touch functionality
Built-in GN4 flash
Full HD video recording at 1080/60p and 24p with XAVC S support
Simultaneous recording of 1080p and 720p video
Wi-Fi with NFC capability and downloadable apps
Most of the differences between the a5100 and its predecessor are internal. You get the 24MP sensor from the a6000 (up from 16MP on the NEX-5T), the latest Bionz X processor, a wider phase detection AF area, and much more promising video specs.
Externally, the a5100 now has a built-in flash, where the NEX-5T requires an external flash which connects to its proprietary shoe. Two things you can no longer do is attach an optional EVF or use a wireless remote control (though your smartphone can handle that).
Hybrid AF System
One huge improvement on the a5100 is its hybrid autofocus system. While the 25-point contrast detect part of the system remains the same as on the NEX-5T, the number of phase-detect points has increased from 99 to 179. All of those extra phase detect points give you a much wider coverage area: roughly 92% of the frame, compared to around 50%. The benefit? A wider area that lets phase detection autofocus do what it does best: track moving subjects.
Compared to a5000 and a6000
We've already covered some of the differences between the a5100 and the NEX-5T that came before it. Below you can see how the a5100 fits into the current Sony lineup.
 

a5000

a5100

a6000

MSRP (w/16-50mm PZ lens)

$499

$699

$799

Resolution

20.1MP

24.3MP

24.3MP

Processor

Bionz X

Bionz X

Bionz X

AF system (contrast/phase)

25 / 0 point

25 / 179 point

25 / 179 point

ISO range

100-16000

100-25600

100-25600

LCD design (tilt up/down)

Tilting (180° up)

Tilting (180° up)

Tilting (90°/45°)

Touch-enabled LCD

No

Yes

No

EVF type / resolution

None

None

OLED / 1.44M dot

EVF magnification (equiv.)

N/A

N/A

0.70x

Built-in flash

Yes (GN4)

Yes (GN4)

Yes (GN6)

Max burst rate

4 fps

11 fps

Video resolution

1080/60i/24p

1080/60p/24p

1080/60p/24p

Video codecs

AVCHD, MP4

XAVC S, AVCHD, MP4

AVCHD, MP4

Clean HDMI output

No

Yes

Yes

Battery life (CIPA)

420 shots

400 shots

360 shots
The a5100 is a pretty big step up from the a5000, especially for subject tracking and video recording. The autofocus system that has proven itself on the a6000 has been carried over, which is good news for parents trying to capture fast-moving subjects. Video is considerably better, moving up from 60i to 60p, and adding the XAVC S codec and accompanying higher bit rate. Like its big brother, the a5100 supports clean HDMI output.
The main things you get by stepping up to the a6000 include the SVGA EVF, faster burst rate, and more powerful flash.
Kit options and pricing
The a5100 will be available in silver or black, at a price of $549 for the body and $699 for a kit including the 16-50mm F3.5-5.6 power zoom lens.
The a5100 is available in white or black
Accessories of note include a new wired remote control (RM-SPR1), a body case, and a kit that includes an external charger (which is not included with the camera) as well as an extra battery.
Page 2
Sony has announced delays in delivering certain cameras as a result of the Kumamoto earthquakes. Read more
Sony has released firmware update 3.10 for the a7R II, a7R, a7S, a7 II, a7, a6000 and a5100 camera models. The update primarily brings new lens support and is available to download now from Sony's support website. Read more
We've just added a trio of cameras to our studio comparison tool: the Canon PowerShot G7 X, Panasonic Lumix DMC-LX100 and the Sony Alpha a5100. The Canon G7 X and Panasonic LX100 were two of the most talked-about cameras to emerge from Photokina 2014, both managing to squeeze large sensors into compact camera bodies. Read more
Adobe has announced the availability of Camera Raw 8.7 and DNG Converter 8.7 release candidates. This version adds support for the Nikon D750, Fujifilm X30 and the Sony a5100 among other camera models. A number of lens profiles are also added. Camera Raw and DNG Converter 8.7 release candidates are available for download now from Adobe. Read more
As Sony introduces the Alpha a5100 interchangeable lens camera, it officially leaves behind the NEX moniker its mirrorless line originated with. The a5100 picks up where the NEX-5 series leaves off, combining the 24.3 megapixel APS-C CMOS sensor of the a6000 and the more compact footprint of the NEX-5T. The a5100 also inherits many of the a6000's good qualities, including its impressive autofocus system. The a5100 also one-ups its big brother by offering 1080/60p video at 50Mbps. We took a hands-on, preliminary look at the a5100. Read more
Page 3
The predecessors to the a5100 had a lot going for them: they were very compact, feature-packed, and produced good quality photos and videos. The a5100 is a much more compelling camera, taking the 'guts' from the more expensive a6000 and putting them into a body that'll easily slip into a jacket pocket. The best parts of the a6000 that came over to the a5100 include its 24MP sensor with on-chip phase detection, with the latter providing subject-tracking that's unmatched in its class. The a5100 one-ups all of Sony's mirrorless cameras by supporting the XAVC S codec, which allows for 1080/60p/24p video at a 50Mbps bit rate.
I have mixed feelings about the design and user experience of the a5100. I love its compact size, but this results in cluttered controls on the back of the camera. Sony keeps messing around with the movie recording button its cameras, either moving it to out-of-reach places or, in the case of the a5100, having it set into the body a bit, which makes it a bit hard to press.
When I first powered up the camera I was greeted by the same tiled main menu that was on the NEX cameras, but thankfully that can be turned off. While not wondrous, the menus work well enough. If you're confused about any of the items in the menu, pressing the '?' button will give you some help. Outside of the menus, the '?' button will bring up a guide of sorts, which shows you how to take pictures in various situations - handy for the beginner.
Performance-wise, the a5100 felt just like its big brother. Autofocus is very responsive and, in informal testing, subject tracking was excellent. While I haven't looked at photo quality (a gallery is coming soon), if the a6000 is any indication, it should be very good. Perhaps the most exciting part of the a5100 is its movie capabilities. There are no other inexpensive mirrorless cameras at this time that can record 1080p video at 50Mbps, and the tools that Sony has provided (focus peaking, zebra, uncompressed output over HDMI) are an added bonus.
While it has the internals of an enthusiast camera, the a5100 is target toward consumers, with the big '?' button on the back being a good example. It competes with the likes of the Fujifilm X-M1, and Nikon 1 J4, Olympus E-PL5, Panasonic Lumix DMC-GF6 - several of which are getting long in the tooth and due for replacement. Barring any major developments, it's hard to imagine that any of the a5100's peers will be able to compete with its image quality, autofocus system, and video features.
Based on my initial experiences with the a5100, it seems like a very compelling midrange ILC. For $699 with the 16-50mm power zoom lens, you're essentially getting an a6000 without an EVF and a few dials. If you don't mind losing that feature, you're getting what seems to be a lot of camera for $699 (with a 16-50mm lens).
www.dpreview.com
Sony Alpha 5100
The Sony Alpha 5100 ($549.99, body only) is the midrange model in Sony's APS-C mirrorless camera line. Like other mirrorless shooters, it delivers image quality that's on par with an SLR, but isn't nearly as big. It offers some more features than the entry-level Alpha 3000 and Alpha 5000, but lacks the integrated EVF and best-in-class tracking focus offered by our favorite mirrorless camera priced under $1,000, the Sony Alpha 6000. The Alpha 5100 is a good option if you don't need to shoot that fast and if you can live without an EVF, as its image quality is on par with the Alpha 6000 and it also features integrated Wi-Fi.
Design and Features The Alpha 5100 is slim, just 2.5 by 4.3 by 1.4 inches (HWD) in size, and light at 10 ounces. It houses a 24-megapixel APS-C image sensor, the same physical size you'll find in most D-SLRs, in its body. That sensor size is a bit larger than the Micro Four Thirds image sensors you'll find in similar models from Panasonic and Olympus, including the latter's PEN E-PL7 (2.6 by 4.5 by 1.5 inches, 10.9 ounces). The Alpha 5100 includes a built-in flash, which the Olympus omits, but it doesn't include a hot shoe or accessory port. This means you can't connect an external flash, nor can you use an add-on EVF like the one that's available for Olympus PEN cameras.
View All 25 Photos in Gallery
The control layout is identical to that of the Alpha 5000. The top plate is sparse—it just houses the power switch, zoom rocker, shutter release, movie record button, and flash release. Rear controls are all located to the right of the LCD. There's a flat command dial, located below the thumb rest, with a center button and four directional controls. By default they provide control over what's displayed on the rear LCD, the ISO sensitivity, exposure compensation, and the drive mode. The display control is fixed, but the other three functions can be reprogrammed via the menu. Also reprogrammable is the ? button, which by default launches an on-screen help menu. The other two rear buttons, Menu and Play, are fixed in their functionality.
The Alpha 5100 isn't the dream camera for photographers who like to shoot in manual mode, but its rear control dial does allow for quick adjustment to aperture or shutter speed when shooting in those modes. There's also no physical mode dial; to change the shooting mode you'll need to press the button at the center of the rear dial and select your choice via an on-screen menu. Also missing is the Fn overlay menu, which would give quick access to a bank of 12 shooting settings had it been included; Sony includes it in the Alpha 6000 and full-frame Alpha 7 series.
The main menu is, by default, a tile based system similar to older cameras in this line that bear the Alpha NEX designation. But once you dive into a tile, the actual functional part of the menu is more like Sony's professional Alpha cameras—that's a good thing in our book. The initial tile splash screen can be disabled, and we recommend doing so if you make frequent trips into the menu to adjust settings.
The rear display is a 3-inch LCD with a 921k-dot resolution. It's quite sharp, but a glossy finish shows some glare when using it outdoors under a bright sun. Enabling the Sunny Weather brightness setting in the menu does help to alleviate this, but is more of a strain on the battery than the default brightness setting. The LCD is touch-sensitive, which is handy if you like to manually select a focus point. In most autofocus modes you can tap a portion of the screen to focus and fire a shot. If you've got Flexible Spot focus enabled, the behavior is a little bit different—tapping something on the screen selects the object and hones the Alpha 5100's tracking focus system on it, so it will remain in focus even as you move the camera or your subject moves through the frame.
The display is mounted on a simple hinge located at the top display; you can only tilt the display up. It can face all the way forward for selfies—a 3-second self-timer is turned on automatically when the display is flipped forward. Some other mirrorless cameras that offer front-facing LCDs, like the Samsung NX30, can also angle the display down.
Wi-Fi is built in. If you have a compatible Android phone, you can pair via NFC, but iOS users will need to connect manually to the Wi-Fi network that the A5100 broadcasts. You'll need to download the free Sony PlayMemories Mobile camera app to copy photos over to your phone or tablet wirelessly. Remote control is also an option; the Smart Remote camera app is preinstalled on the Alpha 5100. Controls are surprisingly limited; you can adjust the field of view if a power zoom lens is attached, change exposure compensation, and fire the shutter, but that's it. If you want full manual control via Smart Remote, consider moving up to the Alpha 6000.
Additional functionality is available via downloadable camera apps. You'll need to connect the Alpha 5100 to a network in order to access the Sony PlayMemories store. Some apps carry premium prices, up to about $10, but others are free. One of the free apps, Direct Upload, adds the ability to post directly to Facebook, Flickr, or PlayMemories Online via the camera. Paid apps add the ability to capture night sky images with star trails ($9.99), capture time lapses ($9.99), and automatically bracket exposures ($4.99). While I'm happy that Sony is developing these apps, it's unfortunate that it has opted to charge a premium for them, especially after you've spent in excess of $500 on a camera.
Page 2
Performance and Conclusions The Alpha 5100 is a little slow to start up and capture an image. With the standard kit lens attached it requires 2.3 seconds to do so. Once it's up and running, speed is a strong point. It focuses in about 0.02-second in bright light and 0.7-second in very dim conditions, and can fire off images at 6.1 frames per second with a locked focus point and 5.9fps with tracking autofocus enabled. The shooting buffer is fairly substantial; it can keep that pace for 23 Raw+JPG, 26 Raw, or 95 JPG images. The Alpha 6000 is also a little pokey on startup (1.9 seconds), but its focus speed is about the same as the Alpha 5100 and it can shoot faster with tracking—about 11.1fps—but its buffer fills up faster (22 Raw+JPG or Raw images, 48 JPG images).
See How We Test Digital Cameras
I'm reviewing the Alpha 5100 as a body only, but it's also available in a kit with the 16-50mm E f/3.5-5.6 PZ OSS for about $700. That lens has been reviewed in detail along with the 16-megapixel NEX-6. The Alpha 5100 features a higher resolution sensor, which provides an overall bump in the center-weighted sharpness score. At 16mm f/3.5 it shows 1,953 lines per picture height, and gets better when stopped down to f/5.6 (2,324 lines) and f/8 (2,588 lines), but edge performance is very weak regardless of aperture, just under 1,300 lines. The lens does better at 30mm f/5 (2,594 lines) and f/8 (2,828 lines), and at 50mm f/5.6 (2,159 lines) and f/8 (2.623 lines). For best image quality at the edges of the frame, it's always wise to stop down to f/8 when you have enough light to do so. If you shoot in Raw format, you'll have to deal with some noticeable distortion, but Lightroom includes a one-click correction profile for the lens, and JPG images are automatically corrected in-camera.
Imatest also checks photos for noise, which can add unwanted grain and detract from detail at high ISOs. When shooting JPG images with High ISO Noise Reduction set to Normal the camera manages to keep noise under 1.5 percent through its top ISO 25600 sensitivity. That sounds too good to be true for a 24-megapixel APS-C image sensor, and it is. Close examination of images on a calibrated NEC MultiSync PA271W display shows that image detail suffers slightly as early as ISO 1600, and more noticeably at ISO 3200. At ISO 6400 fine lines from our test scene show smudging, and it increases at ISO 12800. At the top ISO 25600 sensitivity many of the lines run together, but there's a bit more clarity than there is if you're shooting with a mirrorless camera with a smaller image sensor, like the Micro Four Thirds Olympus PEN E-PL7.
If you prefer more detail, and a little more grain, you can set the noise reduction setting to Low. There's no way to disable it completely when shooting JPG, but you can shoot in Raw format if you want to capture photos without noise reduction. Images are crisp, albeit somewhat grainy, at settings as high as ISO 6400 when shooting in Raw. At ISO 12800 detail starts to suffer due to noise, but the lines in our ISO test scene are still distinct. At ISO 25600 that's true as well, just with more grain. We've included crops of both JPG and Raw file output in the slideshow that accompanies this review.
The Alpha 5100 shoots video at up to 1080p60 quality in XAVC S and AVCHD format, and can capture low bitrate (12Mbps) 1080p30 footage in MP4. You'll need a fast memory card to keep up with the 50Mbps bitrate of XAVC S—the camera told me that a SanDisk 95MBps card was too slow, but the latest 240MBps card worked without issue. AVCHD tops out at a lower bitrate (28Mbps), but looks very good to my eye. Details are crisp and motion is smooth, although it's possible to induce rolling shutter when panning very quickly. The audio is clear for the most part, but the sound of the power zoom lens moving in and out is audible on the soundtrack. Unfortunately there's no way to add an external microphone, which limits the Alpha 5100's effectiveness for all but casual video use.
There is a micro HDMI port, so you can connect directly to an HDTV, as well as a micro USB port. Sony doesn't include an external battery charger, so you'll have to use the AC adapter that ships with the camera to plug it in to a wall outlet and charge the battery internally. That's a downer if you prefer to carry an extended battery for extended shooting (CIPA rates the Alpha 5100 for 400 images per charge). An extra battery is already expensive ($79.99), and the external charger adds more cost ($49.99). There is a single memory card slot; in addition to SD, SDHC, and SDXC cards, it supports the Sony Memory Stick Duo format.
The Sony Alpha 5100 is another strong entry in Sony's Alpha mirrorless camera line. It's a definite step up from the Alpha 5000 in terms of function and performance, but entry-level photographers may find that the Alpha 5000 is adequate, and affordable at $500 with a lens. If you're a more demanding photographer, it's not hard to argue that the Alpha 6000 is the best camera in this class for your dollar. It's only $100 more and adds a killer OLED EVF, a hot shoe, and a burst rate that's nearly twice as fast. That leaves the Alpha 5100 in an awkward place, but if you have no need for an EVF, place an emphasis on a compact form factor, and feel that the tap-to-shoot functionality that its touch screen offers is worth the step up, the Alpha 5100 may be the right choice for you.
If you're not invested in a lens system and want to go mirrorless, there are a lot of options out there, and each system has its own strengths. Micro Four Thirds cameras, like the Olympus E-PL7 and OM-D E-M10 have the most lenses available, Samsung has a strong library of pancake prime lenses and has added pro-level zooms to its NX system this year, and Fujifilm mirrorless cameras have the strongest library of wide-aperture prime lenses. Our favorite mirrorless camera for under $1,000 is still the Editors' Choice Alpha 6000. Sony's lens selection is growing, and it's the only mount that offers an upgrade path to a full-frame system at this point in time.
www.pcmag.com
Sony a5100: Digital Photography Review
Price
MSRP
$549 (body only), $699 (with 16-50 PZ lens)
Body type
Body type
Rangefinder-style mirrorless
Sensor
Max resolution
6000 x 4000
Other resolutions
6000 x 3376, 4240 x 2832, 4240 x 2400, 3008 x 2000, 3008 x 1688
Image ratio w:h
3:2, 16:9
Effective pixels
24 megapixels
Sensor photo detectors
25 megapixels
Sensor size
APS-C (23.5 x 15.6 mm)
Sensor type
CMOS
Processor
Bionz X
Image
ISO
Auto, 100-25600
White balance presets
10
Custom white balance
Yes
Image stabilization
No
Uncompressed format
RAW
JPEG quality levels
Extra fine, fine, normal
Optics & Focus
Autofocus
Contrast Detect (sensor)
Phase Detect
Multi-area
Center
Selective single-point
Tracking
Single
Continuous
Touch
Face Detection
Live View
Digital zoom
Yes (2X (Clear Image Zoom), 4X (digital zoom))
Manual focus
Yes
Number of focus points
179
Lens mount
Sony E
Focal length multiplier
1.5×
Screen / viewfinder
Articulated LCD
Tilting
Screen size
3″
Screen dots
921,600
Touch screen
Yes
Screen type
TFT LCD
Live view
Yes
Viewfinder type
None
Photography features
Minimum shutter speed
30 sec
Maximum shutter speed
1/4000 sec
Aperture priority
Yes
Shutter priority
Yes
Manual exposure mode
Yes
Subject / scene modes
Yes
Built-in flash
Yes
Flash range
4.00 m (at ISO 100)
External flash
No
Flash modes
Flash off, auto, fill-flaw, slow sync, redeye reduction
Continuous drive
6.0 fps
Self-timer
Yes (2 or 10 sec, continuous (3-5 shot))
Metering modes
Exposure compensation
±3 (at 1/3 EV steps)
AE Bracketing
±3 (3, 5 frames at 1/3 EV, 1/2 EV, 2/3 EV, 1 EV, 2 EV steps)
WB Bracketing
Yes (3 frames, high/low settings)
Videography features
Resolutions
1920 x 1080 (60p, 60i, 24p), 1440 x 1080 (30p, 25p), 1280 x 720 (120p), 640 x 480 (30p, 25p)
Format
MPEG-4, AVCHD, XAVC S
Videography notes
Supports XAVC S, AVCHD, MP4
Microphone
Stereo
Speaker
Mono
Storage
Storage types
SD/ SDHC/SDXC, Memory Stick Pro Duo/ Pro-HG Duo
Connectivity
USB
USB 2.0 (480 Mbit/sec)
HDMI
Yes (micro-HDMI)
Microphone port
No
Headphone port
No
Wireless
Built-In
Wireless notes
802.11b/g/n with NFC
Remote control
Yes (wired or PC)
Physical
Environmentally sealed
No
Battery
Battery Pack
Battery description
NP-FW50 lithium-ion battery and USB charger
Battery Life (CIPA)
400
Weight (inc. batteries)
283 g (0.62 lb / 9.98 oz)
Dimensions
110 x 63 x 36 mm (4.33 x 2.48 x 1.42″)
Other features
Orientation sensor
Yes
Timelapse recording
Yes (via optional app)
GPS
None
Have you spotted an error? Report it...
Please use the form below to report the error.
www.dpreview.com
What's NEX? Sony Alpha a5100 first impressions review
Sony has announced delays in delivering certain cameras as a result of the Kumamoto earthquakes. Read more
Sony has released firmware update 3.10 for the a7R II, a7R, a7S, a7 II, a7, a6000 and a5100 camera models. The update primarily brings new lens support and is available to download now from Sony's support website. Read more
We've just added a trio of cameras to our studio comparison tool: the Canon PowerShot G7 X, Panasonic Lumix DMC-LX100 and the Sony Alpha a5100. The Canon G7 X and Panasonic LX100 were two of the most talked-about cameras to emerge from Photokina 2014, both managing to squeeze large sensors into compact camera bodies. Read more
Adobe has announced the availability of Camera Raw 8.7 and DNG Converter 8.7 release candidates. This version adds support for the Nikon D750, Fujifilm X30 and the Sony a5100 among other camera models. A number of lens profiles are also added. Camera Raw and DNG Converter 8.7 release candidates are available for download now from Adobe. Read more
The Sony Alpha a5100 is a petite, compact mirrorless interchangeable lens camera with a lot to offer. We've had access to a pre-production sample for a few days, and as well as a full first impressions review we also got hands-on with Sony's latest Alpha. Click through for a tour of the a5100's major features.
www.dpreview.com