Nikon coolpix aw130 обзор
ФОТО
| | |
| --- | --- |
| Редакция THG,  8 июня 2016 | Страница:   1  |
Обзор Nikon Coolpix AW130 | Введение
Кроме водонепроницаемой оболочки до глубины 30 м, защиты от падения с двухметровой высоты и ценника ниже, чем аналогичные камеры от Canon и Olympus, Nikon закладывает в Nikon Coolpix AW130 массу всевозможных дополнительных функций, упаковывая их в оригинальный по дизайну корпус. Тут есть встроенные модули Wi-Fi, NFC, GPS и отдельные кнопки управление всем этим хозяйством. В итоге вы получаете отличного 16-мегапиксельного компаньона для путешественников и адреналиновых наркоманов. И пусть он не всегда делает идеальные снимки, благодаря вышеперечисленным функциям на него невозможно не обратить внимание.
Обзор Nikon Coolpix AW130 | Внешность
Одна из самых обнадеживающих вещей Nikon Coolpix AW130 – это тугая защелка корпуса, которая, в отличие от других камер, не преподнесет вам неожиданных сюрпризов во время подводных съемок. Выпуклость на правой стороне камеры с антискользящим покрытием очень удобна для хвата камеры одной рукой. Также стоит отметить прочное обрамление объектива (своеобразной бленды), которое защитит его в случае падения камеры.
Было бы неплохо, если бы Nikon добавила шайбу для переключения настроек сцен для съемки, как это сделано у Olympus TG-4.
По аналогии с Canon PowerShot D30 у камеры Nikon Coolpix AW130 есть 5-кратный оптический зум, который пригодится при съемке удаленных объектов.
Имея габариты 11,2 х 6,6 х 2,8 см и вес 221 грамм Nikon Coolpix AW130 практически идентична Canon PowerShot D30 (10,9 х 6,8 х 2,7). Но легче и компактнее Olympus TG-4 (11,2 x 6,6 x 3 см, 247 грамм).
Обзор Nikon Coolpix AW130 | Набор функций
С проверенной нами ударостойкостью при падении с двух метров и с допустимой глубиной погружения до 30 метров камера обладает неплохой комбинацией защитных свойств. С Olympus TG-4 можно погружаться лишь на 15 метров, а вот с Canon PowerShot D30 на целых 45!
Встроенный модуль NFC обеспечит быстрое сопряжение с другими устройствами. Модуль Wi-Fi пригодится для отправки фото в соцсети, а GPS автоматически подставит нужные метатеги. Все вместе позволит вам насладиться путешествием без необходимости разбираться в настройках и технологиях.
Однако если вам нужна поддержка формата RAW или полностью ручной режим, то следует отдать предпочтение камере Olympus TG-4, которая обладает и тем и другим.
Обзор Nikon Coolpix AW130 | Качество снимков
При ярком свете
Nikon Coolpix AW130 показал себя неплохо при съемке двух парашютистов на тренировке в аэродинамической трубе. Баланс белого немного заваливался в сторону оранжевого цвета, в то время как быстродвижущиеся объекты получались довольно четкими, хотя и не такими идеальными, как у Olympus TG-4. Однако у Nikon получились более яркие цвета, которые немного оживили стойку с экипировкой на заднем плане.
В условиях слабого освещения
Даже в 10 вечера Nikon Coolpix AW130 умудрился сделать достаточно детализированный снимок цветочного куста. Цветопередача на снимке точна, что можно заметить по слегка затененным участкам лепестков и мелким деталям. А вот резкость оказалась не на высоте – края листьев имеют не совсем четкие контуры. В этом плане Olympus TG-4 имеет преимущество, делая более резкие кадры, но при этом теряя в точности цветопередачи.
Подводная съемка
Мы закрепили Nikon Coolpix AW130 на треноге и погрузили в бассейн, расположенный в закрытом помещении. Качество съемки оказалось на высоте. Снимки кораллового сувенира имели высокую детализацию, с учетом игры света, поступающего сверху. Однако, несмотря на установку режима подводной съемки, баланс белого заметно смещался в зеленый, а сами кадры были недоэкспонированными.
В этих же самых условиях Canon PowerShot D30 сделал еще менее качественный и размытый кадр, а вот Olympus TG-4 поразил нас правильной экспозицией, хорошей детализацией и отличным балансом белого.
Тестовый шаблон
В нашей лаборатории Nikon Coolpix AW130 с установленным значением ISO-1600 на тестовом шаблоне показала высокую насыщенность цветов в центральном квадрате, который выглядит ярче и цветастее, чем на снимках двух других камер. В тоже время снимки получились достаточно зернистыми, даже больше, чем у Canon и Olympus.
Обзор Nikon Coolpix AW130 | Заключение
Если вы стремитесь запротоколировать геотегами все ваше путешествие и сделать несколько отличных кадров в экстремальных условиях, то Nikon Coolpix AW130, скорее всего, вам подойдет. У него есть встроенные GPS и Wi-Fi, с помощью которых он автоматически проставит метатеги ко всем снимкам. Добавим сюда возможность подводной съемки на глубине до 30 метров, чего будет более чем достаточно для любительских погружений. И если качество фотографий у него не столь хорошо, как у Olympus TG-4 ($330), ценник в $275 может это легко компенсировать.
Преимущества:
хорошее качество съемки
выделенные кнопки для GPS и Wi-Fi
порт micro USB для подзарядки и обмена данными
привлекательная цена
Недостатки:
запутанное меню
неудобные защелки крышек
Обзор Nikon Coolpix AW130 | Фотогалерея
| | | |
| --- | --- | --- |
| Обзор Nikon Coolpix AW130. Отзывы в Клубе экспертов THG  | | Другие статьи  |
www.thg.ru
Nikon Coolpix AW130 – экстремальная компактная камера
За последние два-три года компактные камеры практически исчерпали себя в роли основного фотоаппарата на рынке, будучи вытесненными с одной стороны все улучшающимися смартфонами, с другой – доступными беззеркальными и зеркальными моделями. Тем не менее, осталось две ниши, в которых этот форм-фактор чувствует себя хорошо и не собирается сходить с арены. Первая ниша – компакты топ-класса, с отличной оптикой и развитыми средствами управления. Это отличный выбор для любителей, не готовых приобретать сменные объективы и желающих купить небольшое и функциональное устройство, способное решать множество распространенных фотозадач. Вторая ниша – камеры для экстремальной съемки, выдерживающие непрофессиональное погружение и падение с высоты человеческого роста. Сегодня мы познакомимся с одной из подобных новинок, Nikon Coolpix AW130.
В конце августа 2011 г. компания Nikon анонсировала новую для себя линейку, получившую буквенный индекс AW и трехзначную нумерацию. Coolpix AW 130 – уже четвертая версия, анонсированная в середине февраля 2015 г.
В числе основателей клуба производителей подводных аппаратов Nikon не значится, компания вступила в него после основных конкурентов. Тем не менее, дебют оказался удачным, а Coolpix AW 130 сегодня достойно выглядит на фоне соперников в этой специфической области.
Конструкция и эргономичность
Относительно небольшой по размерам и массе корпус надежно защищает электронику и оптику от воздействий внешней среды. Заявлена способность выдерживать погружение на глубину 30 метров, падение с высоты 2,1 м и мороз до -10°С.
По сравнению с предыдущими версиями в AW 130 есть целый ряд очень полезных нововведений.
Во-первых, на передней панели появился фактурный выступ. Он серьезно улучшил удержание корпуса, особенно мокрого.
Во-вторых, допустимая глубина погружения выросла с 10 (для AW 100) и 18 (для AW 120) до 30 метров при условии нахождения под водой не больше часа. Возможно, так глубоко ныряют далеко не все любители, однако этот показатель свидетельствует о возросшей надежности гидроизоляции.
Расположение органов управления практически не изменилось. На верхней грани корпуса по-прежнему пара кнопок – включения питания и Спуск. На тыловой панели с момента появления AW 120 ничего не изменилось – пятипозиционный джойстик (диагональные клавиши есть, но задействованы они редко) в обрамлении четырех аппаратных кнопок, рычаг управления трансфокатором, кнопка записи видео.
На левой грани корпуса три кнопки, для вызова карты мира, запуска Wi-Fi-модуля и для активации управления постукиванием, но о них мы поговорим далее.
Все они нажимаются туго, что должно предотвращать ложные срабатывания.
На передней панели кроме защищенного дополнительным стеклом объектива располагается пара микрофонов, лампа подсветки автофокуса и вспышка.
На нижней грани корпуса находится лишь штативное гнездо. К сожалению, оно по-прежнему пластиковое, хотя дешевой (даже для западного покупателя) камеру не назовешь.
Узел гидроизоляции батарейной шахты, разъемов USB и видеовыхода, а также гнезда для карт памяти производит благоприятное впечатление. Судя по тому, что его конструкция не изменилась, разработчики постарались на славу. Колесо с фиксатором надежно удерживает заглушку, главное – не допустить попадания песчинок на прокладки (не открывайте камеру на пляже, для этого есть номер отеля или квартира). В комплекте поставки идет щеточка для очистки от песка и кристаллов соли.
Экран на тыловой панели трехдюймовый, с 921 тыс. элементами изображения. Он не чувствителен к прикосновению. У дисплея, выполненного по OLED-технологии неплохие углы обзора, а при максимальном значении яркости картинка хорошо различима даже на пляже или заснеженном склоне.
На выбор есть несколько вариантов отделки корпуса, в том числе и хаки.
Функциональность
Nikon Coolpix AW130 – простая любительская камера, поэтому если вы хотите контролировать процесс съемки от А до Я, поищите другую модель.
Пятикратный зум-объектив с диапазоном фокусных расстояний 24-120 мм проецирует картинку на 16-мегапиксельную матрицу размером 1/2.3″ (6,17 x 4,55 мм). Управление трансфокатором электронное (работает как при фотографировании, так и при съемке видео) и достаточно плавное.
Фокусное расстояние 24 мм
У диафрагмы три значения, которые могут меняться при изменении фокусного расстояния.
За обработку данных отвечает процессор EXPEED C2.
Фокусное расстояние 120 мм
Система компенсации дрожания аппарата комбинированная – электронно-оптическая. При съемке видео с рук картинка получается весьма плавной.
Наводка на резкость выполняется по контрастному методу. Тестовые съемки показали, что точность соответствует классу аппарата. Есть слежение за объектом, постоянная и покадровая наводка на резкость. В режиме записи видео автофокус работает хорошо, надежно удерживая объект в зоне резкости.
Кроме программного режима съемки (с возможностью ввода экспопоправки) есть несколько предустановок для распространенных условий съемки, в том числе ночной (к сожалению, выдержка ограничена 4 сек.).
Вообще диапазон выдержек у Nikon Coolpix AW130 маловат – в автоматическом режиме от 1 с до 1/1500, что с учетом возможностей электронного затвора (1/4000 при выборе режима сверхскоростной съемки), выглядит странно.
Кроме фото, аппарат снимает и Full HD-видео (H.264/MPEG-4 AVC). В этом режиме работают трансфокатор и автоматическая наводка на резкость, есть функция постановки на паузу, что очень помогает не плодить множество коротких видеофайлов.
Nikon не был первым производителем подводных компактных камер, однако серия AW получилась довольно удачной. Coolpix AW130 может стать хорошим спутником для любителей экстремального отдыха, хотя и не претендует на роль единственного фотоаппарата в семье.
Заявленная скоростная съемка (120 к/с) больше похожа на маркетинговую уловку – размер кадра при этом VGA (640×480). Если нужно получить фрагмент быстротекущего события, лучше вырезать кадр из видео, что эквивалентно скорости 30 к/с, а размер изображения будет 1920х1080.
В камере есть встроенная память, ее объем небольшой – менее полгигабайта, однако он способен выручить слишком увлекшегося фотографа. При простом подключении к компьютеру операционная система распознает фотоаппарат как фотоаппарат а не простой внешний накопитель и устанавливает драйвер. Передать снимки также можно через Wi-Fi (предварительно выбрав нужные) или скопировав их на карту памяти. В последнем случае есть дополнительное ограничение – карта должна быть пустой.
В аппарате имеется приемник сигналов спутниковой навигации GPS, GLONASS и QZSS. Он позволяет не только записывать в метаданные снимков информацию о месте фотографирования, но и сохранять маршрут в виде списка координат, получаемых с задаваемым фотографом интервалом. В камере также есть барометр, глубиномер и альтиметр (информация о давлении воздуха и высоте над уровнем моря/глубине погружения сохраняется в EXIF). При необходимости значения нуля в альтиметре можно корректировать.
Путешественники оценят наличие встроенной карты мира с возможностью сохранения нескольких точек-маркеров и достаточной детализацией. Однако использовать аппарат в качестве навигатора нельзя – привязка к карте не осуществляется. Компас показывает направления на стороны света, но весьма приблизительно (16 румбов). В руководстве пользователя отмечается, что навигационные данные с камеры следует рассматривать лишь как общую информацию.
Поскольку камера разрабатывалась для эксплуатации в экстремальных условиях, наряду с традиционным способом управления в ней реализованы ряд функций, помогающих выбирать нужные режимы не посредством маленьких кнопок, а постукивая по корпусу или наклоняя его – это по достоинству оценят поклонники зимних видов отдыха.
В Nikon Coolpix AW130 установлен Wi-Fi-модуль, для установления связи можно использовать NFC. К сожалению, удаленно управлять аппаратом нельзя – беспроводная связь работает лишь для передачи отснятого материала на мобильное устройство или ПК.
Аппарат питается от ионолитиевой батареи EN-EL12, которая заряжается в камере (отдельно продается внешнее ЗУ). Производитель заявляет о возможности сделать до 370 кадров, однако реальная цифра зависит от стиля съемки, температуры окружающего воздуха/воды, использования GPS и т.д.
К счастью, зарядка происходит через стандартный USB-кабель и может осуществляться не только от блока питания, порта компьютера, но и от пауэрбанка.
Качество снимков
По традиции, файлы из камеры для самостоятельного пристального изучения можно загрузить по этой ссылке.
По причине отсутствия в ближайших окрестностях Киева водоемов с прозрачной водой оценить результаты работы камеры по одному из прямых назначений не представляется возможным. Следует отметить, что при установке режима подводной съемки электроника по иному, нежели в «наземных» режимах обрабатывает геометрию.
Поскольку Nikon Coolpix AW130 оснащен маленьким сенсором, техническое качество кадров прогнозируемое: электроника обеспечивает хорошие результаты до ISO 800. На этом значении чувствительности шумы не мешают, а сужение динамического диапазона в тенях не оказывает существенного влияния. ISO 1600 можно использовать с последующей обработкой в графическом редакторе и обязательном уменьшении. На ISO 3200 кадры получаются на грани пригодности.
Порадовала корректная работа с красным цветом – его насыщенности в норме, потери деталей на рабочих значениях ISO нет.
Автоматический баланс белого
Автоматический баланс белого вел себя странно. На улице особых претензий нет, а вот при освещении электролюминисцентными лампами в студии аппарат заметно притеплил картинку, хотя цветовая температура источников явно тяготеет к нейтральному белому. Настроенный по образцу – листу офисной бумаги – аппарат дал очень похожую на правду картинку.
Баланс белого измерен по листу офисной бумаги
На большом экране в видеороликах заметны артефакты повышения резкости и компрессии, однако при размещении в Сети и просмотре на ноутбуках и планшетах все выглядит неплохо.
Nikon не был первым производителем подводных компактных камер, однако серия AW получилась довольно удачной. Coolpix AW130 может стать хорошим спутником для любителей экстремального отдыха, хотя и не претендует на роль единственного фотоаппарата в семье.
Понравилось:
+ Надежная конструкция корпуса
+ Диапазон фокусных расстояний
+ Простота эксплуатации
Не понравилось:
— Особенности работы автоматического баланса белого
— Режим подводной съемки спрятан глубоко в меню
— Wi-Fi только на передачу отснятого материала
| | |
| --- | --- |
| | Nikon Coolpix AW130 CamouflageУведомить о появлении в продаже |
| Категория фотоаппарата | Компактный фотоаппарат |
| Тип | CMOS |
| Размер | 1/2,3 |
| Количество мегапикселей | 16 |
| Максимальный размер кадра | 4608×3456 |
| Сменный объектив | — |
| Фокусное расстояние, 35-мм эквивалент | 24–120 |
| Максимальная диафрагма | f/2,8–4,9 |
| Оптический зум | 5х |
| Миним. дистанция фокусировки, м (обычн. режим) | 0,5 |
| Миним. дистанция фокусировки, м (макрорежим) | 0,1 |
| Чувствительность ISO | 125–1600 единиц ISO; 3200 и 6400 единиц ISO (доступна при использовании режима «Авто») |
| Диапазон выдержек, сек | 4-1/4000 |
| Режимы: приоритет выдержки/диафрагмы/ручной | -/-/- |
| Ручная фокусировка | — |
| Цифровой зум | 4х |
| Баланс белого | авто, 5 предустановок |
| Серийная съемка, кадров/сек. | 7 |
| Экспокоррекция, EV | +/-2, 1/3 |
| Экспозамер | матричный, центровзвешенный, точечный |
| Режимы встроенной вспышки | авто, уменьшение эффекта «красных глаз», включена, выключена, медленная синхронизация. |
| Типы файлов | JPEG |
| Макс. размер кадра; кадров/сек. (fps) | 1920×1080 (60fps) |
| Формат видео | MPEG-4, H.264 |
| Видоискатель | — |
| Live View (для зеркальных) | — |
| LCD-экран (диагональ в дюймах; кол-во пикселов) | 3,0″, 921000 |
| Поворотный экран | — |
| Система стабилизации изображения | оптическая, электронная |
| Гнездо для внешней вспышки | — |
| Встроенный микрофон | + |
| Карты памяти | SD (SDHC ,SDXC) |
| Встроенная память, MB | 473 |
| Интерфейс | USB 2.0, Micro HDMI |
| Питание | Li-Ion аккумулятор |
| Зарядное устройство | + |
| Размеры, (Ш × В × Г) | 110,4×66,0x26,8 |
| Масса | 221 |
| Дополнительно | Водонепроницаемость на глубине до 30 м, ударопрочность при падении с высоты до 2 м, пыленепроницаемость и морозостойкость (до –10 °C). NFC, Wi-Fi. Модули GPS, ГЛОНАСС и QZSS помогут вам отследить места съемки. Барометр, высотомер, глубиномер, электронный компас. |
itc.ua
Nikon Coolpix AW130 Review | Photography Blog
Announced earlier this year, the Nikon Coolpix AW130 is a 16-megapixel waterproof (100ft / 30 m), shockproof (7ft / 2.1 m) and freezeproof (14F / -10C) camera with built-in NFC and Wi-Fi support. Boasting a 3-inch, 921k-dot OLED display, the Nikon AW130 also offers an integrated GPS module and world map, as well as a Nikkor branded 24-120mm (eq.) f/2.8-4.9 lens. The camera can even be remote-controlled over Wi-Fi, using a smartphone or tablet. The Coolpix AW130 is currently available for £219 / $299 in the UK and the US, respectively.
Outwardly, the new Nikon Coolpix AW130 looks a lot like its predecessors – the AW100, the AW110 and the AW120 –, featuring the same rounded-yet-boxy design, with the most obvious novelty being a small, textured hand-grip on the front plate of the camera. While this grip seems more like an add-on than an integral part of the design, it does enable you to hold the camera firmly in your hand.
The Nikon Coolpix AW130's lens is located in the top-right corner when viewed front on, shielded by a clear lens cover that is open when the camera is turned off and on. The lens is a 5x zoom of the internally stacked variety, so it does not extend upon power-up or zooming. In 35mm equivalency, it spans focal lengths ranging from 24mm to 120mm. Aperture-wise it is fairly fast (for a fixed-mount compact camera lens, that is), its brightness being f/2.8 at the wide end and f/4.9 at full telephoto. It features a lens-shift vibration reduction mechanism that enables you to take sharp hand-held shots at shutter speeds that would otherwise be critically slow for the chosen focal length. On the front of the AW130 there's also a slimline flash unit, four small holes below the lens for the camera's stereo microphones, and the shared self-timer/AF-assist/movie light lamp.
Front of the Nikon Coolpix AW130
On the top plate there is a large shutter release button with a cross-hatched texture to aid location, a round, recessed power button and a sign indicating that the camera features a built-in GPS module. This records the exact latitude and longitude and stores it in the EXIF data of each image. The Nikon AW130 has a sophisticated suite of GPS options, from using it to set the camera's clock, displaying points of interest, creating a log of your routes even when you don't take any pictures, to even a built-in electronic compass. Your current position and logged routes can be displayed on the built-in offline world map. Do note that using the GPS receiver has a knock-on effect on the battery life, though.
The camera's rear plate hasn't changed much from the AW120, and the few minor modifications that have taken place are mostly cosmetic in nature. The back of the camera is still dominated by the 3", 921,000-dot OLED display, which offers excellent viewing angles and a 5-step brightness adjustment. Curiously for an "all-weather" rugged camera, our review unit arrived with several clearly visible scratch marks on the screen; serving as a reminder that while its shockproofing might allow the shooter to carry on working even after it has been dropped from a height of 2.1m, it does not guarantee complete immunity against all kinds of mechanical damage.
Rear of the Nikon Coolpix AW130
The camera's rear-mounted controls include a thumb-controlled zoom rocker, a movie record button, a multi selector with centred OK button, plus separate Record/Scene, Playback, Menu and Delete buttons. A number of frequently used functions such as Flash Mode, Exposure Compensation, Macro Mode and the self-timer have been mapped unto the four-way pad for quick access. All of these buttons require a bit of force to operate, which you might find a tad unusual at first. A small flash indicator lamp in the upper right corner completes the inventory.
On the left side of the camera, there is a vertical row of three large buttons including World Map, Wi-Fi and Action Control, plus a monaural speaker. Of these, 'Action Control' may require a bit of explanation. Basically, it is a clever mode that makes the AW130 easier to use when wearing gloves or underwater. When activated, you can control certain functions of the camera by moving it from front to back or tilting it up and down. In practice this system works well once you've got the knack of it, although the number of settings that you can change is somewhat restricted.
Wi-Fi, which was first introduced to the Nikon AW series in the AW120, enables users to download the photos they captured to a smartphone or tablet without having to remove the memory card or plug cables into a possibly still wet camera. It also allows you to control the camera remotely using the Wireless Mobile Utility app. We tried the iOS version, which worked well but provided only a limited degree of control over the picture-taking process.
Top of the Nikon Coolpix AW130
NFC (Near-Field Communication) is a completely new feature on the Nikon Coolpix AW130. This functionality enables anyone with an NFC compliant smart device to establish a wireless connection and start up the Wireless Mobile Utility simply by touching the NFC antenna on the device to the N-Mark on the camera.
On the right of the camera you will find a single, waterproofed door that covers the battery, memory card, HDMI and USB sockets. An ultra-secure locking mechanism that requires you to push a button and rotate a dial to open the compartment door ensures that it doesn't get accidentally opened to the elements.
Like its predecessors, the Nikon AW130 is a highly automated compact camera that relies on a variety of auto and scene modes to capture photos. The lack of a diaphragm in the lens means that the aperture and shutter priority modes preferred by many enthusiast photographers were not possible to implement in this model (this is typical of small-sensor compacts). The available shooting modes are Auto, Scene Auto Selector, Scene, Smart portrait, Special Effects and Short movie show. The camera's suite of scene modes includes portrait, landscape, sports, night portrait, party/indoor, beach, snow, sunset, dusk/dawn, night landscape, close-up, food, fireworks show, backlighting, pet portrait, and, of course, underwater photography. For time-lapse movie recording and panoramic photography, you will also need to delve into the Scene mode menu.
The Nikon AW130 can capture Full HD/25p/30p movies with stereo sound, and the optical zoom can be used while filming. It is also possible to capture stills while recording a movie, although resolution will be limited to 1920×1080 pixels or less. Additionally, you can extract and save frames from movies already recorded (with the same restrictions on resolution).
The Nikon Coolpix AW130 In-hand
In use, the Coolpix AW130 proved to be a pleasantly responsive shooter. Start-up takes just over 1 second, and focusing is also commendably fast, at least in good light, especially at the 24mm (eq.) end of the zoom range. In Continuous H mode, the camera can shoot full-resolution stills at a very respectable rate of about 7fps, but only for five consecutive frames (i.e. less than one second). Continuous L mode is considerably slower at approximately 2.2fps, but you can capture about ten full-res shots and track your subject while shooting. Faster burst modes – offering shooting speeds up to 120fps – are available, but these impose severe restrictions on image resolution.
The AW130's main claim to fame is its robust waterproofing, which allows you to take the camera to depths of up to 30 metres. While we weren't in a position to test this, we did take the camera to a local swimming pool, where it performed admirably, although we did find the display somewhat difficult to see underwater.
The Nikon Coolpix AW130 runs on a dedicated EN-EL12 Lithium-ion battery, and records images as well as videos on SD / SDHC / SDXC cards. As already mentioned, the battery and card share a common compartment with the HDMI and USB ports, whose lockable, sealed door is found on the right of the camera (looking from the rear). The quoted number of images that can be captured on a single charge is 370, but this will be greatly influenced by GPS and Wi-Fi usage. The battery needs to be charged in-camera, using the supplied USB cable and EH-71P charging AC adapter. Charging takes just over 4 hours when connected to a computer via USB, and 2 hours 20 minutes using the  power adapter. The battery is also compatible with the separately sold MH-65 charger.
Next Page Image Quality »
www.photographyblog.com
Nikon COOLPIX AW130 review -
The Nikon COOLPIX AW130 is a rugged waterproof compact with a 16 Megapixel sensor and a 5x stabilised optical zoom. It's waterproof to a depth of 30 meters, shock proof to 2.1 meters, dust-proof and can operate in temperatures down to -10C.
The AW130 was launched in February 2015 alongside the company's other waterproof compact, the budget COOLPIX S33 and replaces the year-old COOLPIX AW120 which remains in the Nikon compact line-up for now. As is fairly typical with 2015 rugged models, the updates are incremental; the AW130 shares the same sensor, the same 24-140mm f2.8-4.9 zoom lens and the same 921k dot OLED screen, and like the earlier model has built-in Wifi and GPS. Nikon has added NFC to make Wifi connection to your smartphone easier and there's now a chunky grip that wraps around the front. And there's that 30m depth rating – up from 18 meters on the COOLPIX AW120, making the AW130 the most water-proof of any of the rugged compacts.
In my review I've tested the COOLPIX AW130 alongside two of its biggest competitors the best-selling Olympus TOUGH TG4 and the TG860.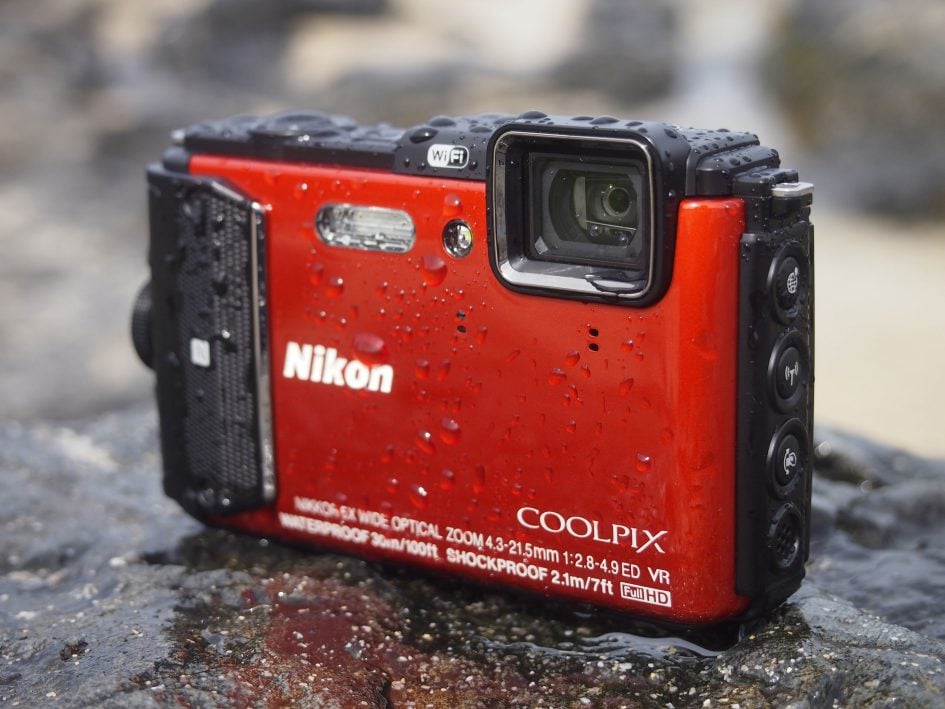 Nikon COOLPIX AW130 design and controls
There's something straightforwardly honest about the COOLPIX AW130's design. It looks like a camera built for tough environments, but in a practical way; there are no chunky screws, big shiny cleats for attaching straps or over-engineered lens bezels. The camouflage colour scheme is a bit much, but the AW130 is also available in more conventional black, blue, orange or yellow.
My review model was orange, an attractive copper coloured plate protects the front of the camera, everything else including the new grip is finished in black. It's practical and attractive without being showy. It feels solidly put together and is a comfortable fit, in my hand at least.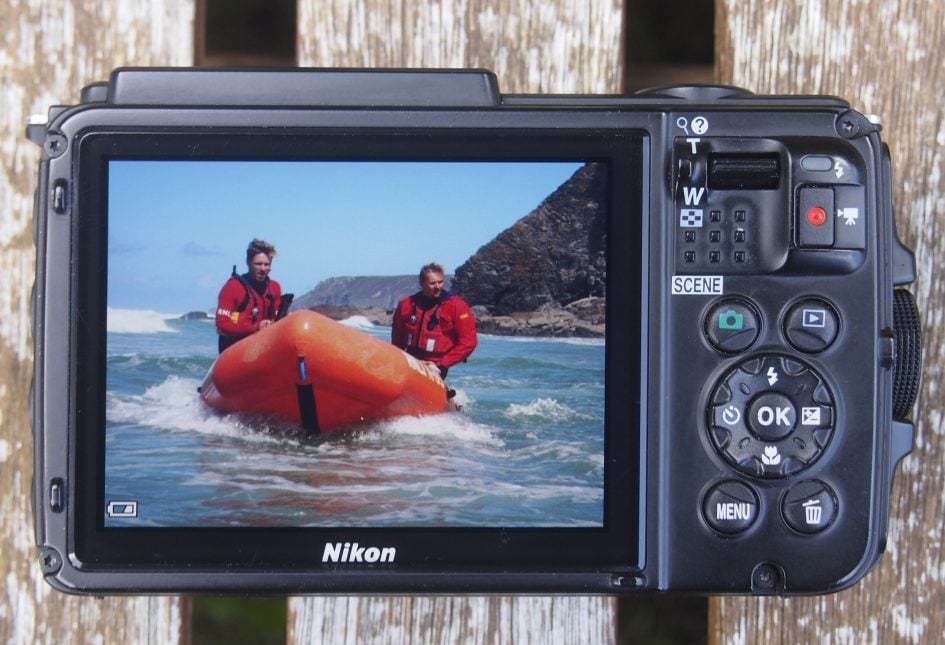 The new grip provides a substantial raised dimpled surface for your fingers to hold onto and I never felt in danger of losing the AW130. Despite that, you'll need to invest in a good quality wrist strap though. For reasons I can't fathom, Nikon supplies the AW130 with a conventional neck strap – not much use in the water, or on land for that matter.
The AW130's lens is mounted on the top left corner of the body, leaving plenty of room below for a firm grip with your left hand should you need it. There's a raised section on the top panel that houses the GPS and Wifi aerials dipping down on the right where you'll find the on/off button and a large dimpled shutter release button.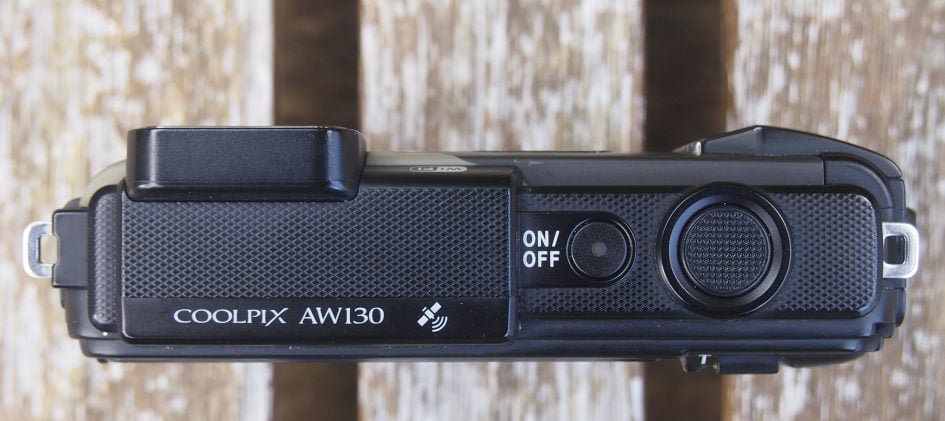 The rear panel controls on the AW130 are positioned to the right of the screen which is a 3 inch OLED panel with a resolution of 921k dots. The screen is bright and contrasty and has a wide angle of view both horizontally and vertically. Like all screens it's difficult to see in bright sunlight and if you're taking pictures just below the water you'll also experience difficulty seeing anything due to reflections.
The only way around those shortcomings is a viewfinder or an articulated screen. While you won't find a waterproof compact with a viewfinder, the TOUGH TG860 has a flip up screen that folds forwards for selfies and can be angled to avoid reflections. But the TG860's screen is 16:9 proportioned which means a smaller viewing area with black bands top and bottom when shooting 4:3 stills. There's a similar problem to a lesser extent with the 3:2 screen on the TOUGH TG4. With a 4:3 screen matching the proportions of full resolution still photos the COOLPIX AW130 provides the biggest and most detailed view of all three. Of course when it comes to video it's a different story and the TG860's screen wins out with the biggest movie view of the three.
The zoom rocker situated just above the indented dimpled thumb-rest operates in an up/down fashion and right next to it is the movie record button. Below that is the four-way controller that Nikon calls a multi-selector, flanked by scene mode, playback, menu and delete buttons. I found the AW130's control layout cramped and poorly designed, I'll talk about that in more detail in the shooting experience section later.
On the left side of the camera body there's a column of three buttons which from top to bottom activate the map display, Wifi, and Action Control – which allows you to change settings by tapping the camera. Below there is a speaker grille.
On the other side is a sealed door with a wheel latch that has a locking pin at its centre. To unlatch the door you push in the central pin and rotate the wheel, which is easier than it sounds. Behind the door you'll find the battery and card compartment along with the USB / Charging port and a mini HDMI port.
The battery is same EN-EL12 used in the earlier AW120 and provides enough power for 370 shots, an increase of 20 over the earlier model and better than the 300 shots you'll get from the TG4 or TG860, however, with any of these models extensive use of the GPS and Wifi is likely to significantly shorten the battery life so it would be advisable to carry a spare.
Remaining power is shown on screen by a segmented battery graphic. The battery is charged in the camera using a standard USB cable which is also supplied. If you don't want to carry the mains charger with you, you can plug in and recharge from a laptop, car adaptor, portable battery or any other convenient source. It's the same arrangement with the TOUGH models, but because Olympus uses a proprietary port on the camera, you need to remember to take the supplied cable with you. The COOLPIX AW130 can use any USB cable with a USB micro connector on the camera end.
Nikon COOLPIX AW130 lens and stabilisation
The COOLPIX AW130 has a 5x optical zoom with an equivalent range of 24-120mm and a maximum aperture of f2.8-4.9. It's comparatively middling in terms of its zoom range and brightness; the Olympus TOUGH TG4 doesn't have quite the reach of the AW130 with a 4x 25-100mm, but it's a full stop brighter at the wide angle setting so better for low light shooting. The TOUGH TG860 also has a 5x zoom but with a super-wide 21mm wide angle extending to 105mm at the telephoto end. It's not quite as bright as the AW130's lens though with a maximum aperture of f3.5-5.7
Nikon COOLPIX AW130 coverage, wide and tele

Above: Nikon COOLPIX AW130 at 4.3mm (24mm equivalent) and 21.5mm (120mm equivalent)
But unless you're a fan of the super-wide angle the AW130's range is in some ways more usable. 24mm captures a pretty wide field of view and is fine for big groups and small interiors like boats, plus the 120mm zoom gets you that little bit closer to the action than the 105mm on the TG860. One other thing to note is that the TOUGH TG4 provides Aperture priority exposure mode which means that you can manually select f2. As you'll see in my high ISO noise page, there's no guarantee that the AW130, or the TG860 for that matter will choose the widest available aperture when the situation demands it.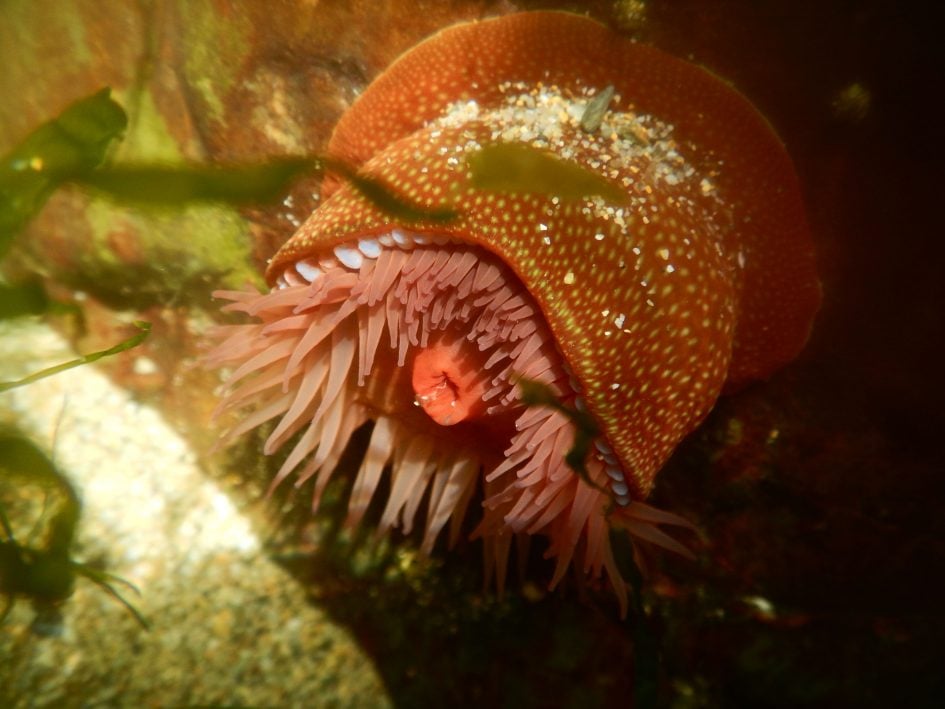 Above: 1/200, f2.8, 125 ISO, 4.3mm (24mm equivalent) Underwater mode Macro
Like the TG4 and TG860, the COOLPIX AW130 has a closest focus distance of 1cm at the wide angle setting so you can get really close in to small subjects for macro photography. You set macro mode by pressing the bottom point on the four-way controller in Auto shooting mode. It also works in the underwater, Pet portrait and Smart portrait scene modes.
You can use the zoom in macro mode, but unlike the TOUGH models, the closest focus distance doesn't remain at 1cm when you zoom, so you have to move further away from your subject. So while you can't use the zoom to increase magnification, it's useful to avoid getting too close and casting a shadow. If you're a big macro fan, though, the TOUGH TG4 with its ability to zoom and focus at 1cm, focus stacking mode for increased depth of field and optional macro lighting attachments is hard to beat.
Nikon COOLPIX AW130 Photo VR off / on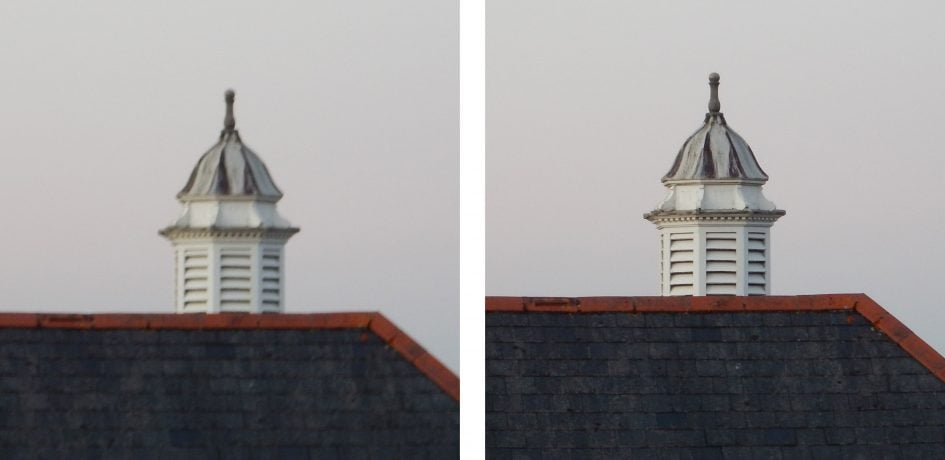 Above left: 100% crop, 4.3-21.5mm at 21.5mm, 1/10, 125 ISO, VR off. Above right: 100% crop, 4.3-21.5mm at 21.5mm, 1/10, 125 ISO, VR on.
The COOLPIX AW130 has optical image stabilisation which Nikon calls Photo VR. Vibration reduction is set separately for stills and movie shooting (movie VR) with Photo VR activated from the Setup menu. In addition to the On and Off positions there's a third option called Hybrid. This combines the optical stabilisation with in-camera post processing to digitally remove any blurring that remains. The digital correction is applied only under certain conditions, including when the shutter speed is slower than 1/30 at the wide angle setting or 1/60 at the telephoto focal length and when the sensitivity is 200 ISO or lower.
To test the COOLPIX AW130's stabilisation I zoomed the lens to its maximum 120mm equivalent setting and took a series of shots at progressively slower shutter speeds, first with Photo VR turned off and then with it on. As you can see from the crops above, the COOLPIX AW130 can produce blur-free shots down to 1/10 at the maximum zoom range which is nearly four stops slower than would be advisable without it.
Nikon COOLPIX AW130 movie modes
The COOLPIX AW130 retains the best quality 1080 / 30p/25p HD mode of its predecessor which is encoded at around 15Mbit/s. You can switch between NTSC and PAL compatible frame rates, so all the 25 and 50fps modes I mention here are also available at 30 and 60fps.
Next on the menu is an interlaced 1080i50 mode, followed by 720p25 and lastly a VGA mode that records 640×480 resolution video at 25fps (or 30fps). The earlier model's 720p mode saved in Apple's edit-friendly iFrame format has been dropped.
The COOLPIX AW130 also has a couple of HS options for playback at speeds other than real time. HS 480/4x shoots 640×480 video at 4x normal speed (100 or 120fps depending on the frame rate selected) which plays back at quarter speed. HS 1080/0.5x records full HD video at half the normal frame rate for double-speed playback. But both the earlier model's HS720/2x option, which records 1280×720 at double the normal frame rate for half speed playback, and the HS240 8x mode have been dropped.
This appears to be something that's happening more generally on Nikon compacts with the same modes dropped from the S9900 super-zoom model. It's a bit of a shame, particularly in the case of the 720p half speed option; I reckon most people would prefer to have a 16:9 slow motion mode in preference to an HD mode that plays back at 2x normal speed.
Compared with the TOUGH TG4 the COOLPIX AW130's video modes are more numerous, but the best quality modes are similar. The TG4 lacks the AW130's ability to switch between NTSC and PAL video frame rates and also lacks it's interlaced modes. The TG4's 640×480 quarter speed mode matches the AW130's but it also has a 320×240 eighth speed mode – dropped on the AW130. The AW130 has a 2x speeded up HD mode, I'm not sure that's a big crowd puller though.
For the best video features the TOUGH TG860 is the model to aim for. It has a best quality 1080/60p mode as well as slow motion modes in 16:9 as well as 4:3 formats.
But while the COOLPIX AW130 loses some video modes, it does gain a new movie feature in the form of Short Movie show. This works in a very similar way to the Hybrid movie mode (formerly Movie Digest) found on Canon compacts and records a set number of clips of a couple of seconds of 1080 / 25/30p footage which are then assembled in-camera into a longer movie.
You can choose between 15 2-second, three 10-second, or five 6-second clips which are then assembled into a 30-second movie. You can shoot 16:9 12 Megapixel Normal quality still photos when the mode dial is in the Short Movie Show mode position, or leave to shoot full resolution photos before returning to pick up where you left off. It's a neat feature though not quite as user-friendly as Canon's which shoots a short clip every time you take a photo.
The COOLPIX AW130 provides two autofocus modes for movie shooting, Single AF (AF-S), which sets the focus at the beginning of your clip and Full time AF (AF-F) which continually adjusts it. AF-S is the default, but if you want to record anything that's moving, or if you're panning the camera from near to far subjects, you need to switch to Full-time AF. I found the COOLPIX AW130's full-time AF mode to be very capable, as you can see from the clips below.
The COOLPIX AW130 doesn't support any of the PASM exposure modes for movie shooting, regardless of the position of the mode dial and ISO, the sensitivity and exposure are set automatically. In that respect it's the same as the TOUGH TG4 and TOUGH TG860.
Download the original file (Registered members of Vimeo only) This clip, like the others below was shot in the COOLPIX AW130's best quality 1080/25p video mode. There's very little here to find fault with, the exposure is good, quality looks great, the autofocus in Full-time AF mode is rock steady and the zoom is smooth and quiet.
Download the original file (Registered members of Vimeo only) For this second clip the camera was mounted on a tripod and Movie VR was disabled. Other than a little bit of flare when the camera is pointing directly into the light at the beginning of the clip, there's again very little to find fault with here. There's a slight hesitation in the auto focus at the end of the zoom but it quickly recovers.
Download the original file (Registered members of Vimeo only) The COOLPIX AW130 also does well indoors in low light. The quality of this clip is good with just a little noise visible, which you'd expect. The exposure over-compensates for the window light and in the middle of the pan things get quite dark, at this point the auto focus also has a moment of indecision. Otherwise, a good result.
Download the original file (Registered members of Vimeo only) For this clip I tested the AW130's full-time AF performance by zooming the lens in slightly and panning from the coffee cup on the table up to the bar and back again. This is a very capable performance from the AW130 which almost seems to anticipate the required change in focus so that by the time I've finished panning up to the bar it's already in focus. There's none of the jitteriness typical of contrast-detect AF, a solid effort.
Nikon COOLPIX AW130 shooting experience
The COOLPIX AW130's design works well both on dry land and in the water – up to a point. The dimpled surfaces and new grip make for secure and comfortable one-handed operation and the shutter button, often spongy on waterproof models has a positive action. There's only one sealed door to open to get at the battery, card and ports and the buttons down the left side provide unimpeded access to GPS, Wifi and Action control, which I'll come to in a moment.
But on the rear of the camera it's a different story. At first glance the proximity of the zoom rocker and movie record buttons to the thumb rest looks cramped, but it's actually comfortable and convenient – all you need to do to zoom in is apply upward pressure with your thumb and the movie record button is a short slip to your right.
The real problem on the rear panel is the four-way controller or Multi selector as Nikon calls it. As well as on the four cardinal points, the Multi selector has raised sections in between, so there are eight positions altogether, though only the ones at the top, bottom, left and right have a function. This design makes it very difficult to push any of the buttons, the only way I could manage it consistently was with my thumbnail – and I have quite small hands.
Action Control is a feature that allows you to control certain functions by shaking or tapping the camera and given the difficulty I had with the Multi selector this sounded promising. To activate it you must first press the Action control button on left side of the camera body. Five options are then listed on the screen and a further shake or tap scrolls through them. finally you need to press the Action control button a second time to select the highlighted option.
This is so badly thought out and implemented it's hard to know where to begin with the criticism. Let's start with the available options; two of them, Start movie recording and Quick playback already have dedicated buttons. It makes no sense to press the Action control button, shake the camera, then press the Action control button a second time to start movie recording when you can just press the movie record button.
The final option exits Action control without doing anything, something that's just as easily accomplished by half-pressing the shutter release, so a wasted button. That leaves current position, which uses the GPS to show your current position on the map display and shooting mode selection.
Selecting underwater mode conventionally when you're in Auto takes six button presses. First the scene button, then four upward presses on the multi selector, followed by OK. To do the same thing using Action control takes three button presses and four shakes or taps. My point is it's not really any easier.
Action Control need two improvements to make it worthwhile. You should be able to turn it on all the time from the menu – like Tap control on the Olympus TOUGH models. Having to press a button both to activate it and then to confirm your choice of options really defeats the object. Secondly it needs a more useful set of options – things that are easier to do than the button equivalent when your hands are very cold or wet or when you're wearing gloves.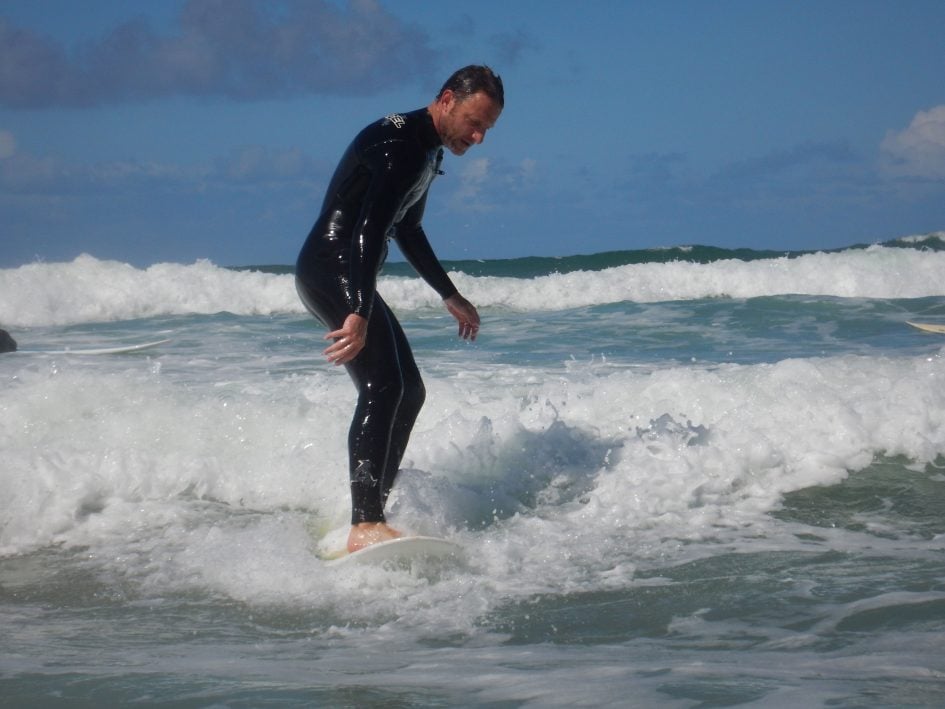 Above: 1/500, f9.8, 125 ISO, 21.5mm (120mm equivalent) Continuous H (7fps) mode
There are no fewer than five AF area modes on the COOLPIX AW130, more than is usual for a camera in this class. Face priority works well when people are within a few metres of the camera in good light. If there are no faces in the frame it defaults to the nine-area AF system which it uses to focus on the subject closest to the camera. Alternatively you can manually select the focus area from one of 99 positions using the multi-selector to move the frame around a 9×11 grid, or set a central focus point.
The COOLPIX AW130 includes target finding AF which identifies people or objects in the frame and tracks them with green rectangles. If you're shooting people, face priority is probably a better choice of AF modes, but target finding does seem to have an uncanny knack for picking the main subject in a scene which for some situations is a real improvement on the nine-area AF mode. Except it doesn't work very well in the water. For that I found Centre AF or manual positioning of the AF area produced the best results.
Finally, there's a subject tracking mode which allows you to identify a subject with an AF point which then follows it around. This works well, provided your subject is well spearated from the background, you're not zoomed in a long way and the subject isn't moving quickly or erratically. Again, for surfing shots and other water-based activities I found tracking wasn't the best option.
The COOLPIX AW130 has two full resolution continuous shooting modes at 7fps and 2.2fps. The faster of the two shoots a 5-frame burst, focus and exposure are fixed on the first frame for all continuous shooting modes. There are two faster settings that shoot 1280×960 images at 60fps and 640×480 at 120fps. There's also a clever Pre-shooting cache mode that starts recording when the shutter is half pressed; when you fully press the shutter the COOLPIX AW130 captures a burst of 25 1280×960 frames at 15fps including up to 5 cached frames from before the shutter was fully depressed.
The problem with a 5-frame limit is that at 7fps you can capture less than one second of action, which means you have to get your timing just right and, even if you do, you might miss the best part of something if it takes longer than three quarters of a second.
The TOUGH TG4 can shoot 100 full resolution frames at 5fps – a little slower then the AW130, but a lot more useful. But the TG860 is similarly limited to a short 7fps 7-frame burst. Both the TOUGH models have reduced resolution modes for faster shooting that are comparable with those on the AW130, but compacts aren't generally known for their continuous shooting performance and these are no different. That said, continuous shooting is a good way to improve your chances of getting one or two good frames from a fast moving subject over using the single shooting drive mode.
New to the COOLPIX AW130 is a Time-lapse Movie mode which shoots a sequence of images at pre-defined intervals and assembles them into a 1080 / 30p HD movie. There are five presets – Cityscape, Landscape, Sunset, Night sky and Star trails. Each shoots 300 images at intervals of 2, 5, 10, 30 and 30 seconds respectively which are then combined into a 10 second movie.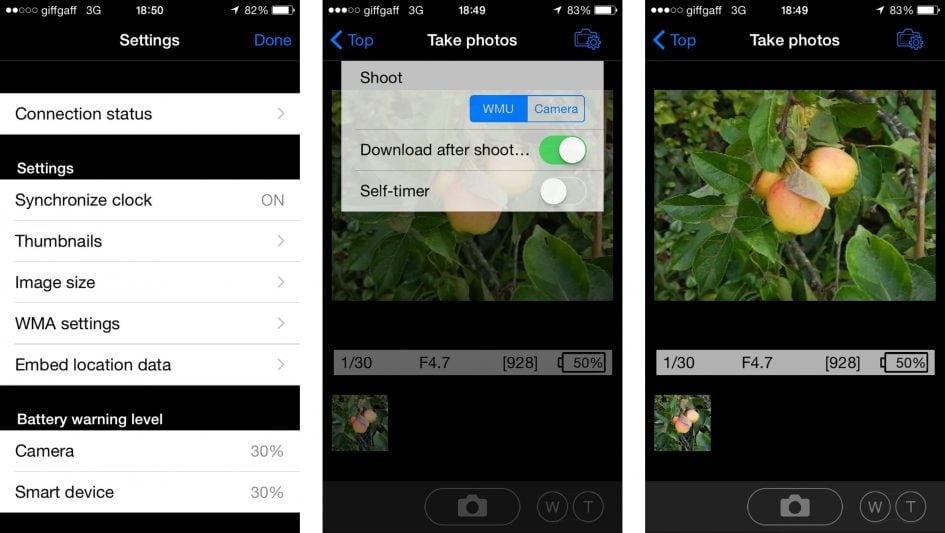 The COOLPIX AW130 has built-in Wifi and a new NFC chip means that you can tap it with a suitably equipped smartphone to initiate a connection; if your phone has NFC you just tap it on the side of the camera. If you don't have NFC all you need to do is enable Wifi from the menu then select the COOLPIX AW130's SSID on your phone. Before you do that, it's advisable to set up security options on the camera, otherwise you've got an open Wifi connection that anyone can tap into; a default approach by Nikon right now.
You then have the option of remote shooting using Nikon's Wireless Mobile Utility app as well as downloading images from the card in the camera. The remote shooting features are pretty basic; the camera shoots in Auto mode and there's no exposure control available, not even exposure compensation. You can zoom the lens in fairly stacato steps and there's a noticeable lag between tapping the control on your phone and the camera responding. That's it, no option to change the ISO sensitivity, or white balance, set the drive mode, set an interval timer or tap the screen to focus – all things you can do remotely using the Olympus app with TOUGH models.
Downloading images from the camera's card to the phone appears straightforward, You can view the images in a grid, get a full screen look at a low resolution preview and select it for download. However when I tested it, I could no longer download photos at their original size – only VGA or what Nikon Calls 'Recommended size' which in my case turned out to be 1440×1080. I just can't understand why Nikon has done this, sure it's quicker to download smaller files to your phone and most of the time that's what you'll want to do, but it was nice to have the option to for original sized downloads and I don't see what's gained by removing it.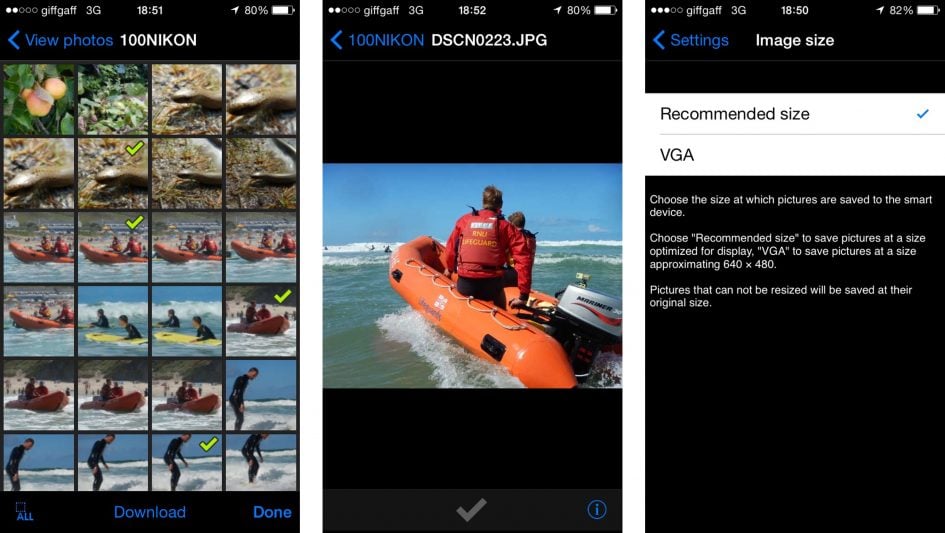 But while its remote shooting via Wifi is lacklustre, the COOLPIX AW130 makes up for it with GPS features. The built-in GPS receiver tags images with lat and long co-ordinates and though these aren't displayed on the screen overlay during playback as on the TOUGH models, you can display the location on a map display, calculate distances between images or an image and your current location, and display points of interest. There's also an electronic compass display which tags photos with the direction you were facing when you took the shot.
In addition to Auto mode the COOLPIX AW130 has Scene Auto selector mode which uses scene detection to choose the most appropriate scene mode. The AW130 is pretty good at recognising when it's night, when you're close to the subject and when the subject is backlit and when there are people in the shot. It can also tell when the camera is underwater, so it's a good option for when you're in the water, but not always under it.
There's also an Easy panorama mode with two resolution options: Normal captures 180 degree photos with a maximum size of 1536×4800 pixels, while Wide captures 360 degree shots at 1536×9600. There are 18 modes in all on the scene mode menu. In addition to Easy panorama, there are the usual ones you'll find on pretty much any compact – Portrait, Landscape, Sports, beach, Snow, Sunset and so on. There's also backlighting HDR mode which shoots several frames and creates a composite with a wider tonal range than could be captured in a single shot. And of course there's an underwater mode.
Like all COOLPIX compacts, the AW130 also has a good selection of effects filters, some of which are shown below. If you like your effects, though, the TOUGH models have a broader spread of more interesting effects filters.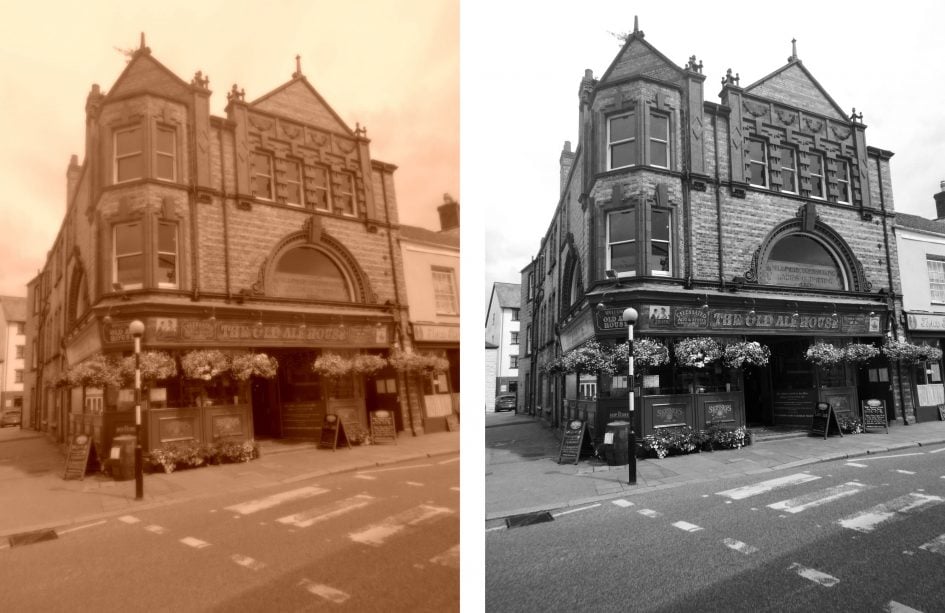 Above left: Nikon COOLPIX AW130 : Nostalgic sepia. Above right: Nikon COOLPIX AW130 : High-contrast mono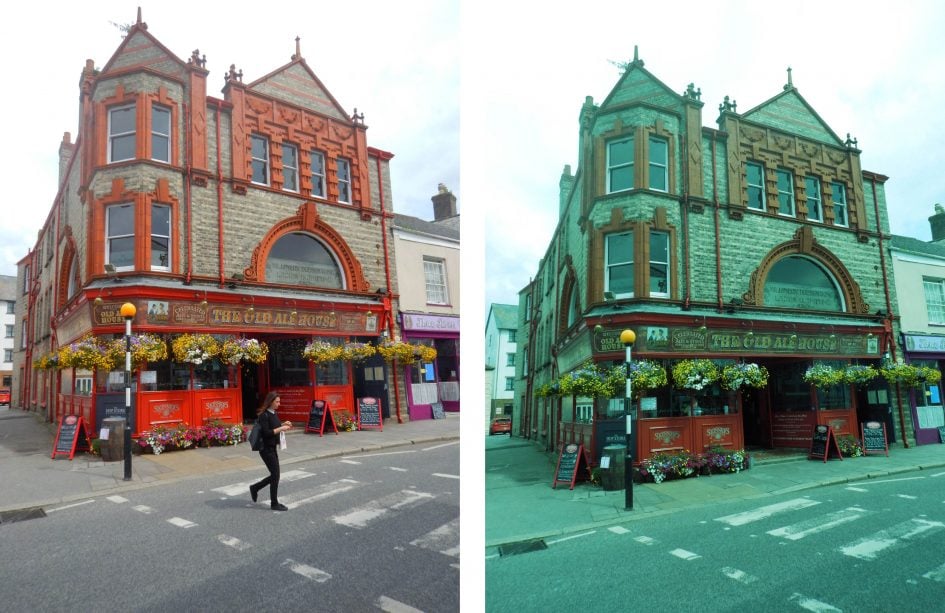 Above left: Nikon COOLPIX AW130 : Pop. Above right: Nikon COOLPIX AW130 : Cross process.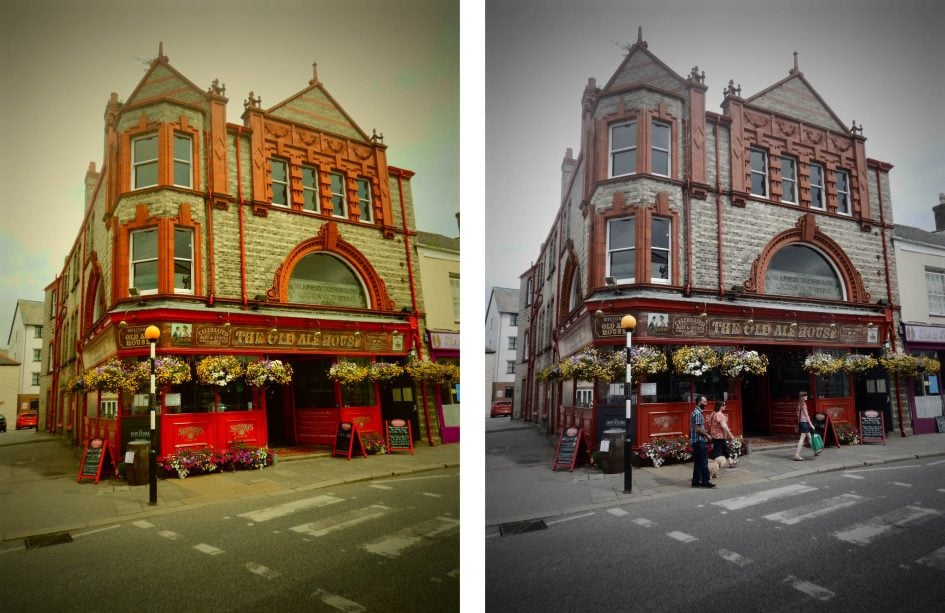 Above left: Nikon COOLPIX AW130: Toy camera effect 1. Above right: Nikon COOLPIX AW130: Toy camera effect 2.
www.cameralabs.com
Digital Compact Camera Nikon COOLPIX AW130/S33
February 10, 2015
High-performance outdoor COOLPIX AW130 offering superior shock- and cold-proofing, and waterproof to depths of approx. 30 m, and the COOLPIX S33 offering advanced functions for simple, worry-free operation for anyone, from children to adults
TOKYO - Nikon Corporation is pleased to announce the release of two new shockproof and waterproof COOLPIX-series compact digital cameras, the COOLPIX AW130 and the COOLPIX S33.
The AW130 is a tough, high-performance outdoor camera that is not only waterproof to depths of approximately 30 m, but also offers superior shock- and cold-proofing. Its compact body has an elegant design, and is equipped with a 5x optical zoom (up to 10x* with Dynamic Fine Zoom) NIKKOR lens that supports focal lengths beginning at the wide-angle 24 mm (equivalent focal length in 35mm [135] format) and a maximum aperture of f/2.8, making it well suited to use around town as well.
The S33 offers water- and shock-proofing performance, as well as intuitive operation, that enable worry-free use on vacation and with leisure activities, allowing anyone, from children to adults, to easily record beautiful photos and movies. It is also equipped with an Underwater Face Framing function that automatically detects and captures human faces under water, allowing the user to take pictures of people under water without submerging their own face.
*At the maximum image size.
The AW130 is waterproof to depths of approximately 30 m, allowing those with a recreational diver's license equivalent to the PADI's Advanced Open Water Diver license recognized the world over to record photos and movies while diving to approved depths without using a separate underwater housing. What's more, in addition to shock-proofing that withstands falls from approximately 2.1 m and cold-proofing to approximately -10°C, the camera's tough body is also designed to resist dust and sand for fun, worry-free use with both leisure activities and hard-core outdoor activities. The camera also supports the extremely portable, compact and lightweight Underwater Speedlight SB-N10 (also compatible with the Nikon 1 AW1)*, enabling the capture of beautiful photos with additional lighting of subjects at depths of 30 m where little surface light reaches.
*Requires the Underwater Fiber-Optic Cable Adapter SR-CP10A and Underwater Fiber-Optic Cable SC-N10A, and the Underwater Bracket SK-N10A (all sold separately).
The AW130 is equipped with a 5x optical zoom NIKKOR lens that covers focal lengths beginning at the wide-angle 24 mm (equivalent focal length in 35mm [135] format) and offers a maximum aperture of f/2.8 for capturing broad expanses. In addition, it supports macro photography of objects as close as 1 cm to the center of the front surface of the lens, and is equipped with Dynamic Fine Zoom, which enables up to approximately 10x* zoom with which resolution is preserved, even throughout the digital zoom range.
*At the maximum image size.
GPS, GLONASS, QZSS supportIn addition to GPS (with A-GPS*) and Global Navigation Satellite System (GLONASS) support, the AW130 also supports the Quasi-Zenith Satellite System (QZSS). This enables faster and more accurate recording of shooting location data (latitude and longitude) with images, even in places where positioning was previously difficult, such as between buildings.
*A function that calculates GPS signal acquired by the camera and data (EE data: Extended Ephemeris data) that predicts GPS satellite location for faster positioning.
GPS that supports display of points of interest (POI), electronic compass, and built-in world mapThe AW130 supports display of points of interest (POI) for adding the names of places where photos are taken to images. In addition, location data acquired with the high-performance GPS, GLONASS, and QZSS functions, along with the direction in which the camera is pointed recorded using the electronic compass, can also be recorded with images and displayed on a world map* in the camera monitor. Shooting locations (up to 30) can be registered with the camera using the Save Location option with map display.
In addition, information helpful with outdoor use, such as latitude, longitude, altitude, atmospheric pressure, and heading, can be confirmed with a quick glance at the monitor display by pressing the camera's map button on the side of the camera.
*Map and point of interest (POI) information current as of April 2014.
Function for displaying altimeter, depth gauge, and atmospheric and water pressures, and function for displaying altitude and water depth log dataAdoption of a pressure sensor enables display of altitude and water depth*, as well as atmospheric and water pressures, in the camera monitor. This information can also be imprinted on images as they are recorded. Further, as the camera is equipped with altitude and water-depth log functions, the altitude/water-depth information from initiation of the log function until it is terminated can be displayed as a graph.
*When Underwater scene mode is selected, and when the camera automatically recognizes that it is under water in Auto mode.
NFC support enables easy Wi-Fi® connection by simply touching the camera to a smart device (running Android 4.0 or later) equipped with the NFC function. This allows users to immediately transfer images they have just captured to a smart device, even when they are outdoors, from which they can be posted to SNSs for sharing with family and friends. In addition, the camera's Wi-Fi® button also makes Wi-Fi® connection even easier when smart devices not equipped with NFC are used. Smart devices can also be used to take pictures remotely, zoom in or out, and enable the self-timer, capabilities that are convenient when taking group photos in which the user is included.
*The Wireless Mobile Utility app must first be installed on the smart device (the app can be downloaded free of charge from the smart device's app store).
The AW130 supports 1080/60i movie recording, which achieves smooth motion. It is also equipped with a high-performance, 5-axis hybrid vibration (VR) function that uses both lens-shift and electronic VR to reduce the effects of camera shake for recording of beautiful movies in which blur has been effectively reduced.The AW130 also offers a Time-lapse Movie function with which the user need simply select a scene type, and the camera automatically applies the optimal shooting interval for that type of scene. Still images are then captured at the specified interval and combined to create a 10-second movie that dynamically expresses the changes in familiar scenes that occur over time, such as the setting sun, clouds passing overhead, and urban bustle. It is also equipped with a Short Movie Show function that creates short 30-second movies by automatically combining multiple movie clips that are several seconds long. Special effects, and background music selected from four themes, can be applied to movies, allowing users to preserve impressive movies of highlights from vacations or everyday life.
High-speed AF that supports quick focusing on the intended subject in approx. 0.14 s*

*Measured in accordance with CIPA standards. Measured at maximum wide-angle position, subject brightness measuring 10 LV, programmed auto exposure, Single AF autofocus mode.

A truly elegant design that is suited to use around town as well and offers a firm hold with its superior grip
The Silicon Jacket CF-CP002 (sold separately) protects the camera from scratches and is extremely practical
Equipped with functions that support comfortable shooting and a variety of image editing functions
Adoption of a battery designed for a long life enables capture of approximately 370 shots with a single charge for worry-free shooting, even outdoors
High-speed charging using the supplied Charging AC Adapter EH-71P and USB Cable UC-E21 (the connector on the camera is a Micro-USB connector)
It offers worry-free use by anyone in a variety of situations, from children playing at the pool or sandbox to outdoor leisure activities, with waterproofing to depths of approximately 10 meters, shock-proofing that withstands falls from up to approximately 1.5 meters, and cold-proofing that withstands temperatures as low as approximately -10°C.
The S33 offers an effective pixel count of 13.2-million pixels, and is equipped with a 3x optical zoom NIKKOR lens. In addition, it is equipped with Dynamic Fine Zoom, which can be used to achieve approximately 6x*1 zoom with which resolution is preserved in the digital zoom range. It is also equipped with a new Underwater Face Framing function that detects and automatically captures human faces under water, and Target Finding AF*2, which detects the primary subject and focuses on that subject when the shutter-release button is pressed halfway.
*1At the maximum image size.
*2With shooting in Point and shoot mode.
With a wide variety of colorful menu backgrounds, album designs, and frame options, the Variety Menu built into the S33 makes operating the camera with children more fun with the ability to apply preferred settings for these features and more. The Variety Menu can also be set to Off so that only the most important camera functions are displayed.
Add MakeupUsers can apply any of the 12 makeup effects (Make Faces Smaller, Make Skin Prettier, Color Faces, Make Skin Less Shiny, Hide Eye Bags, Make Eyes Bigger, Whiten Eyes, Add Eye Shadow, Add Mascara, Whiten Teeth, Color Lips, Redden Cheeks) to retouch faces in their photos at will. In addition, the degree to which each effect is applied can also be adjusted.
Shoot a Movie MiniatureThis option captures a still image every two seconds (up to 300), applies the same effects used with Create a Diorama Effect, and then combines these images to create a 30-fps movie 10 seconds in length. With this feature, the camera does all the work in creating fun movies that reproduce scenes of busy city streets, beaches, airports, and the like with a model- or toy-like effect.
Choose a StyleUsers can enjoy expressing themselves in a variety of ways by applying special effects prior to shooting, and by changing colors and the like in photos after they are taken. Effects have names that even children will understand, such as Take Soft Pictures and Add a Fisheye Effect.
The S33 has a symmetrical design that makes it easy to hold, even by children who use both of their small hands. In addition, four operational buttons offering intuitive operation have been adopted on the back of the camera, and the rounded form and slight depression around the lens offer a better hold on the camera.
Function for creating albums with five design options
A Grading function that allows children and adults to grade each other's photos
An Exchange Messages function that allows users to add voice messages to images
An Image Lock function that allows users to restrict image deletion by simply holding down two of the buttons on the back of the camera at the same time
Function for recording 1920 x 1080/30p full-HD movies with stereo sound
High-speed charging via Micro-USB connection High-speed charging in approximately 1 hr. 40 min.* using the supplied Charging AC Adapter EH-71P and USB Cable UC-E21 (the connector on the camera is a Micro-USB connector)

*When battery is completely exhausted.
www.nikon.com
Nikon Coolpix AW130 Review
Features Handling Performance Verdict Specification
The Nikon Coolpix AW130 is an update to the Nikon Coolpix AW120, and has a new waterproof rating of 30m, improved grip, added NFC, a high resolution 921k-dot OLED screen and fullHD video recording. The AW120 is available in black, blue, orange, camouflage and yellow for around £225.
Nikon Coolpix AW130 Features
The Nikon Coolpix AW130 is an extremely robust camera. It is waterproof to 30m, shockproof to 2.1m and freezeproof to -10°C. It has a 16 megapixel back-illuminated CMOS sensor and internal 5x optical zoom lens, a 35mm equivalent of 24-120mm. To help keep your images sharp there is Hybrid VR which combines lens-shift and motion blur reduction. The front now features an improved grip and built-in NFC. 
Built-in Wi-Fi / NFC allows you to transfer your images and movies to a mobile device for sharing to social network sites. The device can also be used as a remote control. The AW130 has built-in GPS and an electronic compass. There is a World display map so you can see where you took your pictures and view your route. The altimeter gives you your exact altitude and the hydro-barometer shows you how deep underwater you are. Action Control makes it easy to use the camera underwater or when wearing gloves, and there are additional buttons on the side of the camera.
When shooting there are numerous auto and scene modes which adjust the camera settings automatically for the best results. There are a number of scene modes such as Auto HDR and Night Landscape to make sure the camera is on the correct settings. The AW130 can shoot a maximum of 5 frames at 8fps. Easy Panorama 360°/180° mode lets you pan vertically or horizontally to create panoramas. When shooting underwater, underwater mode automatically adjusts the white balance for the optimum results.
Videos are recorded in full 1080p HD with stereo sound, optical zoom and autofocus available during recording. You can also record slow or fast motion videos, with speeds varying between 15 and 240fps. 
Key Features
16 megapixel back-illuminated CMOS sensor
5x optical zoom lens (35mm equiv: 24-120mm)
Hybrid VR (lens-shift and motion blur reduction)
3.0 inch 921k dot OLED screen
Waterproof to 30m, Shockproof to 2.1m, Freezeproof to -10°C
Built-in GPS, altimeter, hydro-barometer and electronic compass
Built-in Wi-Fi and NFC
Action Control
Full 1080p HD video recording
ISO 125 - 6400
1cm minimum focusing distance
Auto HDR
8fps continuous shooting
Easy Panorama 360°/180°
Available in blue, black, yellow, camouflage and orange
Nikon Coolpix AW130 Handling
The Nikon Coolpix AW130 has a mostly plastic body with a metal front and its shape makes it easy to grip, with an improved rubberised grip added to this model. On top of the camera is an on / off button and shutter release. The rear has a zoom rocker with movie record, scene mode, playback, menu and delete buttons. There's also a d-pad for cycling through the menus, this also gives quick access to exposure compensation, flash, self-timer and macro mode.
Also on the rear of the camera is a 3-inch screen with a high resolution of 921k dots and is quite easy to view in all light. Access to the battery and memory card is via the chunky round dial on the side of the camera. You have to press the central button and turn the dial 90°. The camera menus are clear and easy to navigate.
On the opposite side to the battery area are buttons which switches to the World map, Wi-Fi and Action Control. If you activate Action Control in the camera menus you simply need to press it and a menu comes up on the screen. You simply flick the camera up and down to go through the menu and press the Action Control button again to make your choice. Options available are mode selection, start movie recording, and playback. This makes it easier to operate the camera when underwater or wearing gloves.
To make use of the Wi-Fi you need to download the Wireless Mobile Utility app to your smartphone or tablet (iOS or Android). This allows you to use your mobile device to download pictures from the camera to edit and share them. You can also use it as a remote release. A preview appears on your mobile device, you can control the zoom or set a timer. Other information appears on the screen, such as shutter speed, aperture, number of shots left and battery life. Using NFC you can quickly setup the connection with a smartphone that supports NFC.   
Battery life is rated at 370 shots according to CIPA test results, which is an improvement over the last model, however, this may reduce with a lot of GPS and Wi-Fi use, so you may want to consider carrying a spare.
We took a number of shots to test the camera's responsiveness, from switch on to first photo, shot to shot, focusing speed etc. We take a number of shots and then use the average to ensure accurate and consistent tests, making it easy to compare with other cameras.
| | |
| --- | --- |
|   | Nikon Coolpix AW130 |
| Shutter Response | www.ephotozine.com |