Fujifilm xt 2
X-T2
This website uses cookies. By using the site you are agreeing to our Privacy Policy.
Технические характеристики
Наименование модели
FUJIFILM X-T2
Количество эффективных пикселей
24,3 млн пикселей
Матрица
23,6 мм x 15,6 мм (APS-C) X-Trans CMOS III с первичным цветным светофильтром. Система очистки матрицы Ультразвуковая вибрация
Накопитель данных
Карта памяти SD (~2G) / Карта памяти SDHC (~32G) / Карта памяти SDXC (~256G) UHS-I / UHS-II*1
Формат файлов
Фотография JPEG (Exif вер. 2.3)*2, RAW: RAW 14 бит (оригинальный формат RAF), RAW+JPEG Видео Формат видеофайлов: MOD Сжатие видео: MPEG-4 AVC / H.264

Аудио: Linear PCM/ стереозвук сэмплинг 48 кГц
Количество сохраненных пикселей

L: (3:2) 6000 x 4000 / (16:9) 6000 x 3376 / (1:1) 4000 x 4000 M: (3:2) 4240 x 2832 / (16:9) 4240 x 2384 / (1:1) 2832 x 2832

S: (3:2) 3008 x 2000 / (16:9) 3008 x 1688 / (1:1) 2000 x 2000
Байонет
FUJIFILM X-Mount
Чувствительность
Стандартная чувствительность на выходе: AUTO1 / AUTO2 / AUTO3 (до ISO12800) / ISO200 - 12800 (с шагом 1/3) Расширенная чувствительность на выходе: ISO100 / 25600 / 51200
Управление экспозицией
256-сегментный замер экспозиции TTL, мультисегментный / точечный / средний / центральновзвешенный
Режим экспозиции
P (Программная автоэкспозиция) / A (Автоэкспозиция с приоритетом диафрагмы) / S (Автоэкспозиция с приоритетом выдержки) / M (Ручная экспозиция)
Экспокоррекция
-5.0EV - +5.0EV, шаг 1/3EV (видеосъемка: -2.0EV - +2.0EV)
Стабилизатор изображения
Поддерживается с объективом типа OIS (с оптической стабилизацией изображения)
Тип затвора
Фокальный шторно-щелевой затвор
Скорость затвора
Механический затвор 4 - 1/8000 с (режим P), 30 - 1/8000 с (все режимы) Режим длительной выдержки (до 60 мин), TIME : 30 - 1/8000 с Электронный затвор 30 - 1/32000 с (режимы P / A / S / M) Режим длительной выдержки: фиксированная 1 с, TIME : 1 - 1/32000 с*2 Механический + электронный затвор 4 - 1/32000 с (режим P), 30 - 1/32000 с (все режимы) Режим длительной выдержки (до 60 мин), TIME : 30 - 1/32000 с*2 Синхронизированная выдержка для вспышки 1/250 с или более
Непрерывная съёмка
Прибл. 14,0 кадр./с [только с электронным затвором] (JPEG: 42 кадра, RAW со сжатием без потери данных: 28 кадров, несжатый RAW: 25 кадров) прибл. 11,0 кадр./с [with VPB-XT2] (JPEG: 73 кадра, RAW со сжатием без потери данных: 30 кадров, несжатый RAW: 27 кадров) прибл. 8,0 кадр./с (JPEG: 83 кадра, RAW со сжатием без потери данных: 33 кадра, несжатый RAW: 27 кадров)

прибл. 5,0 кадр./с (JPEG: без ограничений, RAW со сжатием без потери данных: 39 кадров, несжатый RAW: 30 кадров)
* количество сохраняемых кадров зависит от емкости носителя
* Скорость непрерывной съёмки зависит условий съемки и снимаемых кадров
Автоматический брекетинг
Брекетинг автоматической экспозиции (±2EV / ±5/3EV / ±4/3EV / ±1EV / ±2/3EV / ±1/3EV) Брекетинг имитации пленки (возможна имитации 3 любых типов пленки) Брекетинг динамического диапазона (100% · 200% · 400%) Брекетинг чувствительности ISO (±1/3EV / ±2/3EV / ±1EV)

Брекетинг баланса белого (±1 / ±2 / ±3)
Фокус
режим Покадровый автофокус / непрерывный автофокус / ручная фокусировка тип «Умный» гибридный автофокус (контрастный автофокус TTL / фазовый автофокус TTL) Выбор рамки автофокуса Покадровый автофокус: электронный видоискатель / ЖКД: 13x7 / 25x13 (пять типоразмеров рамки автофокуса), зоновый автофокус: 3x3 / 5x5 / 7x7 из 91 зоны (13x7),

Широкая зона автофокуса / следящий автофокус: (до 18 зон)
* AF-S: Широкая зона
* AF-C: Слежение
Баланс белого
Автоматическое распознавание сцены / Индивидуальные1~3 / Выбор температуры цвета (2500K~10000K) / Предварительные установки: Прямой солнечный свет, тень, люминесцентная лампа (дневной свет), люминесцентная лампа (теплый белый), люминесцентная лампа (холодный белый), лампа накаливания, под водой
Автоспуск
10 с / 2 с
Интервальная съемка
Да (Установки: интервал, количество снимков, время начала)
Режимы вспышки
SYNC. РЕЖИМ 1ST CURTAIN / 2ND CURTAIN / AUTO FP (HSS) РЕЖИМ ВСПЫШКИ TTL (FLASH AUTO / STANDARD / SLOW SYNC.) / MANUAL / COMMANDER / OFF (при установке EF-X8)
«Горячий башмак»
Да (совместим с согласованными вспышками TTL)
Видоискатель
0,5-дюймовый цветной видоискатель ОLED, прибл. 2,36 млн точек Охват зоны обзора по ср. с зоной захвата: прибл. 100% Вынос зрачка: прибл. 23 мм (от заднего конца окуляра камеры) Диоптрийная коррекция: -4~+2 м-1 Увеличение: 0,77x с объективом с ЭФР 50 мм на бесконечности и диоптрийной коррекцией -1,0 м-1 Диагональный угол поля зрения: прибл. 38° (горизонтальный угол поля зрения: прибл. 31°)

Встроенный датчик глаз
ЖКД
3,0 дюйма, формат 3:2, прибл. 1,62 млн точек
Видеосъемка
[4K (3840x2160)] 29,97p / 25p / 24p / 23,98p 100 Мбит/с до 10 мин [Full HD (1920x1080)] 59,94p / 50p / 29,97p / 25p / 24p / 23,98p 100 Мбит/с до прибл. 15 мин

[HD (1280x720)] 60p / 50p / 30p / 25p / 24p 50 Мбит/с до прибл. 30 мин
* Для съемки видео 4К следует воспользоваться картой памяти UHS Speed Class 10 или выше.
Режим имитации эффекта фотографической пленки
15 режимов (PROVIA/Standard, Velvia/Vivid, ASTIA/Soft, CLASSIC CHROME, PRO Neg.Hi, PRO Neg.Std, Black & White, Black & White+Ye Filter, Black & White+R Filter, Black & White+G Filter, Sepia, ACROS,ACROS+Ye Filter, ACROS+R Filter, ACROS+G Filter)
Настройка динамического диапазона
AUTO, 100%, 200%, 400% Ограничение ISO (DR100%: без ограничений, DR200%: ISO400 или более, DR400%: ISO800 или более)
Расширенный фильтр
Toy camera, Miniature, Pop color, High-key, Low-key, Dynamic tone, Soft focus, Partial color (красный / оранжевый / желтый / зеленый / синий / фиолетовый)
Беспроводной передатчик
Стандарты IEEE 802.11b / g / n (стандартный протокол беспроводной связи) Шифрование WEP / WPA / WPA2 смешанные режимы Режим доступа Инфраструктура
Беспроводные функции
Геотеггинг, беспроводная связь (передача снимков), просмотр и передача снимков, дистанционное управление съемкой, PC Autosave, печать на принтере Instax
Другие функции
PANORAMA, индивидуальные настройки AF-C, ВЫВОД ВИДЕО 4K, SHUTTER AE, SHUTTER AF, AF-ON, печать Exif, PRINT Image Matching II, язык (35 языков включая яп./анл.), разница во времени, предварительный просмотр экспозиции на ЖКД в ручном режиме, яркость и цвет электронного видоискателя, яркость и цвет ЖКД, показ режима на мониторе, индивидуализация
Интерфейсы
Цифровой интерфейс Разъемы USB 3.0 (высокоскоростной) / микро-USB
* для подсоединения устройства дистанционного спуска затвора RR-90 (продается отдельно)
Разъем HDMI Разъем микро-HDMI (тип D) Прочие ø3,5 мм, мини-стереоразъем (микрофон) / ø2,5 мм, разъем дистанционного спуска затвора «горячий башмак», синхронизированный терминал *Кнопка механического спуска S1
Источник питания
Литий-ионный аккумулятор NP-W126 (прилагается)
Габаритные размеры
132,5 мм (W) x 91,8 мм (H) x 49,2 мм (D) (минимальная толщина 35,4 мм)
Вес
Около 507 г (с аккумулятором и картой памяти) Около 457 г (без аккумулятора и карты памяти)
Рабочая температура
-10°C - 40°C
Рабочая влажность
10 - 80% (без конденсации)
Продолжительность работы от аккумулятора в режиме фотографирования*4
Прибл. 340 кадров (режим NORMAL), прибл. 1000 кадров (с VPB-XT2) При установленном XF35mmF1.4 R.
Время срабатывания
Прибл. 0,3 с
Прилагаемые аксессуары
Литий-ионный аккумулятор NP-W126S Зарядное устройство BC-W126 Вспышка EF-X8 под «горячий башмак» Ремень Крышка Петли для ремняУстройство для присоединения петель Крышка «горячего башмака» Крышка разъема на хвате Vertical Power Booster Крышка синхронизированного терминала Руководство пользователя

Гарантия
*1 Зайдите на сайт Fujifilm (http://www.fujifilm.com/support/digital_cameras/compatibility/card/x/) для проверки совместимости карты памяти.
*2 Exif 2.3 — формат файлов цифровой камеры, содержащий разнообразные параметры съемки для обеспечения оптимального качества печати.
*3 Электронный затвор может оказаться непригодным для съемки быстродвижущихся объектов. Использование вспышки невозможно.
*4 Приблизительное количество снимков при полностью заряженном аккумуляторе на основе стандарта CIPA.
Все числа являются приблизительными; размер файла зависит от снимаемой сцены, что приводит к существенной разнице в количестве сохраняемых файлов.
Количество снимков Режимы Фотография (L) Количество сохраненных пикселей 6000 x 4000 (3:2) Качество JPEG FINE JPEG NORMAL Карта памяти SDHC 8 Гбайт16 Гбайт
5401110
8001660
32 Гбайт64 Гбайт
22304410
33506620
Количество снимковРежимыRAWКачествоUNCOMPRESSEDLOSSLESS UNCOMPRESSEDКарта памяти SDHC8 Гбайт
150
300
16 Гбайт
320
630
Количество снимковРежимыФотография (L)Количество сохраненных пикселей6000 x 4000 (3:2)КачествоJPEG FINEJPEG NORMALКарта памяти SDHC32 Гбайт
640
1280
64 Гбайт
1260
2530
Продолжительность видеосъемки Режимы Видео Качество 4K (3840 x 2160) FULL HD (1920 x 1080) HD (1280 x 720) Карта памяти SDHC 8 Гбайт
9 мин
26 мин
51 мин
16 Гбайт
20 мин
54 мин
105 мин
* Для съемки видео 4К следует воспользоваться картой памяти UHS Speed Class 10 или выше.
www.fujifilm.eu
Fujifilm X-T2: Digital Photography Review
Announced Jul 7, 2016
Discuss in the Fujifilm X System / SLR Talk forum
Manufacturer description: The Fujifilm X-T2 is the company's enthusiast SLR-style mirrorless camera. It features a 24MP X-Trans CMOS III sensor and the company's latest image processor (X-Processor Pro). The rugged magnesium alloy body is sealed against dust and moisture and has a unique articulating LCD as well as a large, high resolution EVF. The AF system has been greatly improved upon since the X-T1 and had 325 total focus points, 169 of which are phase-detect, as well as a higher readout speed. The camera has the full suite of Fujifilm's Film Simulation Modes, including the latest, ACROS. It can also capture 4K video, a first for the company. An available battery grip triples battery life and also improve burst speeds, reduces shutter lag/blackout times, and 'boosts' 4K recording time to 30 minutes.
2017 Roundup: $1200-2000 ILCs: crop-sensor
Roundup, Jun 16, 2017
Review, Oct 19, 2016
| | |
| --- | --- |
| Body type | SLR-style mirrorless |
| Max resolution | 6000 x 4000 |
| Effective pixels | 24 megapixels |
| Sensor size | APS-C (23.6 x 15.6 mm) |
| Sensor type | CMOS |
| ISO | Auto, 200-12800 (expands to 100-51200) |
| Lens mount | Fujifilm X |
| Focal length mult. | 1.5× |
| Articulated LCD | Tilting |
| Screen size | 3″ |
| Screen dots | 1,040,000 |
| Max shutter speed | 1/8000 sec |
| Format | MPEG-4, H.264 |
| Storage types | Dual SD/SDHC/SDXC (UHS II compatible) |
| USB | USB 3.0 (5 GBit/sec) |
| Weight (inc. batteries) | 507 g (1.12 lb / 17.88 oz) |
| Dimensions | 133 x 92 x 49 mm (5.24 x 3.62 x 1.93″) |
| GPS | None |
See full specifications
Build quality
Ergonomics & handling
Features
Metering & focus accuracy
Image quality (raw)
Image quality (jpeg)
Low light / high ISO performance
Viewfinder / screen rating
Performance
Movie / video mode
Connectivity
Value
www.dpreview.com
Fujifilm XT2 review -
The Fujifilm XT2 is a high-end mirrorless camera aimed at demanding enthusiasts. Announced in July 2016, it comes two and a half years after the camera it replaces, the XT1. Officially, the new XT2 joins the X-Pro2 as the joint flagships of the X-Series with each sharing a number of key features including the same X-Trans III sensor, but they're aimed at different types of photographers. The X-Pro 2 is aimed at street, documentary and reportage photographers who mostly shoot with shorter lenses and compose through the viewfinder. The XT2 is more of a general-purpose model, but thanks to its flexible screen and upgraded AF, will be appreciated by landscape and sports photographers alike.
On the surface, the XT2 could be described as an XT1 with the upgrades debuted on the recent X-Pro2. As such it gains the same 24 Megapixel APS-C X-Trans III sensor with its broader array of embedded phase-detect AF points, along with twin SD memory card slots, a dedicated AF joystick, 1/8000 mechanical shutter, clickable front and rear dials and the high-contrast ACROS black and white film simulation.
These upgrades alone will delight existing XT1 owners – including myself – but the XT2 includes a lot more besides. It's the first Fujifilm camera to sport 4k video, the screen can angle out sideways for more comfortable shooting in the portrait orientation, the Continuous AF system can be tweaked for zoning, speed and tracking sensitivity, there's USB charging and a new portrait grip that triples the battery life, accelerates the AF performance, boosts the burst speed from 8 to 11fps and also offers a headphone jack and DC input. There's still no touchscreen, exposure bracketing deeper than three frames, nor built-in IS, but otherwise the XT2 is the upgrade many X-shooters have been waiting for. Find out if it's the right camera for you in my in-depth review where I'll delve deep into the performance and compare it to rivals from both mirrorless and DSLR camps!
In the video below I've detailed the upgrades and new features of the Fujifilm XT2 and also how these compare to the earlier XT1 and the joint-flagship X-Pro2.
Check prices on the Fujifilm X-T2 at Amazon, B&H, Adorama, or Wex. Alternatively get yourself a copy of my In Camera book or treat me to a coffee! Thanks!
In the video below, Doug Kaye and I discuss everything you need to know about the Fujifilm XT2! I also have an audio podcast of this discussion below, or you can subscribe to the Cameralabs Podcast at iTunes.
Check prices on the Fujifilm X-T2 at Amazon, B&H, Adorama, or Wex. Alternatively get yourself a copy of my In Camera book or treat me to a coffee! Thanks!
Fujifilm XT2 design and controls
At first glance the Fujifilm XT2 looks a great deal like its predecessor, sharing the same style philosophy with a central viewfinder hump and a wealth of retro controls. I personally thought the earlier XT1 was one of the most attractive cameras around and now the XT2 inherits its good looks. If you're familiar with the XT1 though, you'll notice a number of key differences the moment you pick the newer model up and for me they represent some of the most important upgrades in day-to-day use.
For starters the XT2 is very slightly larger in every dimension and a tad heavier too. At 133x92x49.2mm (35.4mm at its slimmest point), the XT2 enjoys a slightly chunkier body and has also gained 67g in weight, but neither have any negative impact on portability. The XT2 remains a fairly compact body, roughly similar in size and weight to models like the Olympus OMD EM1 and Sony A7 Mark II series, making it comfortably smaller than a traditional DSLR without compromising comfort or handling.
Ergonomics are of course a very personal thing, but with the design and control enhancements I'll mention in a moment, the XT2 has become one of my favourite cameras to hold and shoot with.
The more pronounced grip and thumb rest, both coated with a very tactile finish, are perfectly sized for those with smaller hands – like myself – but if you fancy something more substantial, there's the choice of two optional accessories. The basic MHG-XT2 thickens the grip and makes it a little taller, giving you more to wrap your fingers around, along with including a dove-tailed base-plate that can slide straight onto Arca-Swiss compatible tripod mounts (but only for horizontal use; sadly this isn't an L-bracket). Alternatively there's the larger Vertical Power Booster, VPB-XT2 which not only accommodates two extra batteries (tripling the life, unlike many grips which just double it), provides a duplicate set of controls for use in the portrait orientation, and offers a headphone jack and power input, but also delivers a number of performance-enhancements I'll detail later.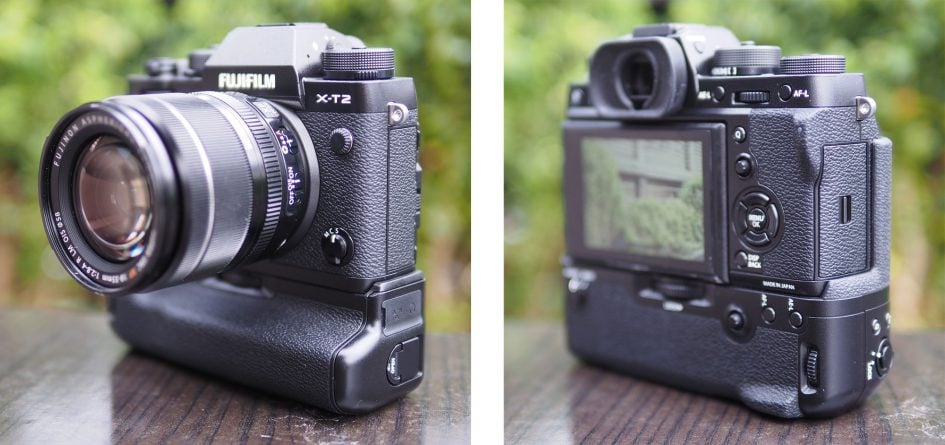 The XT2, like its predecessor, is sealed against dust and moisture and also confirmed to work at temperatures down to -10 degrees Celsius. The magnesium alloy shell is sealed in 63 points, and a similar degree of weather-proofing is available on the VPB-XT2 grip and any of the increasing number of WR (Weather Resistant) XF lenses. Interestingly Fujifilm quoted 80 points of sealing on the earlier XT1, presumably due to a different design as oppose to superior sealing – I'll confirm with Fujifilm and also update the review over time as we learn how well the XT2 can handle tougher conditions; I've certainly been shooting with it for well over a month without any ill effects to report.
Like other X-series bodies, the XT2 fully embraces a retro control philosophy with a wealth of dials and levers. On the top surface alone you'll find five dials, dedicated to the shutter speed, exposure compensation, ISO sensitivity, metering and drive modes; as before, the ISO and shutter speed dials are two-tiered with the drive and metering mode dials on the respective first floors.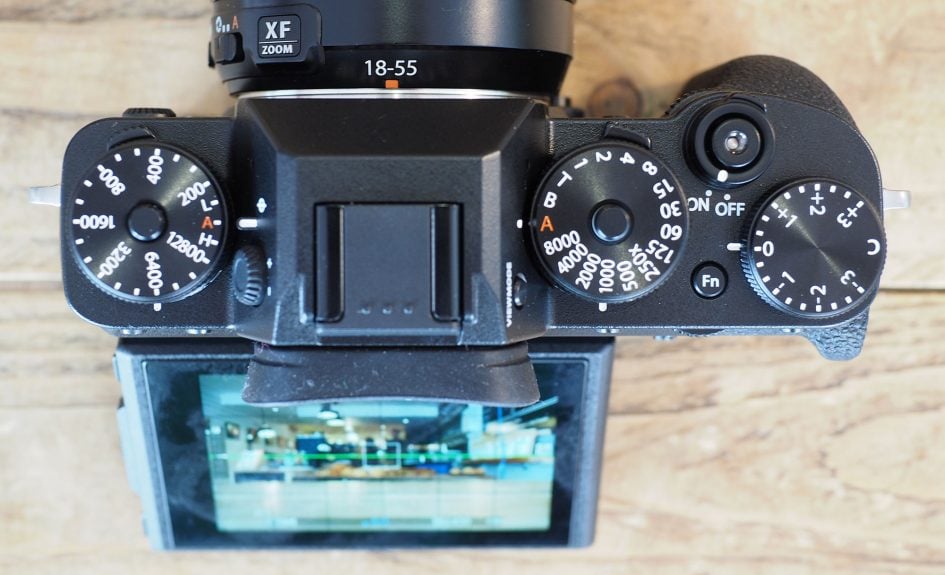 So far so similar to the original XT1, but Fujifilm has made a number of important tweaks. The ISO and Shutter dials are now taller than before which makes them easier to turn, and both now also feature spring-loaded ball-point style buttons to lock and release – something that's not even on the X-Pro2. The shutter release is now threaded for old-style mechanical cable releases (like the X-Pro2) and while the dedicated movie record button has gone, a movie mode position has been added to the drive mode dial; while this reduces the speed to which you can respond to spontaneous occasions, it does at least mean the screen and shooting information are adjusted for video when you enter the drive mode. Meanwhile the exposure compensation dial offers the same +/-3EV scale as before, but a new C position inherited from the X-Pro2 allows an extended range of +/-5EV.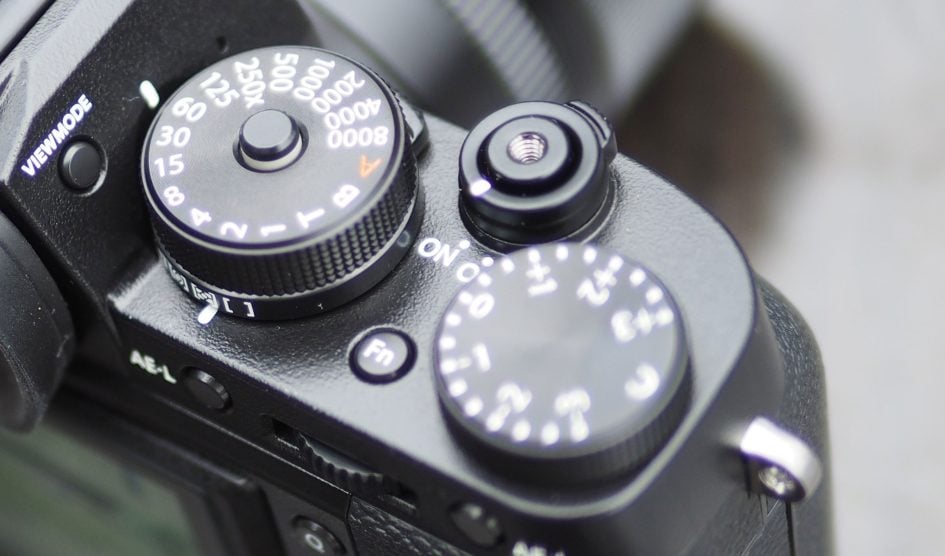 Like its predecessor and the X-Pro2, there's still no lock on the EV dial, which initially concerned me as I often found the dial could inadvertently turn when pulling those models out of a tight bag. Indeed when shooting with the XT1 and X-Pro2 the first thing I do is check the dial or the display to see if the compensation has moved by mistake. While the XT2's compensation dial continues to lack any lock, it does feel reassuringly stiffer and less likely to turn by accident. So far with over a month's use, it's mostly managed to stay where I'd expect it, but be aware it could be an issue and I'll report back on my experiences over time.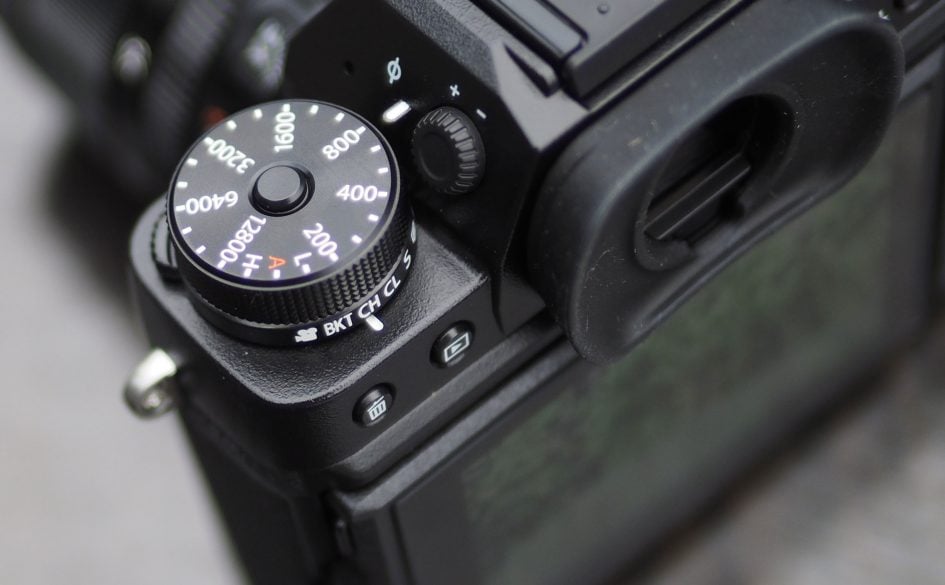 As before there's front finger and rear thumb dials, but by inheriting those from the X-Pro2, they gain push-to-click functionality. For me they're still unnecessarily small, but they do feel a lot better than the XT1's dials and provide more positive feedback too. As a quick aside, many assume the tiny dials on Fujifilm and Sony cameras are due to the constraints of small mirrorless bodies, but Olympus has proven you can fit satisfyingly chunky dials to equally small bodies including the OMD EM1 (Mark I and II) and EM5 Mark II.
Just below the XT2's thumb dial you'll find a new AF joystick, again inherited from the X-Pro2. For me this is one of the most important control upgrades over the original XT1 as it makes repositioning the AF area so much quicker and easier than before, while pushing it in re-centers the area with a click. It works a treat for stills photography, especially when shooting through the viewfinder, and also frees up the lower cross-keys for custom functions.
But for video it's less appropriate as while you can push the joystick during filming to pull-focus to a different subject, doing so involves multiple taps which could be audible or nudge the camera; and as you tap your way from one area to another, you also run the risk of the camera refocusing on a point mid-way as the AF system is quite responsive. The solution is of course a touch-screen, allowing you to simply tap where you'd like the camera to refocus, but Fujifilm has resisted fitting one, explaining its focus groups don't see them as a priority and also that it goes against the camera's physical control philosophy. I certainly agree the joystick is more appropriate for stills photography, especially through the viewfinder, but when filming video you simply can't beat a touch-screen for pulling-focus. Even Sony, who traditionally also avoided touch, has equipped their latest Alpha A6500 with a touch-screen. Indeed with touch-screens now on rival models from Sony, Olympus, Panasonic and Canon, Fujifilm is looking like the odd one out.
Below the joystick are the usual four-way navigation buttons which were one of my least favourite parts of the original XT1 – to me they were far too flush to the surface, lacking any kind of positive travel. Now on the XT2 they're raised a little higher – that said, not massively and nowhere near the chunkier buttons on the back of the X-Pro2, but still enough for a much more positive operation. The addition of an AF joystick also means you can happily reconfigure all four of them as Function buttons without losing the ability to adjust the AF area position. Speaking of Functions, the XT2 has eight configurable buttons in all, and again the presence of dedicated controls for the key exposure, drive and AF operations means you can really customize the camera to access very specific features – for example, I find it useful to configure Function buttons to enable RAW recording and adjust Face / Eye detection.
I've said it before and I'll say it again – the headline features of the XT2 may concentrate on its sensor, video and AF system, but for me the updated controls make an equally significant impact on day-to-day use. There was a lot I enjoyed about shooting with the earlier XT1, but equally a number of annoyances. Now with the chunkier dials, locking controls, more pronounced rear buttons and AF joystick, the XT2 becomes easier, quicker and more enjoyable to use. Sure there's a few small notes I've mentioned above, but on the whole I feel Fujifilm has done a great job. When some rivals concentrate on technology and electronic improvements alone, it's great to see a company that also takes ergonomics and handling as seriously.
Moving onto composition, the XT2 is equipped with a large electronic viewfinder and an articulated screen with a unique mounting – I'll come to the screen in a moment, but will start with the EVF as it's a highlight of the XT2. Like most higher-end electronic viewfinders, the XT2 employs a 2360k dot OLED panel which delivers a 4:3 shaped image with 1024×768 resolution. If you're shooting in the native 3:2 aspect ratio, the image is letterboxed with black strips at the top and bottom used for shooting details (if selected), but if you switch the camera to the 1:1 square aspect ratio, the full height of the viewfinder panel is deployed with the shooting information super-imposed on top. I almost wish there was a 4:3 option just to see the whole panel used as in Micro Four Thirds cameras.
Cleverly, in a feature inherited from the XT1, the shooting information is repositioned and rotated when shooting in the portrait (tall) orientation so that it remains upright. As someone who frequently shoots with the camera on its side, I really appreciate this feature and wonder why it's not more widespread. Indeed we've all become so used to reading text sideways in viewfinders when shooting this way round that it's a little odd the first time you notice the text still at the bottom and standing upright. Strangely though, this innovation still isn't replicated when shooting with the screen, so if you turn the camera to the side, the details remain where they are.
Like the XT1 before it, what really sets the viewfinder apart from most rivals though is the magnification: 0.77x compared to the 0.74x or 0.71x of most models in its class. Admittedly Sony's (much more expensive) A7r Mark II fractionally beats it with 0.78x, but you wouldn't notice in use. The bottom line is the viewfinder images from the XT2, XT1 and A7r II are huge and highly immersive, larger even than the optical viewfinder on a full-frame DSLR.
It's so large on the XT2 that Fujifilm actually offers a less magnified option if you prefer to frame with absolutely all information in borders outside including the EV scale. The scale also allows the XT2 to offer a cunning Dual mode which reduces the image further in order to squeeze in a second window to the right which displays a highly magnified cropped area with focus peaking or a split-screen simulation to aid manual focusing. Again we've seen it before on earlier models, but it doesn't diminish the effect or usefulness. Strangely though, while the XT2 inherits the huge number of viewfinder overlay options of the XT1, it still lacks a dual-axis leveling gauge – oddly it remains a single-axis gauge only, a strange omission on a camera of its class.
So far so similar to the XT1 before it, which shares the same viewfinder technology, resolution and magnification, but Fujifilm has made some improvements. First, the XT2 viewfinder is now twice as bright as the XT1 (500cd/m2 vs 250cd/m2), which you really notice on very bright days with high ambient surrounding light. The standard 60fps refresh rate is also much the same as the 54fps of the XT1, but switch the XT2 into its Performance Boost mode and it'll increase to 100fps, where you'll see crisper edges on subjects in motion – I noticed this most when panning, or shooting out of moving vehicles, where the image in the viewfinder appeared much crisper at 100fps than the standard 60fps.
Compared to some other electronic viewfinders, Fujifilm chooses to keep refresh rates high in low light, which in turn inevitably means an increase in visible noise in dim conditions. You'll notice this most when shooting at dawn or dusk or in very dim interiors. I don't mind this approach and prefer it to the increased lag I've seen on some other EVFs in low light. Interestingly though, switching the XT2 into Performance Boost mode in low light made the noise speckles appear finer and less obtrusive than in Normal mode – so much so I'd prefer to use it, at least when composing, in low light.
The viewfinder blackout time between frames has also been reduced, making it easier to follow subjects in motion which I'll discuss in detail in the autofocus and continuous shooting section later. Oh and it would be remiss of me not to mention the larger eyecup which better shields you from bright conditions or distracting lights. So all in all, one of the best viewfinder experiences has become even better on the XT2 – it's a real highlight of using the camera and a guaranteed eye-opener for anyone who thinks optical viewfinders still hold all the cards.
Moving onto the screen, the XT2 is equipped with what looks like the same 3in / 1040k dot / non-touch, vertically-tilting display as its predecessor and indeed it can still angle up by 90 degrees or down by about 45 for easier framing at waist-height or overhead. But while a screen that tilts vertically is invaluable when shooting in the landscape orientation, it's not much use if you turn the camera on its side to shoot in the portrait (tall) shape.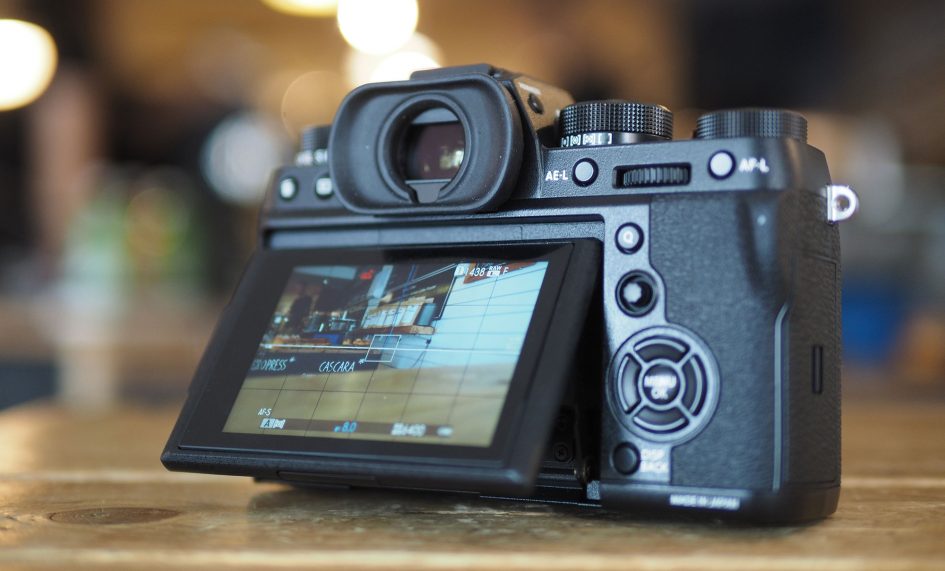 Fujifilm has addressed this on the XT2, but in a way unlike any other camera I've tested. The screen still tilts vertically as before, but now includes an additional hinge on the right side. Push a locking lever on the left side and you can flip the screen out sideways by about 45 degrees. While it's not the 90 degrees I was hoping for it does none-the-less make it much easier to compose at low angles in the portrait orientation, and high ones too.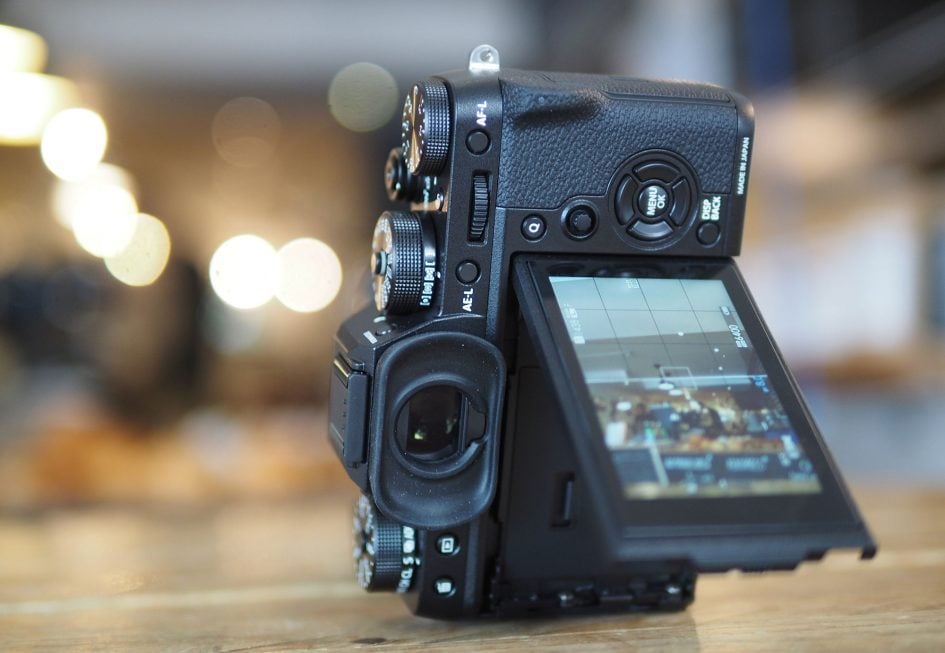 At first I lamented the decision not to employ a side-hinge on the left for full articulation, as it prevents the XT2's screen from facing forward for selfies or filming pieces to camera, or indeed back on itself for protection. But while it lacks this flexibility, the mechanism means you can open the screen quickly in one step as oppose to two, and with the hinge on the right side, it should hopefully leave the left port side clear for accessories like vertical L-brackets. It's a solution that's grown on me and will certainly make the XT2 one of the most usable models in the X-series for portrait-shape shooters like myself.
Before continuing, I should mention the on-screen menu system enjoys the new user interface debuted on the X-Pro2 with a tabbed menu system employing a column of icons on the left side drilling-down to image quality, AF, camera, flash, movie, settings and My Menu. A new font also accommodates eight lines per page versus seven previously. The My Menu section is customizable, allowing you to choose up to 16 options that you use most regularly. I was never a fan of the previous Fujifilm menu system on the XT1, so I appreciate the revamp here which is more intuitive and looks much better.
Moving onto ports, doors and connectivity, I'm pleased to report the XT2 inherits the twin SD memory card slots of the X-Pro2. These allow you to backup as you shoot, overflow when one card fills or shoot JPEG to one and RAW to the other. It's such a useful facility, especially having protection against corrupt cards in unrepeatable situations or uninterrupted shooting when one card fills up. You can also configure which card you'll like video to be saved onto, although once that card becomes full you'll need to manually select the other slot or switch cards to start a new recording.
Interestingly the slots and even their door aren't a wholesale adoption from the X-Pro2. First the door on the XT2 features a small sliding lock whereas the X-Pro2 does not. Secondly, only one of the slots on the X-Pro2 supported UHS-II speed cards, whereas both do on the XT2, confirming it as more capable in a fast situations. Twin card slots are becoming more common on higher-end bodies and I welcome the trend. You'll also find them on the Olympus OMD EM1 Mark II, although sadly not on the Sony Alpha A6500. Interestingly while Canon's (much pricier) EOS 5D Mark IV DSLR also features twin card slots, only one of them takes SD and it's only capable of exploiting the speed of UHS-I cards, not the potentially quicker II versions.
The XT2's main ports are still to be found behind a flap on the left side, but there's been some changes. Previously on the XT1 the microphone and remote jack shared the same 2.5mm socket; now on the XT2 they're split into two sockets, a 2.5mm jack for the remote and a more common 3.5mm jack for the microphone. Inbetween are the USB and HDMI ports, although the former is now a larger USB-3 port. As for the HDMI, it can output uncompressed 4k video in 4:2:2 / 8-bit, but drops to 1080p if you're recording 4k internally to a card.
Power is supplied by a new NP-W126S Lithium ion pack, rated at 1260mAh (typical) for approximately 340 frames in Normal mode; obviously if you film much video, use the Wifi or deploy the Performance Boost mode, the battery will reduce more quickly. To test a fully-charged battery with video, I filmed consecutive ten minute clips in 4k, noting the battery and body temperature after each: after the first clip, the body was slightly warm and reported 92% remaining. After the second, 80% remaining and again only slightly warm. After the third, a little warmer still and 66% remaining. After the fourth, I'd say a very warm but not yet hot body and 49% remaining. After the fifth clip, the body became very warm and reported 32% remaining. Shortly after starting the sixth clip, a temperature warning icon appeared, but the camera kept recording. Towards the end of the clip, the battery icon red-lined, but the XT2 managed to keep recording to the full ten minutes after which I'd describe the body as very warm, but still not hot. So a full hour's worth of consecutive 4k clips on a full battery charge without overheating.
If you have any older NP-W126 packs, say from an XT1, they'll still work, but Fujifilm warns they may overheat more quickly when filming 4k video. I confirmed this using one of my old spares to record 4k on the XT2, filming three consecutive 10 minute clips with the body becoming increasingly hot, before it warned of overheating halfway through the fourth and stopped recording with about half the charge remaining. At this point, after 35 minutes of 4k filming, the camera felt a lot hotter than it did after an hour's worth with the new battery, but a minute or so later it was happy to record a fourth full ten minute clip before shutting itself off again. I'll report back if I discover any further issues or incompatibilities.
Fujifilm supplies the XT2 with an external AC battery charger, but in a first for an interchangeable lens X-series body, the XT2's battery can alternatively be charged in-camera over USB. This is a very welcome upgrade as it lets you easily top-up the battery when you're nowhere near an AC mains socket. I exploit this capability all the time on cameras which support it, using USB ports on my laptop, in my car or on portable batteries to top-up or even full replenish a dwinding battery. You can also of course use any AC-USB adapter you may be carrying for a phone, tablet or other device; it's so nice not to rely on a proprietary charger. As for charging times over USB, I took the XT2 battery from 35 to 85% in 45 minutes. The only thing to note is the XT2 employs a full-size USB-3 port rather than the slower but almost universal Micro USB port, so while you'll still be able to charge it from a conventional USB port, you will almost certainly need to bring a USB-3 cable for it. I should also add that once you turn the camera on, it ignores any connected USB power source, unlike Sony's latest bodies which can be powered over USB as well as charged.
You'll note there's no headphone jack on the XT2 body, but one is provided on the optional battery grip. Indeed you'll have noticed several references to this accessory so far which does a great deal more than simply extend the battery life. The officially-titled VPB-XT2 Vertical Power Booster thickens the grip to give you more to hold onto and features a full set of controls for use in the portrait orientation including the pushable dials and AF joystick.
The VPB-XT2 also broadens the improvements when the camera is set to its Performance Boost mode. Previously when shooting with the body alone, setting it to Boost mode would only increase the viewfinder refresh from 60 to 100fps and accelerate the focusing speed. Fit the VPB and it'll also reduce the shutter lag and increase the maximum mechanical burst speed from 8 to 11fps.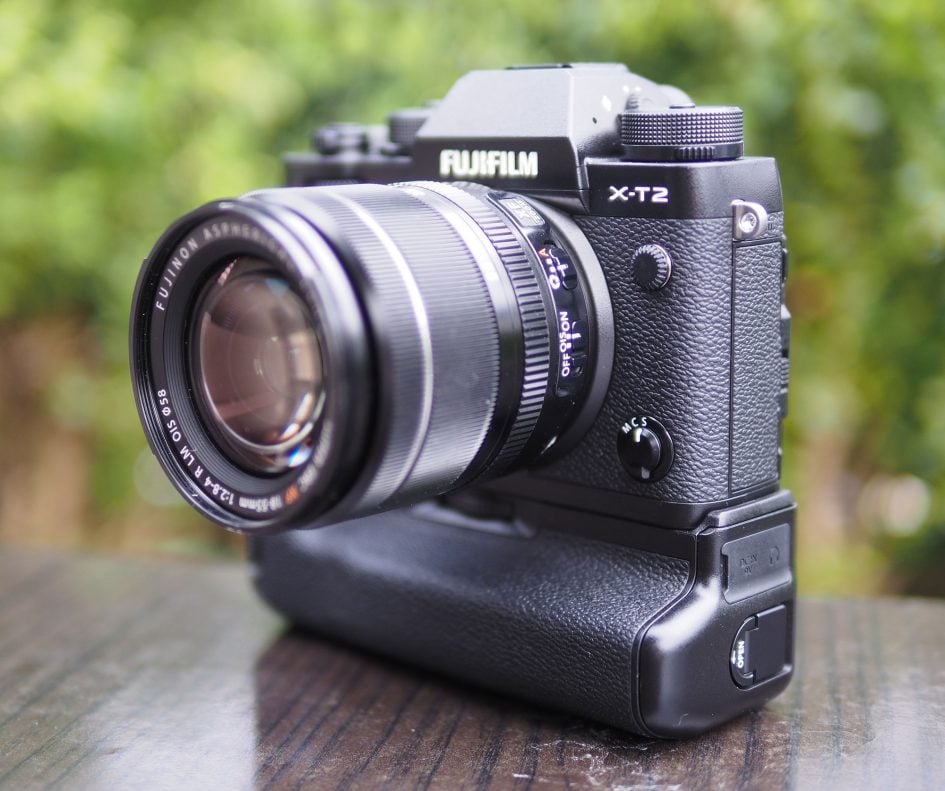 A tray accommodates two extra batteries which work in addition to the one in the body, tripling the battery life to around 1000 shots and extending 4k movie clips from ten minutes to half an hour. Longer clips are possible since the grip allows the camera to avoid using the battery within its own body when filming, thereby reducing the heat build-up which otherwise limits it to ten minutes. Tripling the total battery life shouldn't be underestimated either as many battery grips only allow two packs to be deployed simultaneously. In my tests I also found the extended life and clever management meant I could record two and a half hours worth of 4k with three fully-charged batteries, while avoiding overheating. In another neat feature, each battery also has its own graphic indicating how much charge is remaining, and if you tab the display views to the information-only option, you'll see an accurate percentage remaining for each of them.
And finally behind a flap on the grip you'll find a 3.5mm headphone jack and a 9v input which can be used – with the supplied AC adapter – to charge both batteries simultaneously in roughly two hours. You can also use the AC adapter and VPB to power the camera when all the batteries are depleted, or even removed entirely. I successfully shots bursts and recorded 29:59 clips of 4k video on AC power alone with no batteries fitted in the camera or grip. It's all these capabilities that make the VPB the must-have accessory for every XT2 owner whether they shoot stills, video or both.
Fujifilm XT2 lenses
The XT2 is fitted with Fujifilm's X-Mount which, with the APS-C sensor behind it, applies a 1.5x field reduction factor to lenses – so my favourite three lenses in the catalogue, the XF 10-24mm f4, XF 35mm f2 and XF 56mm f1.2 will deliver coverage equivalent to 15-36mm, 53mm and 84mm respectively. Here's the XT2 with the XF 10-24mm.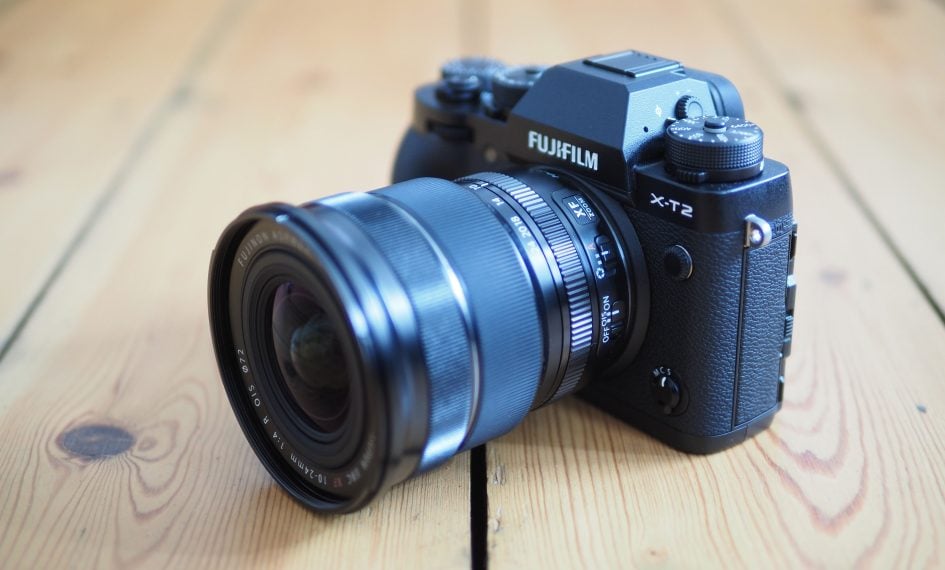 Fuji's X-series may be younger than Micro Four Thirds and Sony's E mount, but in just under five years they've launched 20 quality models, and there's several more from third parties, covering most bases. Importantly the majority of the Fujifilm lenses I've tested have been of a very high standard.
As a high-end camera, the XT2 is typically sold body-alone, assuming you'll either have an existing collection of lenses or something specific in mind. A great starting point would be the XF 35mm f2, a light and compact lens with standard coverage, a bright aperture, great quality, fast focusing and weather-sealing. If you're after a general-purpose zoom though, beware of the ageing XF 18-55mm f2.8-4 as while it's a quality lens for stills (see my sample images), I've found some strange artefacts when filming video on various bodies including the XT2 and XT10 at mid to long focal lengths where the footage can wobble even when the camera's rock steady and the stabilisation disabled. A handful of others have reported similar issues, so perhaps it only affects some copies of the lens, but bear it in mind if you intend to shoot video.
If you're using Fujifilm's own lenses, the XT2 offers an enhancement first seen on the XE2: Lens Modulation Optimiser, or LMO for short, attempts to counteract the blurring introduced by diffraction when shooting at smaller apertures, and also corrects softening towards the edges and corners of the image.
Fujifilm has extensively profiled all of its X-Mount lenses, and by default LMO is enabled on the XT2 when you fit one of them. I did some comparisons with and without LMO enabled at small apertures around f16 and found the versions with LMO enabled were crisper, especially towards the edges, but equally never felt over-sharpened. It's this kind of clever, balanced processing which makes the out-of-camera JPEGs from modern Fujifilm cameras a dream. Fujifilm's clearly behind it as LMO is enabled by default.
Fujifilm XT2 shooting modes
Like all X-series bodies to date, the Fujifilm XT2 doesn't have an exposure mode dial; instead it adopts the same technique employed by older film SLRs for many years. The body has a shutter speed dial and (most of) the lenses have aperture rings, and both offer an A position. Set both the shutter speed dial and the lens to A and the XT2 enters Program mode. Set the shutter dial to A, but turn the aperture ring and you'll be in Aperture Priority. Set the lens to A, but turn the shutter speed dial and you'll be in Shutter Priority. And finally if you turn both the shutter speed dial and aperture ring away from A, you'll be in full Manual. If you've used this system before it feels natural, but even if you're coming from a system with a PASM mode dial, it's easy to get to grips with.
As a camera aimed at experienced photographers though, the XT2 lacks the full Auto mode switch of recent lower-end models. Despite significant upgrades to movie quality, videographers will also notice there's no longer a traditional red button to start recording – instead you'll need to assign it to one of the Function buttons – likewise for Wifi. Again Fujifilm clearly wants this to look like a serious camera for stills only, although the modern tech is there under the surface if you want to access it.
In a welcome upgrade over the XT1, the XT2 gains a new shutter mechanism which doubles its maximum mechanical shutter speed from 1/4000 to 1/8000. I've been told by some sources it's the same unit as the X-Pro2, although in use it does sound a little different, lacking the satisfying 'ker-chick' of the X-Pro2's shutter. But to my ears the XT2 shutter still sounds more pleasant than the emotionless click of the XT1; it seems like a minor point, but I find the sound of a shutter very emotive, like that of a car door closing. If it sounds good, it makes you smile.
The new shutter may sound more pronounced than before, but remains very quiet. If you want even quieter still though there's the electronic shutter option which (other than the faintest of sounds for the AF and aperture diaphragm) operates in complete silence while additionally offering faster speeds up to 1/32000 – handy for shooting at large apertures in bright conditions without an ND filter. Switching to the e-shutter also supports the maximum continuous shooting speed of 14fps.
Like all e-shutters you need to be wary of using it for moving subjects or panning backgrounds to avoid the skewing / rolling shutter effect though which can be quite pronounced with fast motion on the XT2. Here's an example where the faster electronic shutter speeds on the XT2 allowed me to successfully shoot a static subject in bright daylight conditions using the XF 35mm f2 with the aperture wide-open; in this case at 1/18000.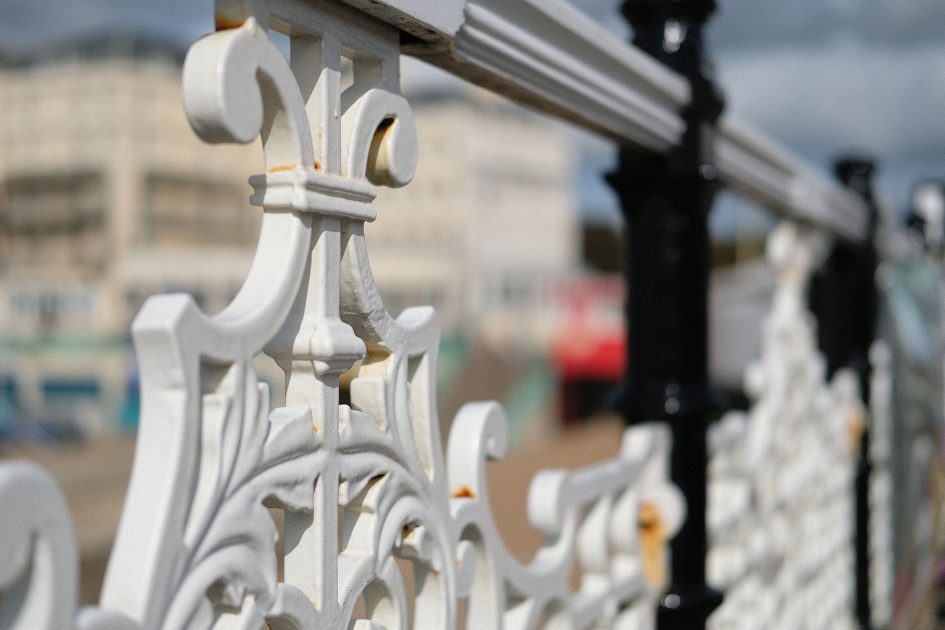 Above: Fujifilm XT2 e-shutter at 1/18000
The XT2's Shutter dial lets you select speeds from one second to 1/8000 in single EV increments, but if you're in Shutter Priority or Manual mode, it's possible to fine-tune shutter values using the front soft dial by +/-0.6EV in 0.3EV increments. If you set the shutter speed dial to T, you can use the front dial to choose from the entire shutter speed range of 1/8000 to 30 seconds, an enhancement over original X bodies which limited the T position to shutters between two and 30 seconds.
There's also a B option on the shutter dial for Bulb exposures which can last up to 60 minutes so long as the shutter release is kept pressed by hand or using an optional cable release; sadly there's no Bulb timer to do it for you. Previously on the XT1 I used a Triggertrap cable for long exposure work, connecting to the Micro USB port. Since the port has now changed to a USB-3 style on the XT2 though, I'll need to update my Triggertrap cable. Thankfully the XT2's shutter release button is now threaded for old-style mechanical cable releases and as luck would have it, I still own three of them. A little digging around some old boxes and I was back in action!
I'm very much into long exposure photography and am pleased to report the XT2, like the X-Pro2 before it, behaves almost as well as earlier X-Trans II bodies, delivering fairly clean images even with long exposure noise reduction disabled. I tried exposures during dusk with and without ND filters for 30 seconds, 1, 2 and 4 minutes and found everything up to two minutes was pretty clean with only the four minute exposures beginning to show some minor speckle artefacts in shadow areas or the occasional stuck pixel.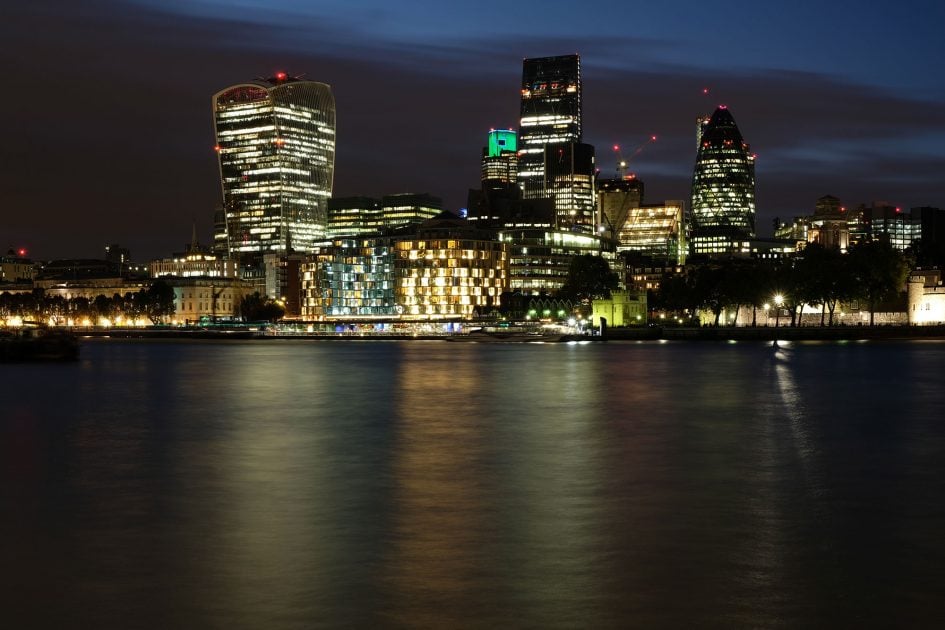 Above: Fujifilm XT2 Long Exposure: 25 seconds, no NR
Above: Fujifilm XT2 Long Exposure with Lee ND filter: 240 seconds, no NR
Like earlier models, the XT2 also displays the exposure time so far on-screen, but in a welcome update over the XT1 and other X-Trans II bodies, you can now also record RAW files at the L (100 ISO) setting (allowing you to extend exposures with the flexibility of greater post-processing), although the dynamic range may be reduced compared to shooting at the base 200 ISO.
I also wanted to see if there were any light leaks, so took a number of exposures in broad daylight with the lens cap fitted. I made two, four and eight minute exposures at 200 ISO with the port door closed and then with the port door opened with nothing connected, and saw no evidence of light leaks, even when the levels were adjusted. Again this was in daylight, albeit without direct sunlight shining on the side of the camera.
Around the base of the shutter dial is a ring control to adjust the metering mode. There's four options on the XT2: Spot (2% of the total are in the centre), Center-weighted, Multi and Average. The last option is an interesting one, averaging the entire frame, but for the majority of my shots I stuck with Multi and that's what you'll see deployed in my sample images. As you'll see, the Multi metering mode does a good job at evaluating the majority of the subjects I pointed the camera at, and I only needed to intervene for my long exposures or shots of distant birds against a bright sky.
Like most cameras, the XT2 misses the opportunity to link Spot metering to the active AF area, something that's really useful when tracking birds flying against, say, an overcast background. To be fair, there's only a handful of very high-end cameras I know which offer this, but surely it's an opportunity for others to deploy the feature.
The ISO sensitivity is adjusted using a dedicated dial to the left of the viewfinder head as you're shooting with the camera. Like earlier models, you can manually dial-in sensitivities from 200 to 12800 ISO in one third EV increments. Meanwhile L represents 100 ISO and H represents either 25600 or 51200 ISO, chosen from a camera menu; I find the latter a bit messy as surely if there's two H settings, why not just have two H positions on the dial? The good news though is RAW is now available in the Low and High ISO positions.
The A position on the dial sets the XT2 to Auto ISO with the choice of three customisable banks in the menus, allowing you to adjust the default sensitivity, maximum sensitivity (up to 12800 ISO), and the minimum shutter speed (from 1/4 to 1/500). Sadly there doesn't appear to be any intelligent Auto ISO capability where the camera adjusts the minimum shutter speed based on the lens focal length or presence of image stabilisation. As such you'll be configuring those three custom banks for your three most commonly used lenses and remembering to switch between them.
Circling the base of the ISO dial is another ring control, this time dedicated to the drive mode with options for Movie, Bracketing, Continuous High, Continuous Low, Single frame, Multiple Exposure, Advanced Filter (effects), and Panorama.
The Bracketing menu offers a wealth of options including exposure, ISO, film simulation, white balance and dynamic range. Auto Exposure Bracketing (AEB) inexplicably remains surprisingly modest with just three frames at 0.3 EV increments, making it little more capable than a point-and-shoot for HDR fanatics. There's also no in-camera HDR for those who prefer an automatic life. The only positive aspect is that the entire three frame AEB sequence can be triggered with a single press of the shutter release or the self-timer, allowing the camera to grab all the frames without further presses. This makes it all the more annoying there isn't five or seven frame bracketing, or broader increments available. I'm no fan of HDR myself, but it's an odd omission for a camera of its class. I've spoken to Fujifilm about this and get the impression it's something which might be deployed in a firmware update at a later date – I hope so.
The Multiple Exposure option lets you take two shots and have the camera combine them into one. If you don't like the shots as you take them, you have the chance to retry, but other than that there's no other options.
Choose Advanced Filter and you can deploy one of eight special effects, pre-selected from a menu: Toy Camera, Miniature, Pop Colour, High Key, Low Key, Dynamic Tone, Soft Focus and Partial Colour (with six sub-options to pass red, orange, yellow, green, blue or purple, leaving the rest of the image in monochrome). The effects deliver the usual results, but sadly you can't apply them to video – they're just ignored as soon as you press the red record button, so still no chance of capturing a miniature movie with the XT2, but to be honest given the target market I'm pleased to find the effects here at all. Annoyingly the XT2 still won't record a RAW file when using the Advanced filters – I'd have preferred the Olympus approach where in RAW+JPEG mode, the effect is applied to the JPEG, leaving an untouched RAW as a backup to the JPEG with the effect applied.

Above: Fujifilm XT2 Advanced Filters, Toy Effect (left), Miniature Effect (right)

Above: Fujifilm XT2 Advanced Filters, Dynamic Tone Effect (left), Soft Focus Effect (right)
The final option on the Drive mode dial is Panorama, interestingly a feature missing from the X-Pro2 which lead me to think it may be a restriction of either X-Trans III or the latest image processor. I'm relieved to find it here as the camera does a fair job at capturing and stitching. You can choose the direction of the pan and the size from the menus with typical horizontal and vertical orientations generating images with 6400×1440 or 6400×2160 pixels respectively; the largest panorama I created in-camera was 9600×2160 and captured a 180 degree pan. Here are a few examples.

Above: Fujifilm XT2 Panorama (wide)

Above: Fujifilm XT2 Panorama (tall)

Above: Fujifilm XT2 Panorama (tall)
Delve into the menus and you'll also find an interval timer, with up to 999 (or infinite) frames captured at intervals between one second and 24 hours. You can also set a delay up to 24 hours before the sequence begins, although the camera still won't assemble them into a timelapse video afterwards, something Canon, Olympus and Panasonic now offer as standard, sometimes even at 4k resolutions.
A further set of picture effects are available with the XT2's Film Simulations which emulate classic Fujifilm film stock. The default setting is Provia, and that's what you'll see in all my sample images unless otherwise stated; it delivers a good balance of contrast and colour without being too punchy or saturated. If you fancy something more vivid, then choose Velvia, which coincidentally was always my favourite colour film for shooting landscapes. If you prefer a more subdued look, go for Astia, while portrait photographers may like Pro Neg Hi and Standard. For a classy vintage look, try Classic Chrome or Sepia or one of the four monochrome modes, three of which feature yellow, red and green filters. I enjoyed using the Monochrome Red option which really darkened blue skies and brought out cloud detail.

Above: Fujifilm XT2 Film Simulations, Provia (left), Velvia (right)

Above: Fujifilm XT2 Film Simulations, Astia (left), Classic Chrome (right)

Above: Fujifilm XT2 Film Simulations, Monochrome with red filter (left), Sepia (right)
The XT2 also inherits the fabulous new ACROS film simulation which applies a high contrast monochrome style with optional yellow, red and green digital filters. Fujifilm describes ACROS as delivering smoother gradation, deep blacks and beautiful textures and unlike the introduction of Classic Chrome, it's not going to be available on earlier models with a firmware update – it's something that's wired-into the latest image processor so for the XT2, X-Pro2 and future bodies only.
Here's a couple of shots taken with the new ACROS simulation and the red filter applied. I personally love the look of ACROS and since first using it on the X-Pro2 it's become my go-to simulation for monochrome photography.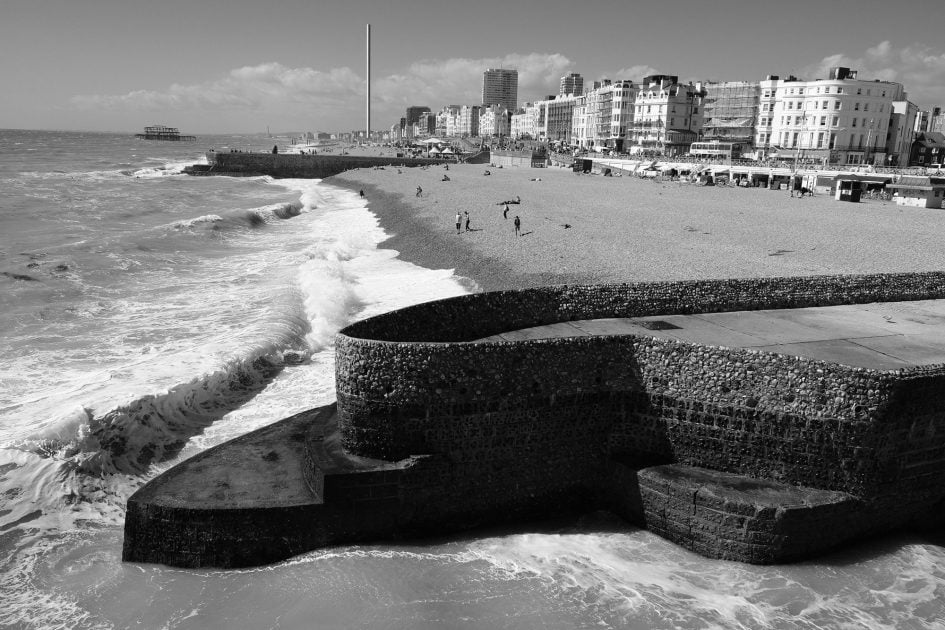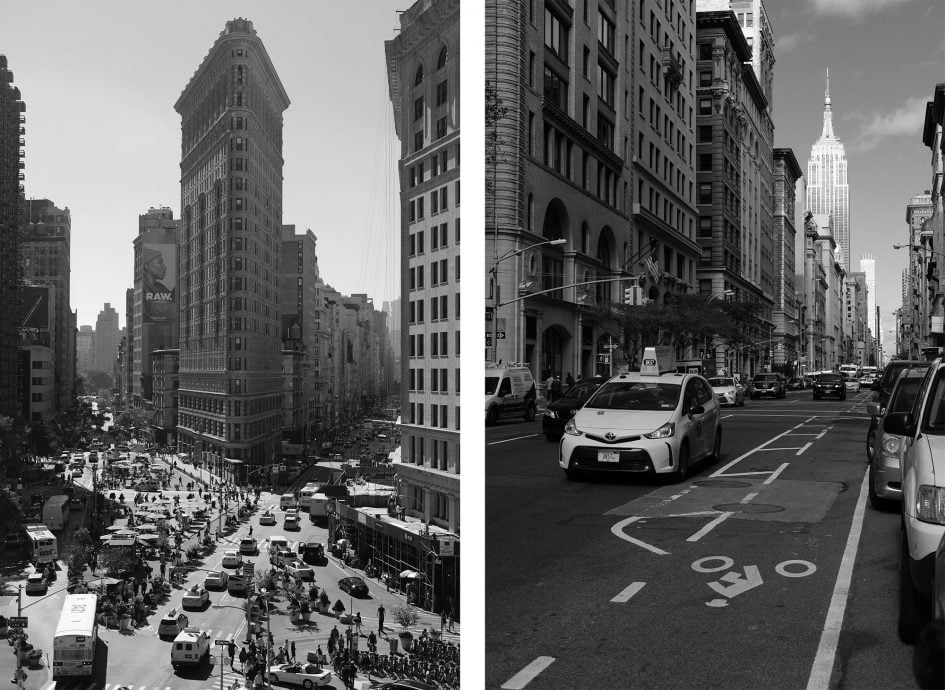 The Film Simulations are another part of the equation behind the lovely output from Fujifilm's cameras. I find I can achieve the mood I want using these subtle but effective processes, rather than resorting to often heavy-handed filters on other systems. I also appreciate being able to apply different simulations after the event on RAW files using the in-camera RAW processing option in playback.
The XT2 also inherits the Grain simulations introduced on the X-Pro2, with a weak and strong option to choose from and, like film simulations, you can apply these to RAW files after the event using the in-camera processing. To illustrate the effect, I took the following composition of the Brighton pavilion, first in ACROS using the three grain options, then secondly in Provia again in the three options. Here's the complete image in black and white first, followed by 100% crops showing the grain options.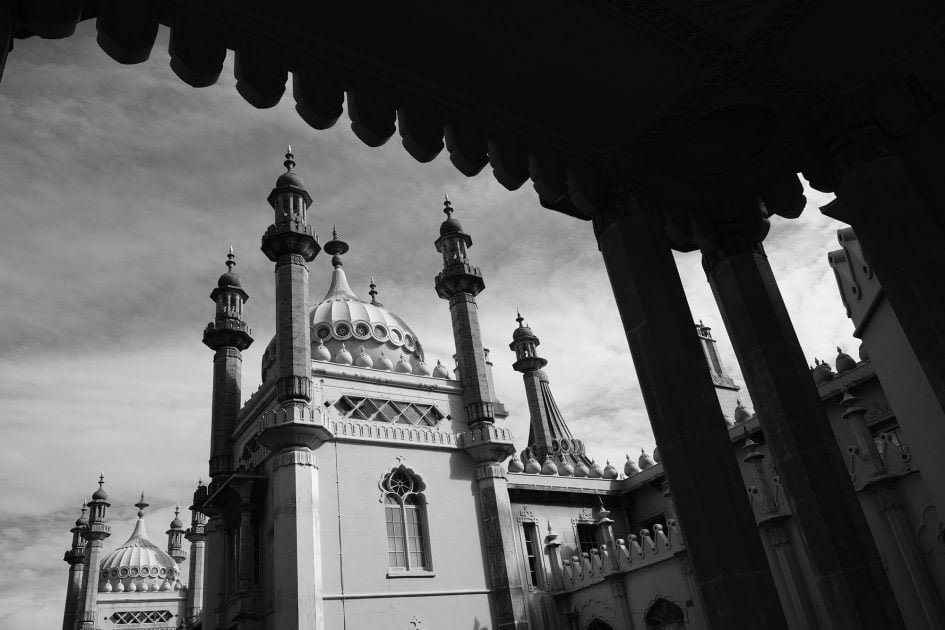 Above: Fujifilm XT2: ACROS, Grain Off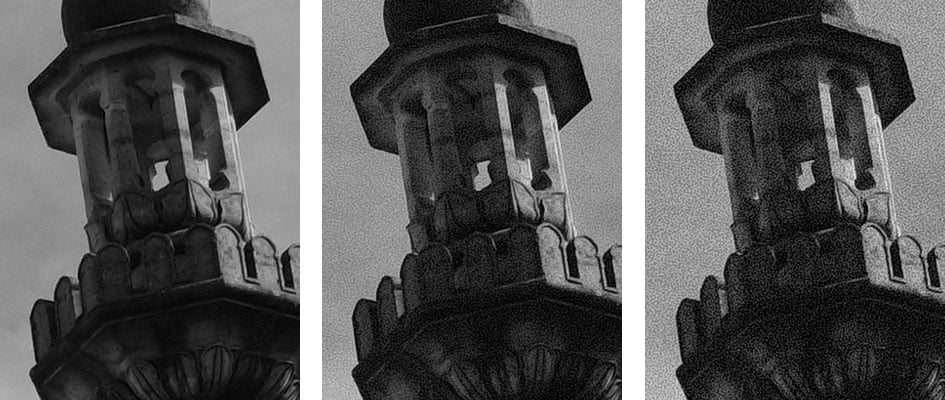 Above: Fujifilm XT2, Grain Off (left), Grain Weak (middle), Grain Strong (right), 100% crops
Above are 100% crops showing, from left to right, no grain, weak grain and strong grain. The original image was shot at 200 ISO with the ACROS simulation. Below is the same composition shot with the Provia simulation at 200 ISO, followed by three more crops presented at 100% to show the grain effect on a colour image.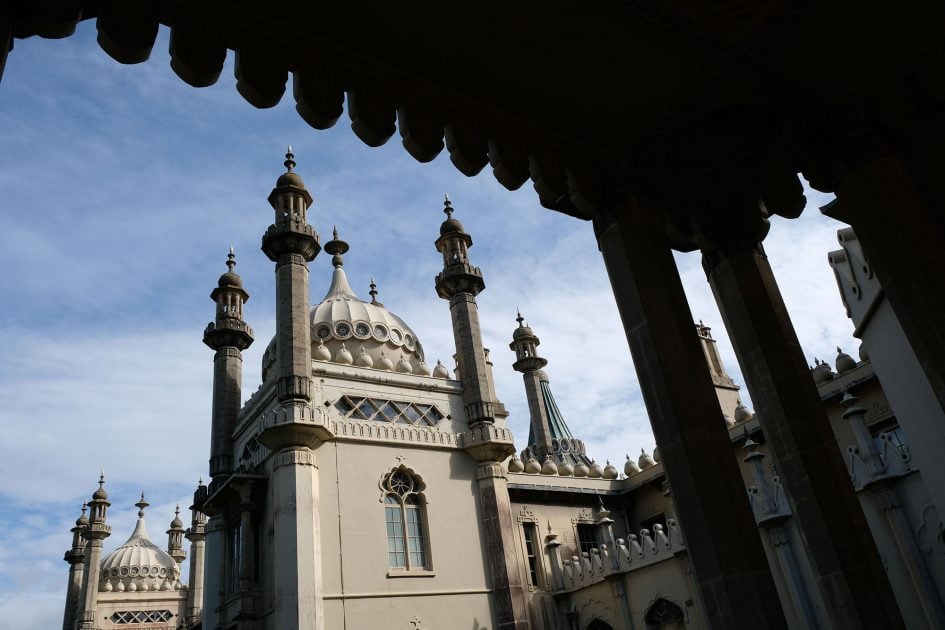 Above: Fujifilm XT2: Provia, Grain Off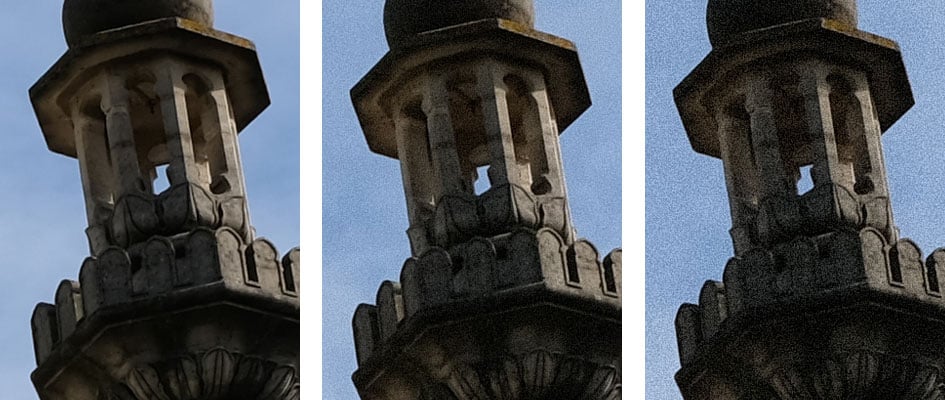 Above: Fujifilm XT2, Grain Off (left), Grain Weak (middle), Grain Strong (right), 100% crops
The option to simulate film grain in-camera, whether at the point of capture or during playback, is another useful tool in producing images that are ready to go without external processing. All reasons why I love to shoot with the Fujifilm X system.
Fujifilm XT2 focus and continuous shooting
The Fujifilm XT2 gains significant upgrades in autofocus over its predecessor – and even some over the X-Pro2 – to become the most capable model in the series for tracking subjects in motion. Indeed the XT2 can now seriously compete with the better models in its class, whether mirrorless or DSLR.
The core capabilities are down to the X-Trans III sensor which made its debut on the X-Pro2. As well as boosting the resolution from 16 to 24 Megapixels, X-Trans III increased the number of embedded phase-detect AF points and their area of coverage. The previous X-Trans II sensor, used in the XT1 along with many other bodies in the range, sported 77 AF points, 15 of which in the centre of the frame were embedded phase-detect. These may have only covered a small area, but supported surprisingly effective continuous AF tracking capabilities in that region.
Now with X-Trans III, the XT2 can address a total of 325 AF points, including 169 embedded phase-detect AF points spread over a much larger portion of the imaging area. The total area of the frame which supports autofocus may be roughly the same as earlier X-Trans II models – so there's still a thick border around the outer edge of the frame where you can't focus – but importantly much more of it now supports phase-detect AF. Where the previous models only offered a small rectangle in the middle of the frame, the XT2's phase-detect points extend to the full height of the active AF area and out to become a large square. Meanwhile contrast detect AF areas extend the active area width-ways, but with the camera highlighting the PDAF region in CAF modes, it's striking how much larger it is than the X-Trans II models. And while it still falls behind the almost complete frame phase-detect coverage of Sony's A6000, A6300 and A6500, the XT2's phase-detect area is still comfortably larger than the diamond arrays of most DSLRs at this price point.
Set the XT2 to Single Point AF area and you can select any of the 325 points from a 25×13 array using the AF joystick or cross keys, where a 13×13 square in the middle of the array represents the phase-detect area; you can alternatively select from a coarser but same-sized 91 point (13×7) array if preferred. Interestingly these arrays are slightly wider than those on the X-Pro2 despite them sharing the same sensor. The phase-detect array may be the same size with the same number of embedded points, but Fujifilm seems to have squeezed a little extra horizontal coverage from the contrast-detect system, allowing it to extend almost closer to the left and right edges of the frame.
When you set the XT2 to its Zone AF or Wide / Tracking AF modes, the array disables the 325-point option to become the coarser 91-point only, again arranged in a 13×7 array, with the phase-detect region occupying a 7×7 square shape in the middle. Like the X-Trans II models before it, the XT2 will limit you to the 7×7 phase-detect area when the camera's set to continuous autofocus and in any of the continuous shooting speeds – although again this does at least use a much larger and denser array than before, making it much more practical for action photography.
In Zone AF you can concentrate the autofocus to a square measuring 3×3, 5×5 or 7×7 points, and adjust its position using the AF joystick or cross keys; again if you're in Single AF mode you can choose from the 13×7 array, or in Continuous AF, the smaller 7×7 array.
In Wide / Tracking AF mode with focus set to Single AF, the XT2 automatically selects one or more AF points of its choice from the 13×7 array. When set to Continuous AF, the array again reduces to a 7×7 grid and lets you choose the starting area for tracking; the idea is you position a single AF area over the desired subject and once you hold the shutter in a half-press, the camera will attempt to track it, moving the AF area(s) as required within the 7×7 array.
There's also face detection with optional eye detection that does a great job at locking-onto a human subject even with large aperture lenses like the XF 56mm f1.2 or XF 90mm f2. Face detection does however only work with contrast-based AF, and if you have focus set to continuous, the additional eye detection capability becomes disabled. This reduces its usefulness for refocusing on subjects that can't keep still, such as restless kids in a portrait session; Sony's taken the lead here with face and eye detection that works with the continuous phase-detect AF system, albeit with a convoluted button hold for Eye-AF.
So far so similar to the X-Pro2, albeit apart from the slightly wider contrast-based coverage, but the XT2 goes an important step beyond with customizable continuous autofocus profiles. Similar to those on high-end sports DSLRs, these allow you to configure the sensitivity and speed of the XT2's continuous AF system as well as specifying how zoned areas should switch. There's five presets configured for different scenarios (Multi-Purpose, Ignore Obstacles, Accelerating / Decelerating Subjects, Suddenly Appearing Subjects, and Erratic Motion), or you can customize a sixth if preferred, adjusting tracking sensitivity in a scale of 1 to 4, speed tracking sensitivity from 0 to 2, and Zone are switching between centre, auto and front. I'll discuss these more in a moment.
In practice the XT2's autofocus is a noticeable improvement over its predecessor and other models employing the earlier X-Trans II sensor. The slightly wider contrast coverage and customizable continuous AF profiles also give the XT2 a performance edge over the X-Pro2, making it the most capable focuser in the X-series at the time of writing.
As with all Fujifilm bodies (and to be fair, most other systems too), the AF experience is greatly dependent on the lens you're using, as some are simply much faster than others. Fujifilm's 'LM' lenses are best of all which means going for the higher-end zooms for successful action shooting, in particular the XF 50-140mm and XF 100-400mm. If however you're using primes, you'll find the AF speed can vary considerably, especially with older models.
I used the XT2 with a wide variety of lenses. For my day-to-day photography in Single AF, I mostly shot with the XF 35mm f2, XF 56mm f1.2 and XF 10-24mm f4 lenses. Of these three, the XF 56mm f1.2 was the slowest, but still sufficiently quick for portrait work especially with face and eye detection – I had no problem shooting portraits of kids at f1.2. Meanwhile, more recent lenses like the XF 35mm f2 felt very snappy on the XT2, focusing quickly in Single AF mode; I'm really fond of this lens and would recommend it to any owner of an X body. The XT2 also felt confident in low light, with the contrast-based AF system operating in dim light levels down to -3EV. There were certainly very few occasions where the camera struggled to quickly focus in Single AF mode, especially when set to Performance Boost mode (with or without the VPB grip).
Of course any modern camera should be able to focus quickly and confidently in Single AF mode – the real question here is how well the XT2 performs at Continuous AF. To find out I shot a wide variety of subjects including cars, cyclists, dogs, various water-sports and that perennial challenge, birds in flight. I initially tried a handful of primes and standard lenses, but as with previous tests they confirmed their focusing wasn't fast enough for tracking fast action. So it was on with the XF 50-140mm and XF 100-400mm for some serious testing.
I started with birds-in-flight, aiming the XT2 and XF 50-140mm at Brighton's seagull population as they soared over the famous beach and piers, swooping to grab snacks from unsuspecting tourists. I started with the camera set to its fastest mechanical shutter speed of 8fps and the AF set to Wide / Tracking, while the lens was zoomed to 140mm and the aperture opened to f2.8.
As with most mirrorless cameras I've tested, the success of the continuous autofocus was greatly influenced by the size of the subject on the frame. With the XT2 set to Wide / Tracking AF, you'll need to position an initial AF box over the subject before half-pressing to confirm, but this frame is fairly large to start with. If the subject mostly fills this box, or is larger still, then the camera generally did a good job at tracking it. But if the subject was smaller and only occupied a smaller portion of the box, then the camera often struggled to differentiate between it and the background. This was definitely an issue with birds-in-flight, especially when they were more distant. I'd often have to wait until they were much closer and mostly filling the AF box before initiating the AF system with a half-press of the shutter. Here's a sequence I shot with Wide / Tracking AF and the AF-C Multi-Purpose preset at 8fps with the XF 50-140mm at 140mm f2.8, and as you can see the XT2 did a great job at keeping the bird in focus as it crossed the phase-detect area (although I'd have liked it even more if I could have used Spot-metering linked to the active AF area). But again I have plenty of examples where the birds started smaller on the frame and the camera struggled.
Fujifilm XT2 and XF 50-140mm at 140mm f2.8 / 8fps / Wide-Tracking AF (full frame followed by 100% crops)








While shooting multiple passes of birds, I also experimented with the different AF-C Custom autofocus presets. The erratic nature of the birds swooping around the pier and beach meant I often only had a split second to lock-onto them. I found the XT2 sometimes struggled to make the initial lock, even with the subject within the focusing area. This improved when I set the AF-C Custom AF mode to Set 4 for 'suddenly appearing subjects', but there were still many occasions when it wouldn't lock-on. Luckily the constant supply of birds in this location meant it was never long before I could try again, but if it were a rarer situation, perhaps with only one chance, I'd be less happy. When shooting under the same conditions with other systems, I found sports-oriented DSLRs like the Nikon D500 were more consistent and confident. Don't get me wrong, the XT2 is very good at continuous AF, but the D500 is even better.
As I panned to follow the birds swooping around and behind the various structures around the beach, I was also able to exploit the XT2's AF-C Set 2, which ignores temporary obstacles in order to continue to track the original subject. This worked well, with the camera successfully tracking the birds as they flew behind clock towers and railings.
Like most phase-detect AF systems, the XT2 will prioritise the closest subject in the area of coverage. This can sometimes run the risk of the camera focusing on the ground or water's surface, or some other aspect of the 'background'. Select Zone AF allows you to concentrate the focusing area to a much smaller region, especially if you go for the smallest 3×3 array. I used it here to track a bird as it flew from over the sea to over the pebble beach. The hit rate is a little less than my first example against the sky alone, but there's still a high percentage of keepers.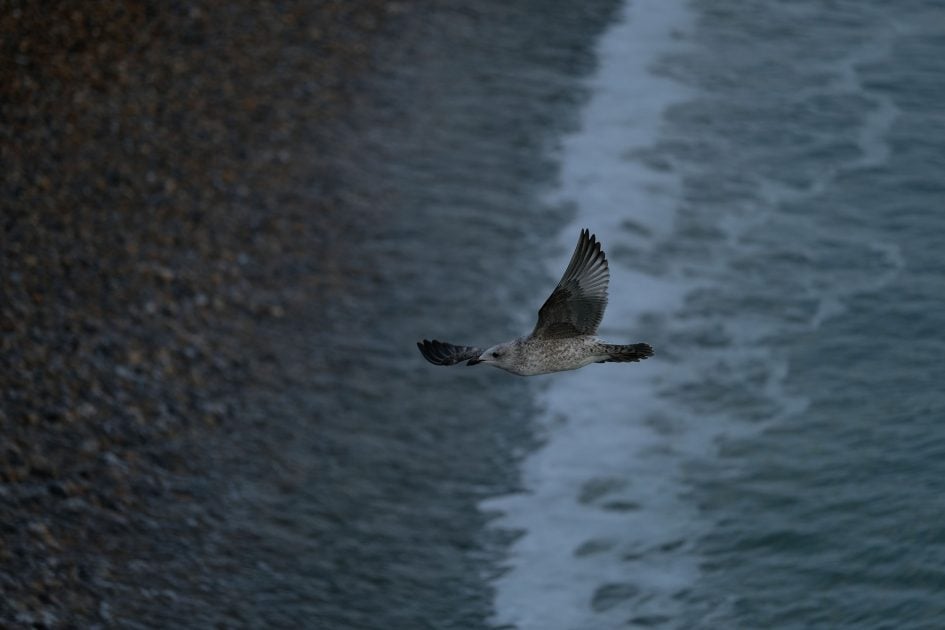 Above: Fujifilm XT2 and XF 50-140mm at 140mm f2.8 / 8fps / Zone AF (full frame followed by 100% crops)




Moving onto water-sports, I tried the XT2 and XF 50-140mm with wakeboarding. Here the biggest issue was the distance to the subject with the XT2 either failing to lock-onto it until it was much closer, or going for the splashes or water-surface instead. To be fair, while my tests using the Sony A6300 on similar subjects were more confident, it too suffered from the same limitations. The answer here then was to go for Zone AF to narrow-down the area of consideration, and wait until the subject was close enough for an easier lock. Here's an example, followed by a sequence shot in Zone AF and the AF-C Multi-Purpose preset at 8fps with the XF 50-140mm at 140mm f2.8.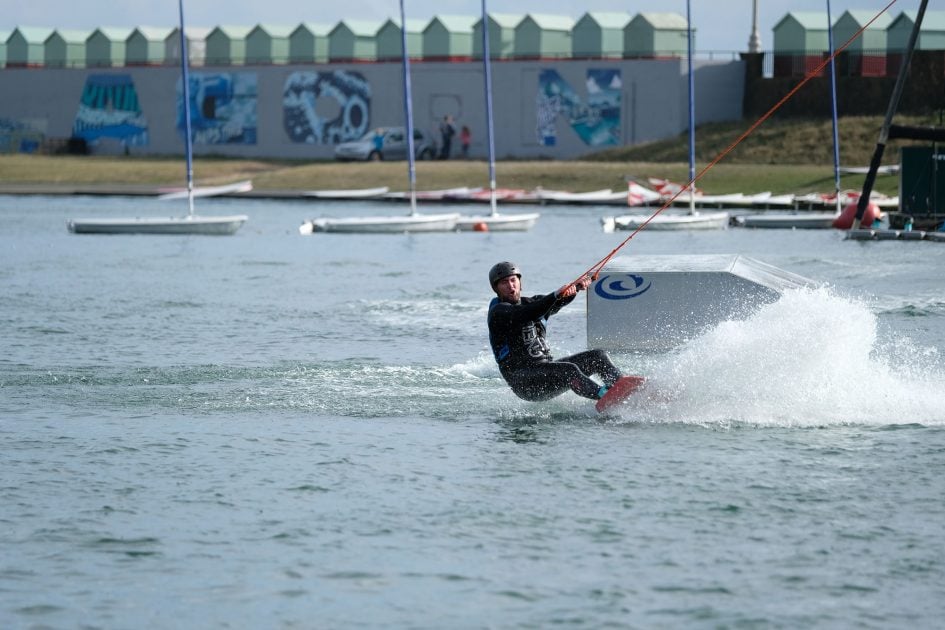 Above: Fujifilm XT2 and XF 50-140mm at 140mm f2.8 / 8fps / Zone AF (full frame followed by 100% crops)


Next-up I wanted to try the XT2's continuous autofocus with cycling where the subject speed and motion may be fairly predictable, but the distances are often longer. I asked my friend Ben to cycle directly towards me over a distance of about 100m and I'd keep shooting until he rode straight past. For this kind of motion, the AF-C Multi Purpose mode was fine and again I shot with the XF 50-140mm at 140mm f2.8. As noted earlier, I found Wide / Tracking AF often became distracted by the path, so I opted for Zone AF, positioning the center of the 3×3 area over Ben's face. Here's a shot from near the end of the sequence, followed by 100% crops from the preceding burst as he approached, using the fastest mechanical shutter of 8fps and the camera set to Normal Performance mode. The majority of the frames are in sharp focus with only one that's out and a couple more that are slightly soft. I then reshot the burst in Performance Boost mode, using the camera body alone, and noticed no difference to the hit rate.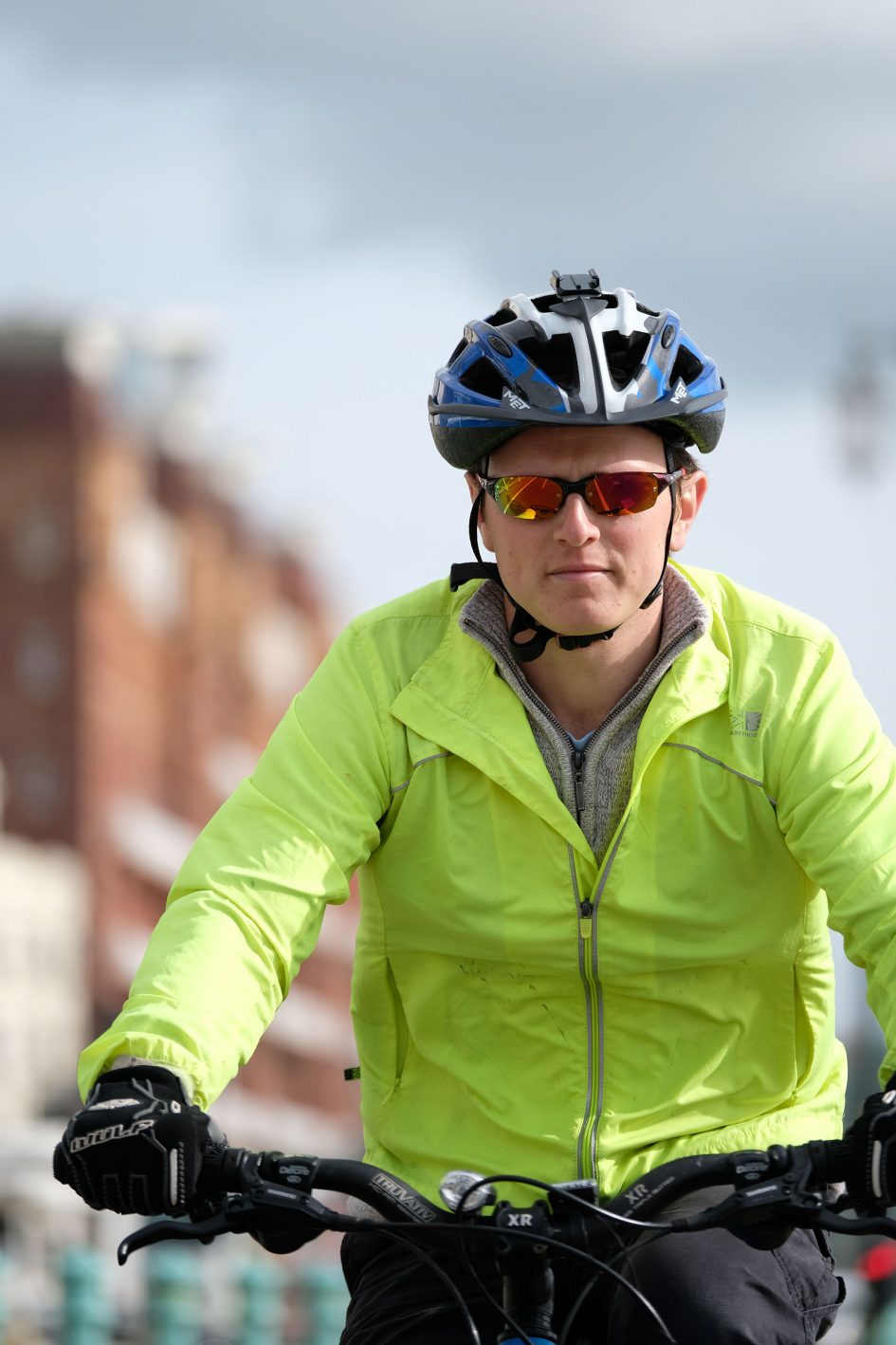 Above: Fujifilm XT2 and XF 50-140mm at 140mm f2.8, 8fps / Zone AF (full frame followed by 100% crops)




Next I shot a number of bursts with the optional Vertical Power Booster fitted and with Performance Boost selected; this allowed me to boost the mechanical shutter from 8 to 11fps. Again a similar hit-rate to the previous example, but obviously with the benefit of more frames captured every second. While shooting at this faster speed though, I was aware of the buffer filling sooner when using UHS-I cards, so if you want to ensure a constant stream of regularly-spaced images when the subject is close, you'll need to be conscious of starting the burst a little later than at 8fps.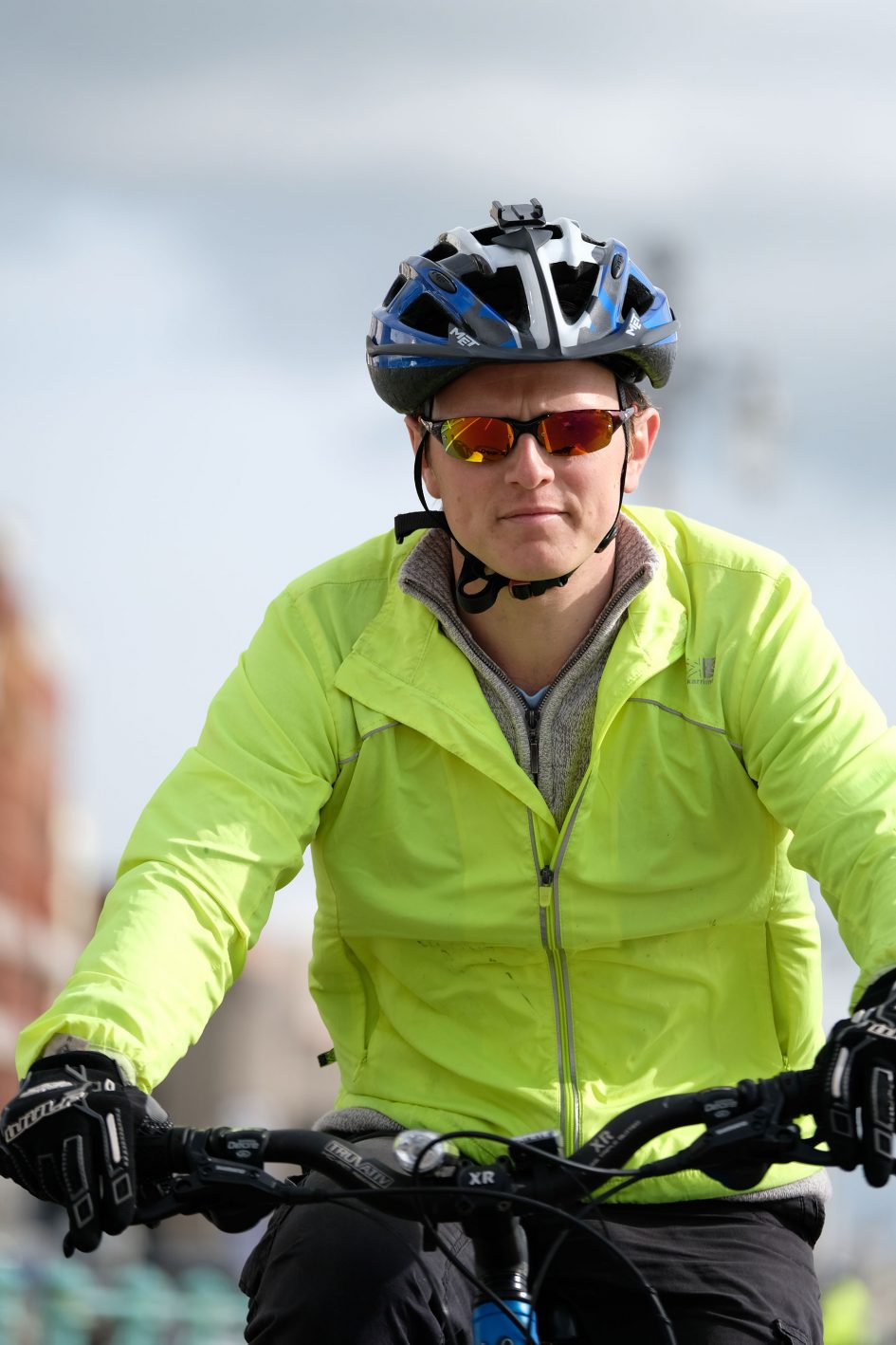 Above: Fujifilm XT2 and XF 50-140mm at 140mm f2.8, 11fps with VPB grip / Zone AF (full frame followed by 100% crops)




The XT2 offers an even faster burst shooting option of 14fps with continuous AF, that's available without the Vertical Power Booster, but you will need to switch the shutter type from mechanical to electronic. As you'll see below, the camera continued to do a good job at keeping the action mostly in focus at this quicker speed with only a couple of mis-focused frames. As noted at 11fps though, you will understandably burn through your buffer faster.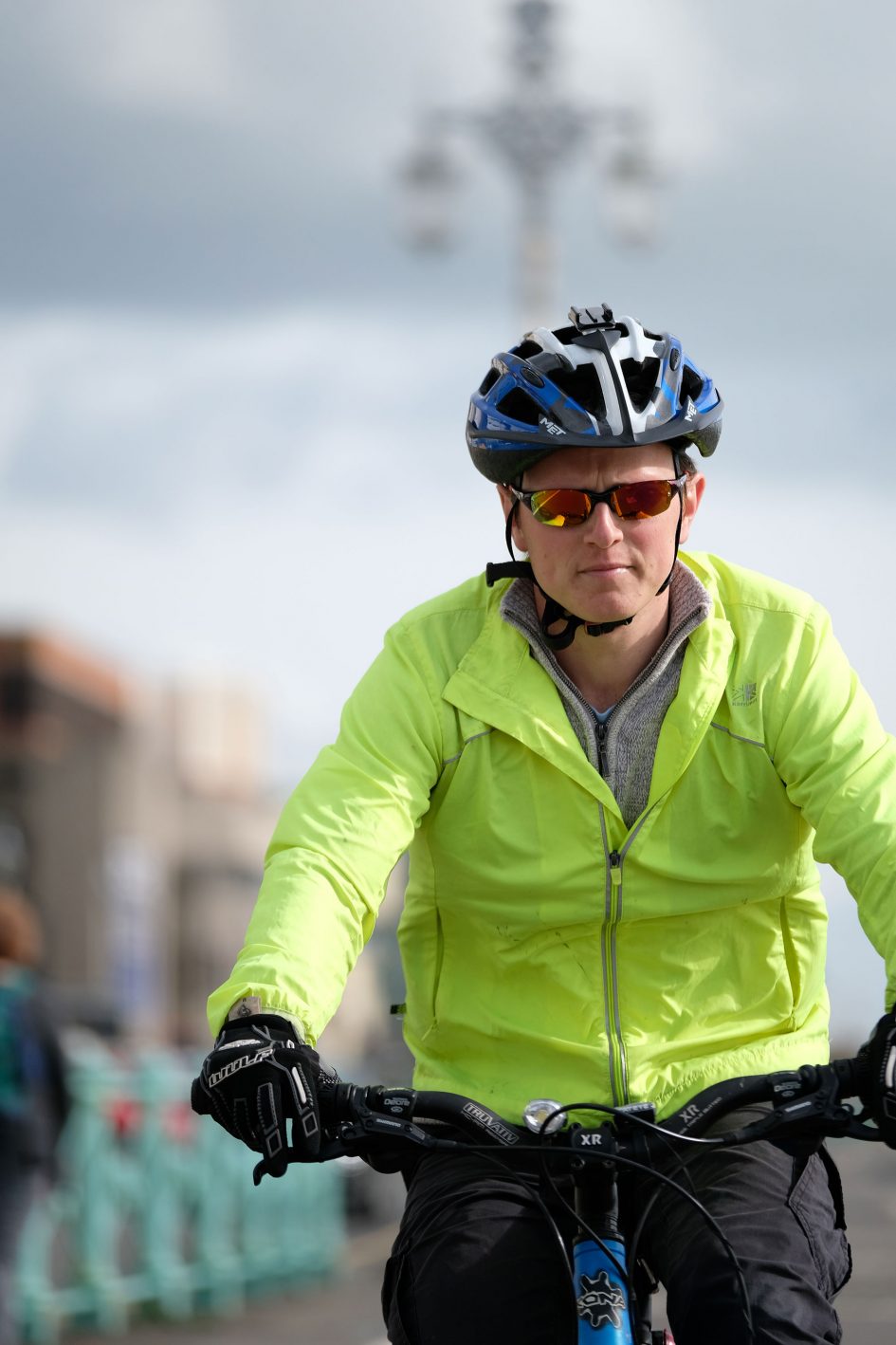 Above: Fujifilm XT2 and XF 50-140mm at 140mm f2.8, 14fps / Zone AF (full frame followed by 100% crops)




You may well be wondering why you wouldn't want to shoot with the electronic shutter all the time – after all it offers the fastest burst shooting mode and doesn't require you to buy the optional Vertical Power Booster to achieve it. The reason is the electronic shutter on the XT2 – like most cameras which offer it to date – can suffer from skewing artefacts, where during the time taken to read the frame, the subject, or background may have moved. The result can be sloping lines or undesirable distortion. I didn't notice it while Ben was cycling towards me, but as I quickly panned at the end of the sequence to follow him as he rode past, the resulting frames suffered from noticeable distortion, see below. Sorry Ben! So the moral of this story is to use the e-shutter with caution. It's fine for subjects directly approaching, but as soon as they move from side to side, or you pan to follow them, you could suffer from distortion. In those cases, switch to the mechanical shutter for distortion-free results.
Above: Fujifilm XT2 distortion using e-shutter at 14fps drive mode
Before moving on, I also wanted to briefly mention my experiences shooting with the XT2 and XF 100-400mm. I haven't yet tried this combination for action, but I did get the chance to try it for shooting fairly static birds. The reason I mention it here is I made a comparison between Normal and Performance Boost modes using the optional Vertical Power Booster and I was struck not just by the faster acquisition, but also less visible hunting. I switched back and forth between the modes several times and with different subjects and in each case the result was the same: with the VPB fitted and Performance Boost enabled, the focusing was noticeably quicker and more confident.
Fujifilm wouldn't confirm exactly what was going on behind the scenes, but I get the impression Performance Mode is clocking or driving the AF system at a higher speed which would normally result in greater battery consumption, but the impact is lessened by the fact the VPB essentially triples the potential life. Whichever way they've achieved it, I love the ability to boost the performance of the AF system – without revealing my age, it reminds me of the Turbo buttons on old PCs!
To measure the burst capability in terms of speed and buffer depth, I timed a variety of bursts using the XT2 fitted with a freshly formatted Sony UHS-I Speed Class 3 SDXC card, rated at 94MB/s. I set the shutter speed to 1/500, the sensitivity to 400 ISO and chose Fine for JPEG tests and Compressed for RAW.
Starting with the 8fps mechanical shutter, I fired-off 100 Fine JPEGs in 12.28 seconds for a rate of 8.13fps and the camera seemed happy to keep shooting while memory and battery remained. Switching to RAW allowed me to capture 30 frames in 3.52 seconds for a rate of 8.5fps. 30 Compressed RAW frames roughly matches the 33 quoted by Fujifilm at 8fps, although I managed way more than the 83 JPEGs quoted in the specifications; this will of course depend on the image content and subsequent compression though.
Fitting the Vertical Power Booster and selecting Performance Boost mode increased the theoretical top mechanical burst speed to 11fps. This time I captured 80 Fine JPEGs in 6.93 seconds for a speed of 11.5fps, after which the rate slowed to around 5fps. Switching to Compressed RAW allowed me to capture 21 frames in 1.76 seconds for a speed of 11.9fps, slowing afterwards to around 4fps. Fujifilm quotes 73 JPEGs or 30 Compressed RAW frames at 11fps, so I managed more of the former and slightly fewer of the latter, but again a useful amount in practice.
Selecting the electronic shutter allows the XT2 to deploy its 14fps burst speed, whether you have the Booster grip or not. Set to Fine JPEG, I captured 40 frames in 2.88 seconds for a speed of 13.9fps, after which the rate became slightly erratic, but averaged 10fps. Switching to Compressed RAW allowed me to capture 25 frames in 1.71 seconds for a speed of 14.6fps, slowing to around 11fps afterwards. Fujifilm quotes 42 JPEGs and 28 Compressed RAW files at 14fps, so again my tests came very close to the specifications.
At each setting, the XT2 delivered the quoted speeds and also generally matched the buffer depth. Even at 14fps you'll be able to capture around three seconds worth of JPEGs, extending to around seven seconds worth at 11fps and even more at 8fps. So in terms of speed and buffer depth, the XT2 is certainly very capable for action shooting.
Finally I'd like to mention viewfinder blackout and live feedback, as these are important factors to consider when shooting action. When shooting at 8, 11 or 14fps on the XT2, there's no blackout gaps through the viewfinder, but don't be fooled into thinking you're seeing a live image when shooting bursts – instead, like most mirrorless cameras at this speed, you're looking at the last image shot and therefore what you see fractionally lags behind what's actually happening right now. This can be problematic when trying to follow erratic action like a tennis player or bird in flight. That said, it's not impossible to follow erratic action at high burst speeds, but you do need to react quickly to changes in direction and be careful not to overshoot as a consequence – as such you become more aware of watching the subject and trying to predict where the motion will slow, stop or change.
If you shoot with the XT2 in Continuous Low Drive mode, you have the choice of 3, 4 or 5fps, all of which deliver live feedback, understandably with a little viewfinder blackout between frames as a consequence. Shooting at 5fps on the XT2 is much more of a DSLR-like experience and the live feedback makes it a lot easier to follow unpredictable subjects. Fujifilm has also put some effort into reducing viewfinder blackout, especially in performance boost mode, and the overall experience is improved as a result. But again the top speed with live feedback is 5fps.
Sony edges ahead here by offering a live-ish view at 8fps on the A6300 and A6500, and I also felt their embedded AF system was superior to the XT2 not just for the greater density and coverage, but also its confidence and consistency – it's an AF system I've come to trust at pro sporting events to deliver a high percentage of keepers and not let me down. Then there's the Nikon D500 which can shoot at 10fps with live feedback through its optical viewfinder and an AF system that's eerily good at tracking subjects.
But the fact we're even having this conversation, comparing the XT2 to the best cameras in its class for AF indicates just how far Fujifilm has come with its autofocus. Lest we forget the X-system originally launched with lacklustre AF but in a few short generations is now competing with some seriously capable bodies.
But again if you're really into shooting action and demand pro-levels of speed, confidence and consistency, I feel the Nikon D500 is the way to go – and revealingly while the D500 body is more expensive than the XT2, they become closer when you add the XT2's Vertical Power Booster grip.
But there's lots to weigh-up. I personally prefer the mirrorless form factor and the output from the XT2 over the D500 and A6300, so the fact the XT2 is good enough at autofocusing for most situations should satisfy all but the pro action shooters.
Before moving onto the next section a quick note on manual focus on the XT2. There's two types of manual focusing assistance available: focus peaking or a digital split image. The former outlines areas of high contrast, indicating when they're in sharp focus, while the latter simulates focusing screens of old SLRs by displaying a split image in the middle of the frame which only becomes lined-up when that region is in focus.
Alternatively, if the Focus Check option is enabled, the selected focus area will be automatically enlarged as soon as you start turning the focusing ring on the lens, allowing you to fine-tune the focus. Since the focusing is performed with motors in a fly-by-wire system, the camera also lets you switch the direction of the ring if desired – so to focus closer you can choose whether to turn the ring clockwise or anti-clockwise.
Fujifilm XT2 Wifi
The XT2 features built-in Wifi, although continues to resist including NFC or any new-fangled Bluetooth options. As such, the implementation is essentially the same as previous models, but that's no bad thing as it worked well on those cameras and continues to work well here.
Wifi on the XT2 allows you to wirelessly transfer images and remote control the camera with an iOS or Android smartphone, or transfer images to a Windows or MacOS computer via a mutual router. I tested the free Camera Remote app on my Samsung Galaxy S7 and the experience was identical to earlier X bodies. In the absence of NFC, there's no tapping the phone against the camera body to initiate the connection; instead you'll need to manually fire-up Wireless Communications from a menu or Function key on the camera to broadcast a Wifi network, before then using the Camera Remote app on your phone to connect to it. Once the app's connected, you're offered four main options: Remote Control, Receive, Browse Camera and Geotagging. I'll cover each in turn.
The Remote Control option shows a live image from the camera, surrounded by shooting information and a selection of buttons underneath. A slider at the bottom lets you choose between shooting stills or filming video, after which pressing the big red and silver release button above will trigger your choice. Once you're recording a movie, the live image changes to 16:9, but annoyingly it won't do this prior to filming for composition.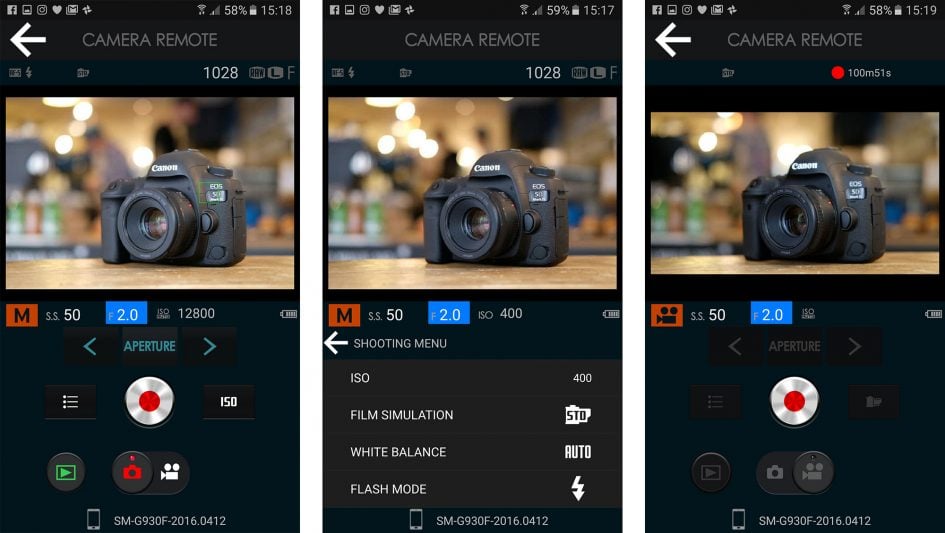 Gratifyingly you can tap anywhere on the live image on your phone to reposition the AF area, and the XT2 will refocus straightaway. This makes up in some small part for the absence of a touch-screen on the camera itself. Sadly you can't tap to refocus when filming video though, or even when composing prior to filming video – it only works when the app slider is set to take still photos.
A button to the right of the release lets you choose the ISO, while one on the opposite side lets you change the Film Simulation, White Balance, Flash mode, Self timer, and, er, ISO again. If you're in Aperture Priority you can adjust the aperture on-screen by tapping the value below the live image. Same for the shutter speed in Shutter Priority, or indeed either of them in Manual, but you can't change the actual exposure mode remotely, nor can you effectively hold down the release button for Bulb exposures. You also can't change the image quality or the exposure compensation remotely, although the current setting for each is shown on your device.
The remote control view also has a play button which presents a series of thumbnails with the chance to tick the ones you'd like to import into your handset. Bucking the trend for remote control apps, the choice of quality is actually set within the camera, not the app – you can choose the original image size or a reduced one at 3 Megapixels. Like most rivals, you'll only be transferring JPEGs, not RAW files.
This leads me to the second option of the app, named Receive. This initiates playback on the camera, with the option to send a photo as you browse through them. Received images are graphically shown on your handset's screen like stacked paper photos. An option to Receive may seem redundant when you have various thumbnail views for importing on the app, but it's actually very useful. There's many times I'll have gone through a series of almost identical images on the camera in playback, then got completely lost when viewing them all as thumbnails on a remote control app – which was the one I liked best? Was it third or tenth along from the end of that sequence? But Fujifilm's Receive mode solves this by letting you initiate the transfer from the playback mode of the camera and push them to the handset.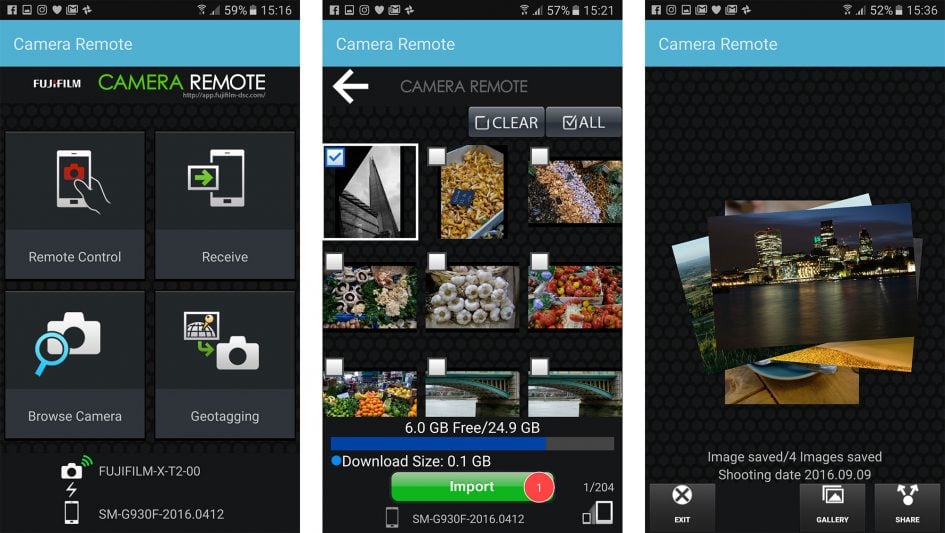 The third option is Browse Camera, which presents exactly the same thumbnail view as tapping play in the Remote Control option described earlier. Like that option, you can view thumbnails in two different sizes, tap to enlarge for a closer look and choose to import if desired. You can import JPEGs at either 3 Megapixels or the original size, but again not RAW files. The app also allowed me to import movies, but I couldn't find them on my phone afterwards.
The fourth and final option on the app is Geotagging which as its name suggests, uses your handset's GPS to deliver co-ordinates which are embedded on your photos. However Fujifilm goes about this in a different way to rivals. Rather than having your handset store a GPS log which is later synced with the images in the camera, the XT2 actually imports the co-ordinates as you compose and take the photo, so there's nothing for you to do afterwards.
Choosing Geotagging on the app presents an almost bare page indicating that it will now make GPS co-ordinates available for the next 60 minutes; returning to it during this time shows how long you have left. If you now initiate Wifi on the XT2 it'll connect to your handset and a few seconds later report that its searched your device and (hopefully) knows where it is in the World. Returning to composition on the camera, you'll now see the actual GPS co-ordinates can be displayed on-screen, while a small icon of the World indicates a successful and active connection. You're now free to put your phone in your pocket and shoot as normal on the XT2; you can even turn the camera off and on again, and it should quickly re-establish the connection with your phone by itself. Meanwhile every image you take is automatically embedded with the GPS co-ordinates delivered by your phone. Here's one I took with the co-ordinates entered into Google Maps.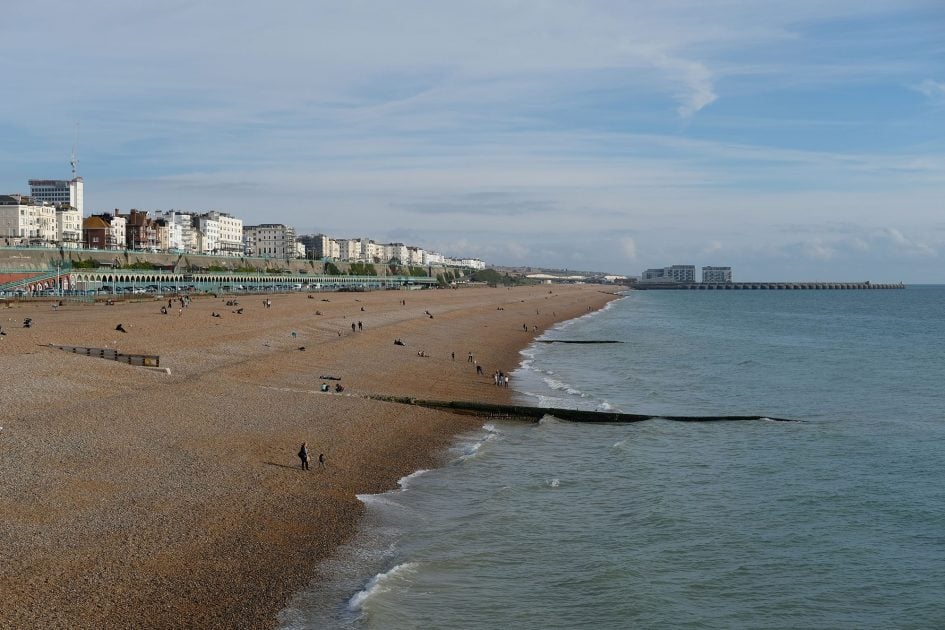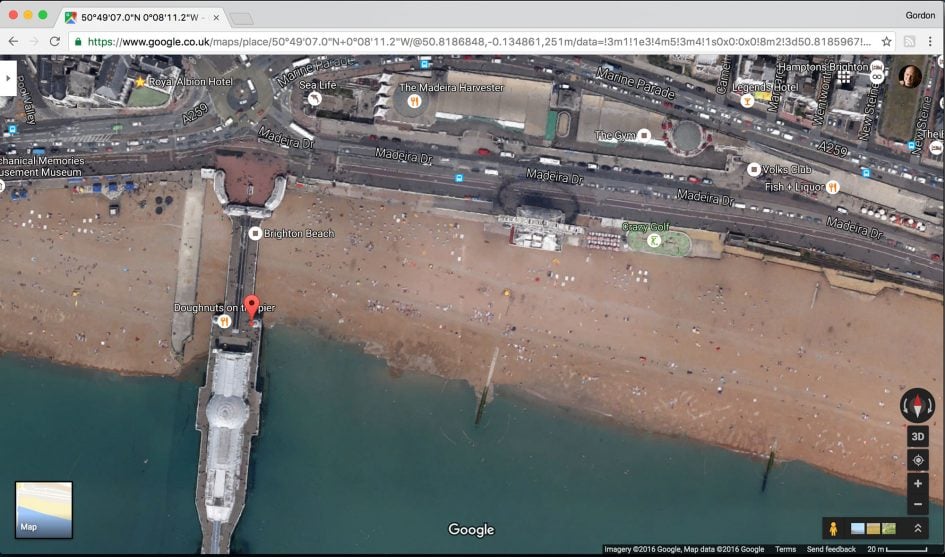 After the 60 minutes are up – or if you cancel the process manually on the app – the World icon turns red and flashes on the camera to indicate it's no longer receiving positional data. If you want to continue shooting with GPS data, just start the Geotagging process again within the app and you're good to go. When you playback geo-tagged images in the camera, their actual co-ordinates are shown in one of the display views.
In practice it works very smoothly, and I loved the fact my images were already tagged the moment I took them, eliminating the syncing process later. As always the accuracy was also good so long as your handset had a decent view of the sky. The downside to Fujifilm's implementation is there's regular Wifi communication between the camera and phone and while I don't know how clever they are about power saving, I can tell you that the batteries on both definitely depleted faster than normal when Geotagging was in operation – so be warned.
Fujifilm also offers PC Autosave software for both PCs and Macs which allows the camera to connect to a computer or laptop and wirelessly transfer images as you take them. Annoyingly though like most camera to computer software I've come across, it requires a wireless router / hub inbetween which limits it to office, home or studio environments and rules out ad-hoc connections in the field. It's also not yet possible to remote control the camera from a computer or laptop.
In this respect Fujifilm's Wifi implementation is a lot like most rivals, where remote control and ad-hoc image transfer is mostly limited to smartphones and tablets. If transfer to a computer or laptop is available, it's never ad-hoc and instead requires an existing network to connect into. Canon's taken the lead here with its EOS Utility application now supporting direct Wifi connections between laptop and camera in the field, or USB if you prefer speed.
Fujifilm is however promising a tethered solution for the XT2 which I'll report back on when I've had a chance to try it.
Fujifilm XT2 movie mode
The XT2 becomes Fujifilm's first camera to capture 4k video and it's available at frame rates of 23.98, 24.0, 25, and 29.97fps, all encoded at 100Mbit/s. Since the earlier X-Pro2 shares the same sensor and image processor, it too was technically capable of capturing 4k video, but the feature was left out of that model as it wasn't considered appropriate for the target market. But it's here on the XT2 and as you'll see, a very welcome addition thanks to surprisingly good quality. There's also 1080p (100Mbit/s) and 720p (50Mbit/s) at 23.98, 24.0, 25, 29.97, 50 and 59.94fps.
The 4k video takes a 1.17x crop from the sensor, slightly reducing the field-of-view. This 5120×2880 pixel frame is then down-sampled to 3840×2160 to deliver a UHD size. Meanwhile 1080p video is captured with the full sensor width with no field-reduction; Fujifilm says 1080p starts with a 3000×1687 frame that's then down-sampled to 1920×1080.
To illustrate the difference in coverage between 1080p and 4k, I filmed clips from the same location with the same fixed 35mm lens. Below I've taken a frame-grab from the 1080p version which represents the full frame width and super-imposed a red frame, the outer edge of which indicates the 4k coverage.
Above: Fujifilm XT2 movie coverage with XF 35mm f2: full image represents1080p, outer edge of frame represents 4k
Here they are again with the same lens, side by side.

Above: Fujifilm XT2 with XF 35mm movie coverage, 1080p (left), 4k UHD (right)
To fairly compare their resolving power you'll need to match their field of view which means using a zoom lens. I fitted the XF 18-55mm f2.8-4, set to 18mm for 4k and zoomed-in a tad for 1080p to match the field of view. Here's the full frame from each mode, with 1080p on the left and 4k on the right.

Above: Fujifilm XT2 with XF 18-55mm adjusted to match field of view, 1080p (left), 4k (right)
Next are crops from each clip, presented below at 100% where it's immediately clear the quality benefit of the 4k mode on the right. It's particularly apparent in the lines on the blue doors which are just about resolved in the 4k version, but a fuzzy blur of false colour on the 1080p version.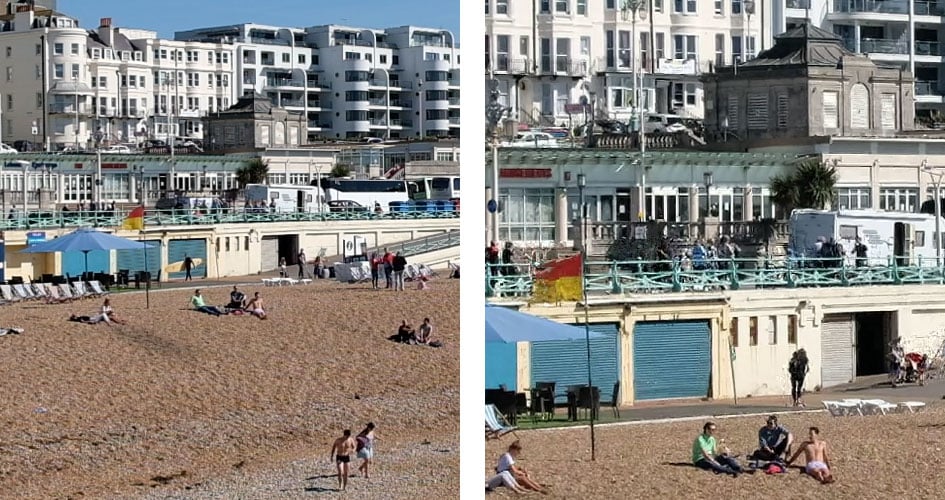 Above: 100% crops taken from video-grabs above, 1080p (left), 4k (right)
The longest recording time is 10 minutes in 4k, 15 minutes in 1080p or half an hour in 720p. At each time limit, the camera stops recording to prevent over-heating, but if the body is cool enough, you can start another recording straightaway. In a cool but not air-conditioned room I filmed six consecutive 4k clips lasting ten minutes each on a single battery charge and while the camera became very warm towards the end, it only warned of overheating a couple of minutes before the end of the sixth clip. So I managed to record an hour's worth of 4k video on a single charge without overheating. Note if you use an older battery, say from the XT1, it'll get hotter more quickly – I put this to the test and found after filming three consecutive 4k clips (half an hour in total), the body had become quite hot and warned of overheating before shutting itself off a few minutes into the fourth clip.
Fit the optional Vertical Power Booster and you can extend recording times to half an hour per clip in any quality mode. Longer clips are possible as the grip prioritises the batteries in the tray over the one in the body. Keeping the body battery unused (at least until the other two are exhausted) keeps it cool and helps avoid the body over-heating.
To put it to the test I fitted the Vertical Power Booster with all three batteries fully-charged and saw the maximum recording time display immediately increase from ten minutes to 29:59. I recorded a 29:59 4k clip, after which the left, right and body batteries indicated 52, 100 and 89% respectively and the body felt slightly warm. After filming a second 29:59 4k clip immediately afterwards, the body felt warmer and the batteries reported 0, 100 and 85% respectively. After a third 29:59 4k clip, the body was warm, but not hot, and the batteries reported 0, 51 and 80 % respectively. Then onto a fourth 29:59 4k clip with the body feeling very warm now and the batteries reporting 0, 0 and 75% respectively. And after a fifth, again 29:59 of 4k, the body very warm and just 28% remaining on the body's battery only. It wasn't to last though. Just a minute and a half into the next clip, the final battery gave up the ghost and all three were completely depleted. While I didn't 100% trust the reported percentages, the fact is I still recorded two and a half hours of 4k video on battery power alone without the camera over-heating. As soon as one clip ended, I started another, so there was no time to cool down. This is impressive performance on any system.
I should also mention the VPB grip also has a 9v DC input and is supplied with an AC adapter; this is primarily designed to charge the grip's two batteries inside the grip, but can also be used to power the camera during normal operation – so when battery power is low or even depleted entirely, you can continue to shoot stills or movies on AC power. The camera still gets hot when filming under AC power, even with the batteries removed, but it's a useful option none-the-less.
Like earlier bodies you can set the aperture and shutter manually or leave one or both set to A for semi-auto or fully auto exposure; and while Fujifilm recommends setting the exposure before you start recording, it is possible to adjust it during recording, as well as turning the exposure compensation dial, albeit with audible clicks in abundance. So with the XT2 you're getting full or semi-manual control over exposure before or during filming, but there's no opportunity for silent adjustment – another vote for a touchscreen.
There's also full control over focusing with the choice of Single, Continuous or Manual modes, each selected from the lever on the front of the body. In Single AF mode, the XT2 waits for you to half-press the shutter before it focuses on the active area, but is only available prior to filming; once you start filming the focus is locked unless you change the focusing mode.
Set to Continuous AF, the XT2 will continuously adjust the focus based on whatever's under the active focusing area before or during filming; if the active focus area is within the 7×7 array of phase detect AF points, the focusing is swift and confident, but if it's in the extended contrast-based area to the sides, the focusing is considerably slower and may hunt back and forth before settling. Unlike Sony's A6000, A6300 and A6500, there's no opportunity to adjust the speed and response of the movie AF.
In either Single AF or Continuous AF mode, you can choose between Multi Area or Single Area. The former chooses the focusing area for you with no indication, but generally does a fair job of working out what the desired subject is. In Single Area, you get to move the AF area manually using the joystick and if desired you can move it while filming. If you do this with the focusing set to Continuous, the XT2 will pull-focus on whatever is under the AF area. This can work well, unless you have to push the joystick several times to move the AF area sufficiently from one subject to another. The problem is two-fold: not only do you run the risk of seeing and hearing the multiple joystick pushes, but the camera's enthusiastic AF system may pull-focus on an intermediate position between the desired subjects as it's moved across. You can see an example below where I have the focus set to Continuous and have used the joystick to move the AF area.
Above: Download the original file (Registered members of Vimeo only). Sample movie filmed with a final production Fujifilm XT2 and XF 35mm f2 lens at f2 in 4k / 25p using the Standard Provia Film Simulation. Here I used the AF joystick to shift a single AF area to pull-focus between the camera in the foreground and the sign just above it in the mid background; this represented two 'notches' on the AF system on the last column of the phase-detect area.
The solution could be to choose Single AF mode and only execute the refocus with a half-press once the AF area is in the right place, but this didn't work in my tests; once you start filming in Single AF, the focusing won't adjust unless you audibly click the focusing dial to Continuous. Of course this is another thing that would work so much better with a touch-screen – just tap to immediately reposition the AF area to the desired location. It's also frustrating to discover that while you can remotely trigger a movie recording over Wifi using the smartphone app, you can't then tap the phone screen to reposition the AF area; this may work in stills, but not for movies, grrr.
The XT2 also supports face detection when filming and although I'm unsure whether it relies on the contrast-based system as it does for stills with face detection, it's still possible to track a subject approaching with a fair degree of success. Here's a video I filmed with the XT2 and XF 35mm f2 at f2 in fairly low light.
Above: Download the original file (Registered members of Vimeo only). Sample movie filmed with a final production Fujifilm XT2 and XF 35mm f2 lens at f2 in 4k / 24p / 50th using the Standard Provia Film Simulation in dim, dusky conditions. Here I locked the AF area to the middle of the frame, set the body to AFC and simply walked towards the camera.
I mentioned manual focusing earlier and this is fully supported on the XT2, now also with the option of focus-peaking if enabled in the menus.
The XT2 lets you apply any of the Film Simulations to video as you record it, allowing you to effectively grade footage in-camera. So as with stills you could go for Velvia for saturated colours, ACROS for a high-contrast monochrome, or Provia for a fairly natural all-round style. If you're into grading footage in software later, you'll be disappointed to learn the XT2 doesn't (yet) offer a flat log profile for in-camera recording. If you're recording to the internal SD card, the flattest you'll get is to use a simulation like Astia.
The XT2 does offer a flat 'F-Log' profile (with a minimum sensitivity of 800 ISO), but it's currently only available as an option on the HDMI output to an external recorder. I suggested to Fujifilm that many film makers would love the option to record F-Log footage direct to the SD card and I got the impression this was something that might be possible in a firmware update – so be sure to request it with your Fuji reps!
Sticking with the HDMI output, there's three modes: the first records 4k to the internal SD card and outputs 1080p over HDMI, the second outputs 4k over the HDMI and the third outputs 4k over HDMI in F-Log; note you can't record to the SD card and output 4k simultaneously. You can also choose to show shooting information on the HDMI output, or disable it for a clean feed.
Finally, audio is recorded using the built-in stereo mics positioned on either side of the viewfinder hump, or with an optional microphone connected to the (now standard) 3.5mm input. In either case you can monitor the levels with on-screen meters and adjust if desired.
Now it's time for a selection of clips.
Above: Download the original file (Registered members of Vimeo only). Sample movie filmed with a final production Fujifilm XT2 and XF 35mm f2 lens at f5.6 in 4k / 24p using the Standard Provia Film Simulation. Also see my Fujifilm XT2 1080p movie sample from the same location moments later.
Above: Download the original file (Registered members of Vimeo only). Sample movie filmed with a final production Fujifilm XT2 and XF 18-55mm in 4k / 24p using the ACROS Film Simulation.
Above: Download the original file (Registered members of Vimeo only). Sample movie filmed with a final production Fujifilm XT2 and XF 18-55mm f2.8-4 lens at 18mm f2.8 in 4k / 25p using the Standard Provia Film Simulation. Here I set the focus to continuous and locked the AF area to the centre of the frame.
Above: Download the original file (Registered members of Vimeo only). Sample movie filmed with a final production Fujifilm XT2 and XF 18-55mm in 4k / 25p at 12800 ISO using the Standard Provia Film Simulation. I also filmed this scene in 1080p for comparison – see my Fujifilm XT2 1080p high ISO movie sample.
And finally, something completely different! Here's a video I filmed about the Canon EOS 5D Mark IV – yes a DSLR costing almost twice as much as the XT2. I've included it here as many people were asking how it compared to the XT2, so later in this video I make a side-by-side comparison in 4k movie noise between the 5D Mark IV, Fujifilm XT2 and Sony A6300.
Fujifilm XT2 sensor and processing
The XT2 becomes Fujifilm's second body to sport the latest X-Trans III sensor which made its debut on the X-Pro2. After firmly sticking with 16 Megapixels for X-Trans I and II, the third generation sensor boosts the resolution to 24 Megapixels while additionally sporting broader and denser phase-detect AF coverage.
Like previous X-Trans sensors, the latest version III employs an APS-C area with Fujifilm's unique colour filter array that allows the absence of an optical low pass filter for the ultimate crispness without suffering from moire. The difference now is the image resolution has increased from 4896×3264 to 6000×4000 pixels, allowing you to output 2in taller and 3in wider than the XT1 at 300dpi. While higher resolutions allow larger reproductions, their physically smaller pixels also raise concerns over noise and tonal dynamic range. Fujifilm's managers assured me the performance on the pixel level was as good or even better than the previous X-Trans II, so this seems like the right time to move onto my quality pages to find out!
But just before you go, a quick note on RAW files – as noted elsewhere in the review you can now save RAW files with lossless compression or no compression, and unlike the X-Trans II models, it's possible to also record a RAW file at 100 ISO. Since this is below the base sensitivity of 200 ISO there may be dynamic range compromises, but it does give long exposure photographers a useful extra stop while retaining the chance to make more edits after the event. I know there's been a few occasions when lighting and my choice of filters have forced me to shoot with the XT1 at 100 ISO and when doing so I was reliant on getting the processing right first-time in-camera with JPEG only. Luckily the Fuji system is remarkably good at this, but it's still good to have the option of RAW at 100 ISO. As for file sizes, uncompressed RAW files weigh-in at around 50MB each, while losslessly compressed ones were typically around 25MB each.
As I've mentioned earlier in the review, the XT2 offers a wide selection of processing options, including the company's popular Film Simulations and Dynamic Range adjustments, along with Grain Effects introduced on the X-Pro2. In addition you can adjust the Highlight Tone, Shadow Tone, Colour Density, Sharpness and Noise Reduction. I have to say though I'm already sufficiently fond of the Film Simulations alone that I rarely feel the need to adjust the other processing options available. You can see a variety of examples in my sample images. For a more detailed look at the image quality, check out my quality page, or if you've seen enough, tab to my verdict!
Check prices on the Fujifilm X-T2 at Amazon, B&H, Adorama, or Wex. Alternatively get yourself a copy of my In Camera book or treat me to a coffee! Thanks! &nbsp
www.cameralabs.com
FUJIFILM X-T2
This website uses cookies. By using the site you are agreeing to our Privacy Policy.
Shooting Mode
Shutter-Priority Auto
Image Size
3000 x 2000
Sensitivity
ISO 400
Dynamic Range
100%
Aperture
F9.0
Shutter Speed
1/1250
Lens Focal Length
400.0mm
White Balance
AUTO
Film simulation
CLASSIC CHROME
Lens Modulation Optimizer
ON
Lens
FUJINON LENS XF100-400mm F4.5-5.6 R LM OIS WR
Shooting Mode
Manual
Image Size
2000 x 3000
Sensitivity
ISO 200
Dynamic Range
100%
Aperture
F1.2
Shutter Speed
1/1000
Lens Focal Length
56.0mm
White Balance
5000K
Film simulation
ASTIA
Lens Modulation Optimizer
ON
Lens
FUJINON LENS XF56mmF1.2 R APD
Shooting Mode
Shutter-Priority Auto
Image Size
3000 x 2000
Sensitivity
ISO 100
Dynamic Range
100%
Aperture
F22.0
Shutter Speed
1/8
Lens Focal Length
20.9mm
White Balance
AUTO
Film simulation
Velvia
Lens Modulation Optimizer
ON
Lens
FUJINON LENS XF10-24mmF4 R OIS
Shooting Mode
Aperture-Priority Auto
Image Size
3000 x 2000
Sensitivity
ISO 1600
Dynamic Range
100%
Aperture
F4.8
Shutter Speed
1/500
Lens Focal Length
153.3mm
White Balance
Fine
Film simulation
PROVIA
Lens Modulation Optimizer
ON
Lens
FUJINON LENS XF100-400mm F4.5-5.6 R LM OIS WR
Shooting Mode
Aperture-Priority Auto
Image Size
3000 x 2000
Sensitivity
ISO 200
Dynamic Range
100%
Aperture
F8.0
Shutter Speed
1/900
Lens Focal Length
10.0mm
White Balance
AUTO
Film simulation
Velvia
Lens Modulation Optimizer
ON
Lens
FUJINON LENS XF10-24mmF4 R OIS
Shooting Mode
Manual
Image Size
2000 x 3000
Sensitivity
ISO 400
Dynamic Range
100%
Aperture
F1.2
Shutter Speed
1/250
Lens Focal Length
56.0mm
White Balance
AUTO
Film simulation
ACROS
Lens Modulation Optimizer
ON
Lens
FUJINON LENS XF56mmF1.2 R
Shooting Mode
Aperture-Priority Auto
Image Size
3000 x 2000
Sensitivity
ISO 320
Dynamic Range
100%
Aperture
F5.6
Shutter Speed
1/480
Lens Focal Length
110.6mm
White Balance
5300K
Film simulation
Velvia
Lens Modulation Optimizer
ON
Lens
FUJINON LENS XF50-140mm F2.8 R LM OIS WR
Shooting Mode
Manual
Image Size
3000 x 2000
Sensitivity
ISO 200
Dynamic Range
100%
Aperture
F22.0
Shutter Speed
1/125
Lens Focal Length
60.0mm
White Balance
AUTO
Film simulation
Velvia
Lens Modulation Optimizer
ON
Lens
FUJINON LENS XF60mmF2.4 R Macro
www.fujifilm.com
FUJIFILM X-T2
The FUJIFILM X-T2 features a 24.3MP X-Trans CMOS III APS-C sensor for outstanding image quality. Its highly random pixel array effectively reduces moiré and false colors without the use of an optical low-pass filter. When combined with an XF lens, the sensor delivers images with a perceived resolution far greater than the number of pixels used. Other features include outstanding read speed, high-speed continuous shooting, high-precision AF tracking, highly faster liveview refresh rate and superb video recording.
The sensor readout speed is now approximately twice as fast, delivering high-speed continuous shooting, precise AF tracking, playback and higher quality movies.
1: Microlenses
2: X-Trans Color Filter
3: L/R Light Interception Filter
4: Phase Detection Sensor / Green Filter Pixel
5: Photodiode
Excellent image processing from X-Processor Pro
The X-Processor Pro image processing engine is approximately four times faster than the previous model. The increased built-in memory and enhanced computational power bring out the maximum capabilities of the X-Trans CMOS III sensor. It produces high quality images and improves response times for shorter delays between shots, reduced shutter-release time lag and greater AF precision. The engine also delivers faster Live View refresh rates and reduces image delay when tracking moving subjects.
The FUJIFILM X-T2 features a new CPU for high-speed processing. The Buffer memory has also been increased for an even faster response.
To create photographs that are truly memorable they need texture, depth and atmosphere.
Film Simulation modes reflect Fujifilm's color philosophy created through years of photographic film manufacturing
Incorporating knowledge developed from over 80 years of photographic film manufacturing, the FUJIFILM X-T2's Film Simulation modes allow you to enjoy different color tones and rich gradations as if actually swapping films. A total of 15 modes are available, including PROVIA and Velvia to reproduce vibrant colors, plus ACROS for fine-detailed monochrome images. The Grain Effect function can be combined with all Film Simulation modes to add a textured look and deliver a greater range of artistic effects.
Notes
* X-Trans is a trademark or registered trademark of FUJIFILM Corporation.
** When using Boost mode on the Power Booster Grip
*** When using electronic shutter. 11fps, when mechanical shutter is used with BOOST mode activated
www.fujifilm.com
FUJIFILM X-T2
This website uses cookies. By using the site you are agreeing to our Privacy Policy.
The FUJIFILM X-T2's body is made of magnesium alloy. Despite being compact and lightweight, it is both solid and highly durable. The body is also weather-sealed in 63 points to achieve a high level of resistance to dust and moisture. Couple this with its ability to work in temperatures down to -10°C and you'll see the camera is ready for anything. Similar weather-sealing is applied to the dust-resistant and water-resistant lenses and the Power Booster Grip to provide weather resistance across the entire system.
The body features dual slots to accommodate two SD cards for highly reliable data storage. Both Slot 1 and Slot 2 are compatible with UHS-II standards for excellent write speeds. You can use the slots for sequential recording, backup, sorting to record RAW files in Slot 1 and JPEG files in Slot 2, or assign one of the slots for video storage.
The FUJIFILM X-T1's grip has been further developed and now offers even greater comfort on the FUJIFILM X-T2 thanks to a larger area set aside as a thumb rest. Locking mechanisms have also been introduced for the SD Card Cover and Battery Cover.
The FUJIFILM X-T2 features a premium LCD screen that can tilt in three directions. Tilt it up and down when shooting in landscape, and upward when shooting in portrait. The screen remains positioned on the optical axis of the lens for easier high-angle and low-angle shooting. The 3-inch LCD has 1.04 million dots and uses toughened glass. When not tilted, it fits flush to the body.
Key exposure controls are dial-based, such as setting the shutter speed, ISO sensitivity, exposure compensation, Drive Mode and Metering Mode. This means settings can easily be changed, even when the camera is turned off. Selected controls also feature lock and release buttons to enhance overall operation.
The frequently-used exposure compensation function can be operated using the top-plate dial for adjustments in 1/3 increments up to ±3EV. Select the C position for exposure compensation of up to ±5EV using the camera's Command Dial. When using the Power Booster Grip featuring the Command Dial, select the C position to access exposure compensation with the camera held in the portrait orientation.
The FUJIFILM X-T2 features a focal plane shutter with a maximum speed of 1/8000 sec, flash sync speed of 1/250 sec and durability of 150,000 shots. It also supports an ultra-fast, silent-operating electronic shutter with a maximum speed of 1/32,000 sec that allows you to shoot at wide apertures, even in bright sunlight.
www.fujifilm.com